One notable thoroughbred that graced the Australian turf in the late 80s and early 90s was Super Impose.
Along with Super Impose substantial achievements on the track, he was something of an anomaly among thoroughbreds for his competitive longevity.
He is best remembered for his incomparable feat of winning the W. S. Cox Plate in 1992 as an eight-year-old.
Super Impose was another in the list of grand champions to have his beginnings in New Zealand. His sire was the multiple group 1 race winner Imposing.
His dam, Pheroz Fancy, was never raced. He carried blood from three continents, Australia, the United States and most significantly, Europe via lines on both his sire and his dam's side to Ireland's Star Kingdom.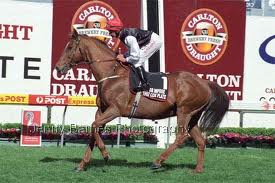 Super Impose was purchased in 1986 by trainer Lee Freedman for $40,000 at the behest of a syndicate of six people who had faith in Freedman's judgment of thoroughbred potential.
Freedman had passed on two other yearlings from that year that seemed to command more than the syndicate wanted to pay. Trainer Bart Cummings did purchase the two and received multiple group 1 winners Sky Chase and Beau Zam in the transaction.
Super Impose was untried as a two-year-old.
Results as a Three-year-old.
Super Impose won first up at Seymour in late December of 1987. His next five efforts produced no wins, but he did no worse than third in all five.
He did not run again until May. First up was a win at Benally before a respectable second at his first start at Flemington Racecourse. All in all, no results to make headlines, but let's not neglect the now available historical perspective that tells of a long career to come.
Super Impose: Results as a Four-year-old.
The start of Super Impose's campaign as a four-year-old left him with nothing better to show for his efforts than a meager third and five straight defeats.
Two seconds followed before Super Impose brought the bad streak to a halt, winning the Eclipse Stakes.
Next taken to Sydney, he won at 1900 metres and backed that with the AJC Summer Cup soon afterward.
Returning to Melbourne, he posted three seconds in top races including the St. George Stakes, the CF Orr Stakes and the Australian Cup. He next produced a course record in the group 3 Carlyon Cup at Caulfield Racecourse.
He was scratched for the rest of his fall schedule, since he had previously shown a major distaste for the wet, heavy conditions that marked that period.
Super Impose: Results as a Five-year-old.
It required five starts for Super Impose to make a return visit to the winner's circle, when he took the Turnbull Stakes over 2000 metres at Flemington for his first group 1 win in 1989.
He ran in the middle for the Caulfield Stakes and Caulfield Cup.
In that year's Melbourne Cup, Super Impose, in his trainer's words, turned in "One of his greatest performances." He seemingly had the race won, but was edged at the line by Tawrrific, who was lighter weighted and more accustomed to the distance required by the Melbourne Cup.
He again had an unintended spell when wet weather once more closed in. A week later, on the rare dry day, he took first in the Doncaster Handicap, carrying top weight of 57 kg and coming from the back at the turn in 1990 at Randwick Racecourse.
Super Impose: Results as a Six-year-old.
First up in late August, Super Impose took the Warwick Stakes in Sydney. He then posted two seconds before taking the Epsom Handicap, again at top weight and featuring one of his patent come from the rear finishes.
A three month automatic ban for bleeding was the outcome of that year's Caulfield Stakes.
Returning in 1991 under the specter of a lifetime ban from Australian racing should he again bleed, Super Impose won Melbourne 's Chester Manifold Stakes.
Race stewards nearly ordered a barrier trial when Super Impose ran a stunning, inexplicable last in the Mercedes Classic. That threat was never made good, however, and the horse took a consecutive Doncaster Handicap. He ended the season with a second in the All Aged Stakes.
Four group 1 wins and the honour he contributed to his dam being named New Zealand Broodmare of the Year for 1991 made his six-year-old campaign his finest to date.
Super Impose: Results as a Seven-year-old.
Super Impose, now with over 50 starts to his credit, repeated in the Warwick Stakes, ran unplaced in Chelmsford Stakes, then notched the win in the Hill Stakes. His career to this point would seem to be handicapper's nightmare, what with dominating wins backed by unplaced runs.
He then entered the history books by winning for a second time consecutively, the AJC Epsom and Doncaster Handicaps while carrying 61 and 59.5 kg respectively.
He further cemented his reputation and became the idol of punters everywhere when Randwick christened a bar in his honour.
Super Impose next produced three consecutive seconds in the Caulfield stakes, the W. S. Cox Plate and the LKS Mackinnon stakes.
He carried top weight in finishing fourth in that year's Melbourne Cup after spotting the winner Let's Elope 9 kg.
Early 1992 produced a second in the Apollo Stakes before coming home first in the Chipping Norton Stakes. He then failed to place in his last four races of the season, but he often gave as much as half a J. Pike in weight to the other horses.
Super Impose Results as an Eight-year-old.
Super Impose narrowly missed winning his third Warwick Stakes. He then produced two placings, followed by fourth in the Epsom, where he carried 61.5 kg.
Demonstrating the inconsistency that marked his career, he came back to win the Canberra Cup with such ease that hoop Mick Dittman was resting him for the Caulfield Cup at the end.
Next came the fateful 1992 W. S. Cox Plate.
Dittman shunned Super Impose to ride favourite Naturalism in a strong field containing 12 multiple group 1 winners
A slow pace favoring Super Impose's tactics featured a tightly packed field with the lead changing hands throughout.
All of a sudden, with 800 metres remaining, runner Palace Reign ran up on Naturalism, Sydeston and Rough Habit putting them out at the final turn. Nemesis Let's Elope and Better Loosen Up and Super Impose ran for home, Let's Elope wide, Super Impose close by and Better Loosen Up to the inside.
Let's Elope drifted in, forcing Better Loosen Up to check, and Super Impose nosed Let's Elope for one of the most thrilling wins in Cox Plate history.
Super Impose finished his astonishingly long career with a 15th in the Melbourne Cup 10 days later.
He established a then Australasian record for prize money. He made 74 starts in all, winning 20, running second 24 and third eight times.
Super Impose: Final Years.
Being a gelding, Super Impose was relegated to ambassadorial functions at various tracks.
He was put down in 2007 at the age of 22.
Later that year, Super Impose assumed his rightful place in the Australian Racing Hall of Fame.
Super Impose had a seldom equaled career. His propensity for confounding handicappers, punters and bookies alike provided a level of drama and intrigue that was remarkable even by racing standards.
It might possibly be said by detractors that the scintillating 1992 Cox Plate victory was the result of fortuitous circumstances, but many a sage is quoted as saying that 90% of success is simply showing up.
By competing at an age when most thoroughbred stallions are comfortably covering brood mares, Super Impose earned a justly deserved accolade as a capstone to his impressive career.