Gawler Racecourse is located just 40 minutes North of Adelaide, on the main road into the town of Gawler.
The Gawler Racecourse is operated by the Gawler & Barossa Jockey Club.
Gawler is a thriving township on the edge of the renowned Barossa Valley, it's an easy escape from the hustle and bustle of city life. The Gawler Racecourse has its very own dedicated railway station, making it easy for punters to enjoy a day at the races from almost anywhere.
The club is a vital link within the community of Gawler, and has forged a reputation as an icon of the town, with many locals having grown up going to the races at Gawler, and most commute past the Gawler Racecourse on a daily basis.
The Gawler Racecourse is unique in that it has its own railway station, which enables patrons' easy transport to and from Adelaide on race days
The redevelopment of the Gawler Racecourse was completed in July 2010 and is considered a great new centre for locals and tourists alike to enjoy both racing and special events.
Contact:
GAWLER & BAROSSA JOCKEY CLUB
PO Box 622,
Gawler, SA 5118
Ph. (08) 8522 1801 Racecourse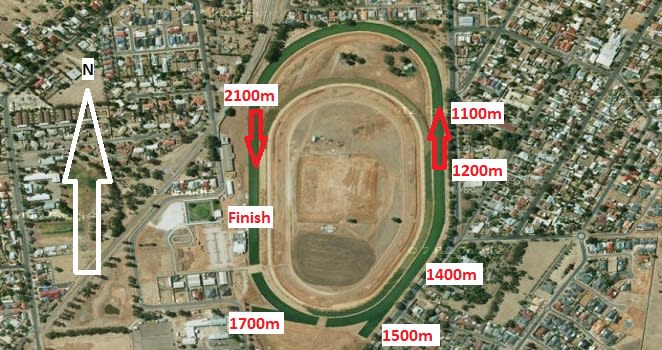 The town of Gawler is situated on the outskirts of Adelaide and is 90 kilometres away from the urban centre.
The redevelopment included the following:
1. The construction of a new race track with a circumference of 1840 metres and a home straight of 300 metres compared with the old straight of 200 metres.
2. The construction of a new grass training track and sand track inside the course proper.
3. New race day facilities for jockeys and race day officials.
4. A new purpose-built function centre, which will service race day patrons and be available for hire to the Gawler community on non-race days.
5. This facility will accommodate 350 people.
6. The removal of the old grandstand.
Premier Mike Rann officially reopened the track at the first race on the new surface on Wednesday 14 July 2010.
The Club hosts 14 mid-week race meets throughout the year, as well as its two Sunday events including the annual Gawler Cup.
The inside grass track is 1840 metres in circumference and has a 300 metre long straight. The track has a few curves and a good long final turn can give inside barriers an advantage over distances of about 1700 metres and less.
Nearby racecourses included Balaklava Racecourse, Oakbank Racecourse and Strathalbyn Racecourse.