Palmerbet was started in August of 2013. Three brothers, Matt, Adrian and Grant Palmer used their combined experience and expertise as on course bookies in Sydney to create an agency that is growing due to its wide appeal to punters of all levels, from the dedicated professional to the casual punter who comes out for big events.
A major revamp of the website in 2019 was made to great reviews and acceptance.
One of their top offerings is extensive previews of upcoming races, something any racing punter can use to narrow their selections and make sensible choices.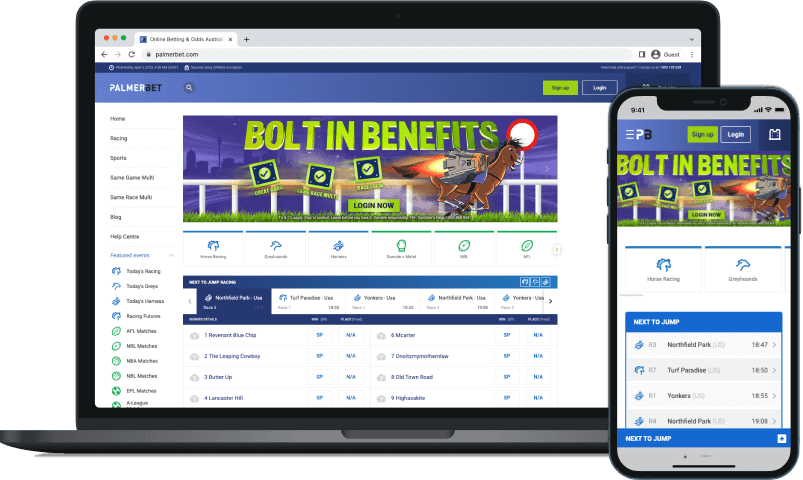 Great Value & Great Odds Every Day
Popular For
Get $100 Racing Bonus Bets When You Bet $100 On Your 2nd Ever Racing Bet
TC's - Exc SA & WA. Max Bonus $100. 2nd Racing Bet. Racing Bonus Bets Only. Existing Customers
WHAT ARE YOU REALLY GAMBLING WITH? Set a deposit limit.
---
Australian family owned and operated by on-course bookmakers
Plentiful deposit options
Superb racing odds
Highly informative blog
Racing money back specials
---
Fewer sport markets
No live streaming
Limited withdrawal methods

Palmerbet Odds
Many punters view a bookie's odds as being a critical element of bookie selection. Our observations of bookie price quotes over the course of more than 10 years has shown that with so many choices available to the Australian punter, it is rare to find prices vastly different from one bookie to another. It is nice to get the best price, but it is also true that a great price absent any of the other important criteria, such as promotions, markets and customer service, to mention but a few, is rarely a bargain.
Palmerbet is one of the smaller operations in the Australian bookmaking scene, so it might be expected that they cannot/do not compete with the bigger players, but such is not the case.
Comparing odds between bookmakers is something we do often, though, so here is a brief glimpse of the prices Palmerbet were offering in the days prior to some major racing and sports events.
It can be difficult, as prices change frequently and the only thing of which you can be assured is that the price you see today will probably be different from the price you see tomorrow.
You could see what you believe is a great price with one bookie compared to another, but it could simply be a case of one bookie doing pricing updates in advance of the other bookie(s).
The race we chose was the Group 1 Robert Sangster Stakes at Morphettville in South Australia.
Before we get into the prices though, and lest we forget further on in the Palmerbet review, we give the Palmers high marks for the website feature that supplies the race name when a computer cursor is hovered over a race number.
Palmerbet and perhaps one other bookie provide this feature. We laud it because it makes finding the desired race much simpler.
The top three chances for the race with Palmerbet were favourite September Run ($4.40), Bella Nipotina ($6.00) and Away Game ($8.00).
For the comparison, we picked a rival bookie that is known to have some of the top racing markets in the country. The prices we found there were $4.60, $6.00 and $8.50. Twenty cents better for the favourite, the same for the second-favourite and fifty cents for the third choice.
The difference we found in that precise moment was tempered by the fact that this Palmerbet rival had at one point quoted the same exact prices we saw at Palmerbet.
This snapshot of bookmaker prices at a specific point in time is the way most punters will evaluate a bookmaker's odds and the prices we saw not only could change, they will change as the race jump draws nearer.
Palmerbet are not known for their sports coverage. All the same, here is the snapshot of prices for Palmerbet and the same rival bookmaker we used in the racing example for an upcoming AFL match.
The match we chose was a day off when this Palmerbet review was prepared. We selected Fremantle Dockers versus North Melbourne Kangaroos. Here is what we saw.
Palmerbet had the head-to-head as Fremantle $1.10/North Melbourne $7.10. The Dockers were favoured by 41 points and the over/under for the match was posted at 159.5 points.
Suffering Roos fans might say that North Melbourne will score the .5 and Fremantle will cover the 159.
The rival bookmaker had it as Fremantle $1.10/North Melbourne $7.00. The Dockers were favoured by 40.5 points and the over/under market was set at 157.5 points.
Palmerbet had a slight edge by offering more for North Melbourne backers. The slightly higher winning margin at Palmerbet was insignificant at just half a point. The over/under varied by just two points.
Insignificant price variances such as this tell us that Palmerbet knows how to price its markets and understands that being well under the market is a sure path to shutting down from lack of turnover, while being well above the market is a recipe for losing money and going out of business.
Our conclusion is that Palmerbet have great odds, good enough to hang with the big swingers. They offer these great odds on a consistent basis and seldom permit any of the larger agencies to steal a march on them.
Shop around if you must. We all love a deal and we all enjoy shopping odds. In the case of Palmerbet, you can usually expect to find a Palmerbet promotion attached to many events, which is a great way to reduce any impacts from specific odds that vary by pennies.
PalmerBet Markets
Sport punters often give an edge to a bookmaker that offers the most markets per fixture. This is true, even if slightly misguided. The biggest bookie with the biggest number of markets on offer for a fixture know, as do the smaller agencies as well, that they could drop the total number of markets per fixture to under 20 and realise very little impact on the amount wagered on the fixture.
Since this Palmerbet review is being prepared at the height of the AFL and NRL regular seasons, we chose two fixtures from those codes to check how the number of Palmerbet markets stack up against a rival.
For the upcoming AFL match between Fremantle Dockers and North Melbourne Kangaroos that we used for the above odds comparison, we discovered that Palmerbet had 157 markets on offer the day before the match.
The rival bookmaker we used for comparative purposes showed the exact same number! That is something we did not expect. We thought that where Palmerbet had 157 markets, the rival would have well over 200.
This random observation would tend to contradict any of the opinions we have seen about Palmerbet having fewer sports markets.
Continuing, we looked at an NRL match that was mere hours from the kickoff.
We found 148 markets with Palmerbet for the match between the South Sydney Rabbitohs and Brisbane Broncos.
The Palmerbet rival was offering only 114 markets.
Overlooking what we said previously about exotic prop markets not attracting any backers, any punters or reviewers who want to sledge Palmerbet over the perception that Palmerbet have fewer markets needs to do some counting.
Combining odds and markets is a stronger method for selecting a bookmaker than is either criterion alone and we have to come down on the highly positive side when we do this for Palmerbet.

PalmerBet Products
The Palmerbet racing products are a full suite of features that run the gamut of popular race products. Palmerbet also have some unique products that on their own make Palmerbet a solid choice for a bookmaker membership.
Palmerbet Blog – The Palmerbet blog is a vast repository of some of the best racing and sports commentary. Our view is that it is the best blog of any of the Australian online bookies. There are over 1200 pages devoted to the Palmerbet blog and each page has 12 blog posts that cover all three racing codes and any sports codes that truly matter.

Top Flucs – Racing dividends are paid the best price fluctuation of the racing jurisdictions official price. Palmerbet will accept wagers placed as Top Fluc up until 35 minutes before the start of a race.

Best of the Best – This popular racing product guarantees to pay the highest dividend of the Top Fluctuation and the Best Tote. It can be used for Each Way bets, in which case the dividend is calculated at the middle tote for the Place bet. Palmerbet selects the races for B.O.B. from metro tracks, subject to a $250 maximum bet.

Protest Payout – This is another popular Palmerbet racing product that pays the first past the post as the interim winner.

Best Tote + SP – For selected horse races, Palmerbet will pay a dividend equivalent to the highest dividend of the three Australian totes and the official starting price. Each Way bets are paid based on the middle tote.

Same Race Multi – Punters pick two to four runners and their finishing positions.
A couple of the Palmerbet betting products are applicable to sport punting as well as race punting.
Multi Builder – two or more legs, with the odds per leg multiplied to calculate the potential payout. Palmerbet permits the multi bet to be a combination of racing and sport bets.

Live Betting – Palmerbet offers an extensive number of live betting markets. Almost any event is eligible. It is necessary to call Palmerbet to receive a price quote. A call is necessary to place a bet on a live market, but it would be nice to know the price from the website itself. There are no links on the Palmerbet website for in-play markets.

Same Game Multi – Similar to the Same Race Multi, except for sport bets, such as match betting combined with one or more additional markets, such as first scorer markets, half markets and others.
Palmerbet Bet Types
Palmerbet, building on their Rails Bookmaking background, offer all of the popular bet types. They will sometimes conjure up new bet types, but these are their tried and true betting types, more or less in ascending order from easiest to hardest.
Win – selected runner must cross the line ahead of any others in the field. This is a common bet type and it is often associated with Palmerbet racing promotions, so it will be necessary to obtain a Palmerbet login in order to examine the various promotions.

Place – The selected horse must finish first, second or third. Race fields with just five to seven runners will not pay for third place. If a race has four or fewer runners, only Win bets are accepted.

Each-Way – A popular bet with savvy racing punters an Each-Way bet is a way to place two bets on one runner, so that the bet pays if the selected horse finishes first or second or third. Considering how many Thoroughbred races are decided by such small margins, this is a great bet to avoid coming out on the losing end for a backed runner getting beat by a nose.

Exacta – A bet that requires picking the first and second runners in a race in the correct finishing order.

Quinella – Like the Exacta, except the two chosen runners can finish in either order.

Trifecta – Requires picking the first three runners past the post in the order of finish.

First 4 – Requires picking the first four runners past the post in the correct finishing order.

Running Double – A bet that is successful if the winners of two consecutive races at the same track are selected by the punter.

Daily Double – Similar to the Running Double, except that the bet is on two nominated races at the same track, rather than any two consecutive races.

Quaddie – Requires picking the winners of four nominated races at the same track. The Early Quaddie option is included in this punt.

Super 6 – Sometimes known as Big 6, this racing bet requires the punter to pick the winners of six nominated races, usually at the same track, but available across two or more racecourses on occasions.

Multis – Described under the Palmerbet products section. These sorts of bets often have promotions associated with them, so be sure to use your Palmerbet login to check for specials. Multi bets are also available to sport punters.

Others – Palmerbet offers racing bets for Jockey and trainer premierships, an excellent way to have a seasonal bet on racing similar to those that offer markets on the AFL or NRL Grand Final winners. Also under this category are such novelty bet types as Head-to-Head, Odds or Evens, Mystery bets and favorites betting.
Palmerbet have the full array of racing bet types and our conclusion is that betting on racing with racing bookies such as those who run Palmerbet is as good as or better than it is with rival bookmakers.
Palmerbet Promo Codes and Betting Offers
Regarding promo codes for Palmerbet, we are often asked about Palmerbet Australia sign up bonuses. If we can trust our memories, we recall a time when making a Palmerbet deposit of $50 get $200 in bonus bets was a Palmerbet promo code, but those types of Palmerbet deposit bonus offers were eliminated by law for all online bookies in 2018.
Our Experience with Palmerbet
The website that Palmerbet debuted in 2019 was far nicer than the original version, even though for the time, the Palmerbet website was easy to use. The new site is even quicker to use and it features a design that is dear to the hearts of Aussie punters.
Entering the URL www.palmerbet.com.au will take visitors to the Palmerbet Home Page. There is one of those distracting scrolling banner features in the middle of the page that thankfully goes away once one of the Palmerbet inner pages is accessed.
The colour scheme is comprised mainly of a pleasant blue. Most market pages are a greyish-white colour with sharp black text to identify links to codes and markets. The theme blue colour is also used for prices in the markets section.
Palmerbet uses the tried-and-true three-column design. This layout is exceptionally easy for new members to use. Experienced punters will be right at home, although we advise caution because with almost every bookie using a similar design template, it is important to pay attention to ensure that the punt you want to place is going to the bookie with which you want to place that bet.
The top banner shows the day and time and Palmerbet's security protocol of 2048-bit encryption. Also on that banner is a link for contacting Palmerbet for anyone who needs help with possible problem gambling.
The main logo beneath has the Palmerbet logo on the left, next to a magnifying glass for the Palmerbet search function. The only other two icons in the main banner are boxes to click to Sign Up and Login. Finally, the button for the bet slip completes the top banner.
The left column is sublime in its simplicity and clarity.
The top section has links for Home, Racing, Sports, Same Game Multi, Same Race Multi, the Palmerbet Blog and the Palmerbet Help Centre.

Below that is a section labelled Featured Events that drops down to reveal all of Palmerbet's supported codes. The first link is for Today's Racing, followed by Today's Greys and Today's Harness. Next is Racing Futures, followed by all the sports codes supported by Palmerbet.
There are fewer sports offered by Palmerbet. Those sports seem to be ordered vertically according to popularity. The list will change as league seasons begin and end.
The centre column is for venues and markets in the case of racing.
We once again want to mention that Palmerbet racing markets give the name of the race when a cursor is hovered on a race. We simply adore this feature and if we had the power, we would make every bookie include this feature.
Venues, races, and time remaining until a race are presented in a highly visible and easily readable format that has black and grey text on a light grey or white background.
Most racing pages will offer filters for the three racing codes, links for Today, Tomorrow, Saturday, Sunday, etcetera.
Right below are four links/labels that all racing punters will appreciate. These supply navigation to the Palmerbet Jockey Challenge, Results and Futures. The bet slip column on the right is used for an extensive report of races close to jumping.
The right column is mainly for the bet slip, with the exception we just mentioned, although it is possible to keep the Next to Jump section open at the same time as the bet slip. The Palmerbet bet slip does exactly what is expected – show selections, enter a stake and view estimated returns.
When we picked a race, we saw a lot of information that many of the rival bookies lack. Such information included race prize money, rail position, running rules and links to a Predictor function, Early Speed and a Speedmap.
Our view is that these features make Palmerbet an excellent choice for racing punters.
A unique function of the Palmerbet website for racing is a toggle button labelled Tote that can be turned off or on. Having it on shows the Tote products Palmerbet are offering for a race. Turning it off limits the prices displayed to Fixed odds markets, along with all the Palmerbet Flucs.
The bottom of a Palmerbet web page will reveal important details, such as funding methods, Palmerbet Partners & Sponsors, sports leagues that have granted Palmerbet their seals of approval and links to all the supported Palmerbet social media. The bottom is devoted to information about Palmerbet, Contact information, Terms & Conditions and several other categories that might rise to importance depending on the situation.
The Palmerbet desktop betting site is comprehensive by comparison to some rivals. It is fast to load pages and the layout is simple and intuitive to use.
Palmerbet Mobile
As good as is the Palmerbet desktop wagering portal, the mobile version of the website and the dedicated apps for iOS and Android are the true stars of the agency. Some, like ourselves, might prefer the bigger screens for research or reading Palmerbet blog articles, but all Palmerbet functions can be performed on a mobile device, including all banking functions, locating and lodging bets and keeping up with markets as prices shift for any reason, or to check results.
Palmerbet seem aware that mobile wagering is the growth market for online betting and they seem to have gone to lengths to make their mobile offerings equal or superior to those of any rival bookmaker.
Palmerbet Sign Up Instructions
Direct a web browser to www.palmerbet.com.au.

Click the Sign Up button near the top of the page on the right side.

Fill out the registration form.

Click Continue and provide the information requested.

Click Next, and then supply the email address desired for the user name. Create a password on this same page.

Add a deposit limit if desired.

The next page will permit a deposit if desired at this time.

Click Join and you are all done.
A final step will be to verify your account so that you are able to withdraw winnings.
Palmerbet Betting Instructions
Go to the Palmerbet site and use your Palmerbet login.

Select a code, such as racing or sports.

Click on the desired market.

Click the odds of the desired runner or club.

Enter the desired stake on the bet slip.

Click/tap Place Bet.

Palmerbet Deposit Methods
Palmerbet accepts Visa, MasterCard, BPay, PayPal, PayID, POLi and Bank Transfer to fund a betting account. Palmerbet have no fees associated with any of these, but punters should be aware that depending on the credit card issuer, funding to a punting account could be seen by the bank as a cash advance.
For a newer, smaller bookie, we were quite pleased with the Palmerbet funding options, PayPal in particular. Those methods incline us to overlook that as of mid-2022, Palmerbet does not have a branded debit card.
Palmerbet Withdrawal Methods
Punters can withdraw to a funding credit card, provided they first withdraw an amount equal to the funding deposit. PayPal is a great way to make withdrawals, but for the moment, that is not an option. The only other option is electronic bank transfer.
Palmerbet FAQ's
The Palmer family. Three brothers currently hold the reins, but their father was involved in the early stages due to his experience as a Sydney rails bookmaker. The brothers' grandfather also was a rails bookie, so the family ties to racing are strong and persistent.

---

Bank transfers take one to two business days.

---

Our findings are that Palmerbet are very competitive with their odds and often have enhanced odds through promotions.

---

Yes. They can be liked on Facebook and followed on Twitter. They have a YouTube channel that is well worth viewing and they also support Instagram.

---

Phone enrollment is available at 1300 124 357.

---

Palmerbet is licensed by Racing NSW. Their main location is at Canterbury Racecourse in Sydney.

---

Online and phone betting is available 24/7. Their Customer Service phone is staffed from 8am to 6pm every day.

---
Conclusion
We view a Palmerbet membership as essential to any racing punter, for all the information Palmerbet supplies for racing. We have seen them also get stronger with age for sports betting.
We would not hesitate to recommend Palmerbet, as the family that runs it has been involved with wagering for a long time and have successfully added online wagering to their agency.
Founded: 
Online in 2014, however the Palmer family has ties to betting that extend back over 50 years.
Owners: 
Palmer Bookmaking Pty Ltd.
Products: 
Racing and sports betting, some novelty markets.
Location: 
Canterbury Racecourse, Sydney NSW
Turnover on Deposited Funds: 
1x
Phone: 
1300 123 238 for phone betting. The number for customer support is 1300 124 357.
Email: 
contact@palmerbet.com
Post: 
PO Box 1036, Cronulla NSW 2230.
About The Author
John DeBiase has been following the online bookmaker industry since 2010. He takes pride in remaining objective and is immune to bookie pressure to supply favourable reviews. When he does not have a bookmaker under the microscope, John derives great satisfaction from his pursuits as a self-taught musician, handyman, and grandfather.