WinnersBet launched in June of 2020. A unique feature of WinnersBet is that they are licensed by Victoria, where most Australian bookies hold licenses issued by Northern Territory.
WinnersBet is owned by Director/Founder Da He. Membership in the Victorian Bookmakers Association by Da He guarantees payment to punters of all successful wagers.
Additionally, Da He has over 10 years of experience in the online bookmaking industry due to stints with industry giants TAB and bet365. He was also involved with ClassicBet, now known as PlayUp and Tom Waterhouse.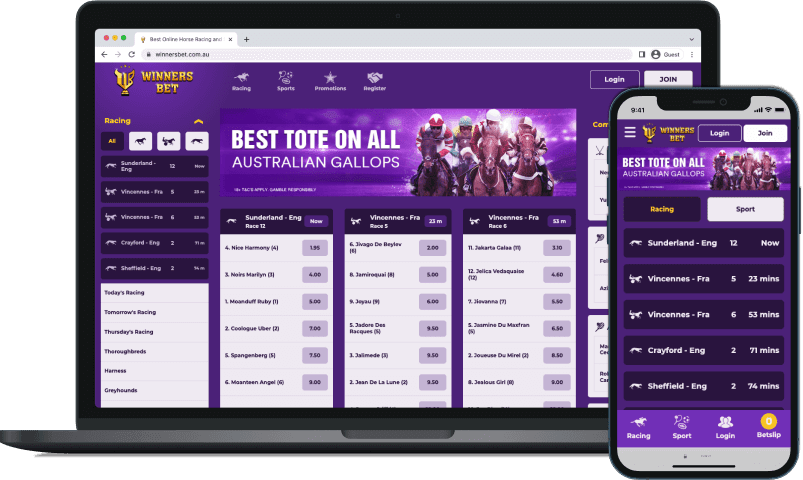 Get Bonus on Every Deposit
Popular For
Get Bonus On Every Deposit
TC's - Existing Customers Only. Exc SA. First Fixed Odds Win Bet Only
WHAT ARE YOU REALLY GAMBLING WITH? Set a deposit limit.
---
Australian owned and operated
Excellent for Thoroughbred punters for offering Best Tote on all races
24/7 Chat Support
Protest Payout
Superbly functional website
Broad coverage of domestic and international racing
---
Fewer sports markets than rival bookmakers
No live betting
No phone betting

WinnersBet Odds
Any WinnersBet review has to acknowledge that starting an online bookmaking agency in 2020 had to have been a risky proposition. Its founder being a member of the Victorian Bookmakers Association is a good start to earning some credibility in the crowded marketplace of online bookmakers in Australia.
The same thing could have been said about Neds in 2017, but the outcome of that scenario was Neds being acquired by Ladbrokes in 2018. A desire to be acquired might be behind the thinking of the powers that started WinnersBet, but so far, there have either been no takers or WinnersBet has shunned any takeover suitors.
With the above parameters, we here at PGR are pragmatic enough to acknowledge that one of the criteria punters use to evaluate the offerings of an online bookmaker are the odds that the bookmaker posts.
There are those of us who love a bargain, any bargain, and we have encountered reports that there will be times where WinnersBet did have the highest odds of any of those older, more established names in the Australian online bookmaking industry.
For that reason alone, those punters who enjoy shopping the odds will find a membership with WinnersBet one more opportunity to get a bet on for a better price than someone else will.
Those reports of better odds did seem a bit anecdotal, so we did our own comparison. Obviously, we could not compare every price for every market, so we randomly selected some mid-week racing markets to do a random check of how WinnersBet stacks up to other online bookies.

Our random selection was a Wednesday meeting at Sydney's Warwick Farm Racecourse. Our theory is that everyone knows about the big races and bookies will often tout odds for a major event while taking some of those great odds back on lesser races, so a mid-week meeting would eliminate the big race factor.
The race we picked was the Davali Thoroughbreds Handicap, an 1100-metre sprint.
The top three picks with WinnersBet were Hold On Honey ($3.80), Italian Informant ($3.90) and Rebel Shadow ($4.80).
BlueBet had those three priced at $4.00, $4.20 and $5.00.
Betstar had the same quotes as BlueBet. Neds quoted the same prices as BlueBet and Betstar.
This disparity is fairly significant, but should be viewed from the wider perspective and taken as part of the whole – there are myriad solid reasons to consider WinnersBet beyond odds alone.
In the spirit of thoroughness and objectivity, we had a look at the markets for the next round of the AFL Premiership Competition, choosing the Saturday match between the Geelong Cats and the Fremantle Dockers.
The head-to-head with WinnersBet had the Cats quoted at $1.41, with the price on the Dockers as $2.90. The line was -16.5 for the Cats, the points market was $1.98 Cats and $2.90 Fremantle for a margin of 1 – 39 points, $3.70 Cats/$12.00 Dockers for a margin of 40 points or more. The other market was a $61 quote for a drawn outcome.
We can overlook that $61 draw market, for obvious reasons.
At BlueBet, Geelong were $1.38 to Fremantle's $3.05, the line was the same 16.5-point spread we found on WinnersBet. The quotes for a 1 -39-point margin were $2.10 Geelong/$3.45 Fremantle and the 40+ margin quote was $3.45 Geelong/$15.00 Fremantle.
We felt it unnecessary to check Betstar and Neds, because we could see the trend. In this instance, WinnersBet had better odds for the favourite. We often see this when comparing bookie odds. In this particular instance, the logical choice for those wanting to back the Cats would be to lodge the bet with WinnersBet.
Keep in mind that price quotes on races and sports events shift almost continuously as money comes in and information is updated in real time. What we have provided here is a limited snapshot of what was happening at the exact time we chose to look for purposes of this WinnersBet review.
We have been beating the drum for years about how all the bookies have similar odds to a great degree, but for anyone who has not encountered our bookie reviews in the past, it is a message worth repeating as many times as necessary that while odds are important, they are just one factor of many that need to be taken into consideration.
WinnersBet Markets
The above comparison of prices is a perfect jumping off spot to take a look at WinnersBet Markets.
Those prices we used for the Geelong/Fremantle match represent every market that WinnersBet were offering – a total five, four if you ignore the price WinnersBet quoted for a drawn outcome.
They may have some additional markets as the bounce approaches, but nothing like the 140 markets we saw with Neds.
Surveys have shown that for AFL fixtures, WinnersBet will offer around 20 markets per fixture, more than enough, in our view.
For racing punters, WinnersBet has all the markets and bet types necessary to construct a nice bet slip and the apparent lack of sports markets serves two purposes. First, once the ten most popular sports markets have been considered, the rest of them will seldom attract any serious consideration.
Secondly, like price quotes, the number of markets changes constantly as an events approach, so any comparison of online bookies based on the number of markets is going to be influenced by when the bookies' websites are visited.
Those prices were better than those on BlueBet, where we observed something that is often the case, which is that one bookie will have better odds for the favourite, while another bookie will have better odds on the under. If you back the wrong club or the wrong runner for a race, the odds and the number of markets are irrelevant.
Over the brief course of their existence, WinnersBet have increased in every category – with more races and more sports markets and we feel confident in saying that they will continue to improve in the area of markets as they build their membership base.
WinnersBet Products
This is a significant criterion when it comes to online bookmaker selection. It is especially important to racing punters, where a wager is often split to account for a better chance of coming away from a race or a meeting with a profit. It is much more challenging than sports betting, with so many factors contributing to the outcome of a race.
Some allowance must be made for the relative newness of WinnersBet and we have to say that in our experience, which spans over a two decades, of looking at online bookies, we can recall that new bookies that went on to become well established were in a similar position to where the current times find WinnersBet.
This is the area where WinnersBet will improve with age, but for now, here is what punters can expect in terms of betting products with WinnersBet.
We will start by saying that for those of us who consider ourselves as racing punters, gallops in particular, WinnersBet have all the betting products we need.
We appreciate that they do supply results for racing, something a newer bookie will often overlook.
WinnersBet Bet Types
Under gallops, we found WinnersBet offering Win/Place, Quinella, Exacta, Trifecta, First Four and Quadrella. There were Fixed Win and Fixed Place odds, Best of Three Totes for Win bets and Middle Tote for Place bets, concluding with Top Fluc.
Our observation, as well as our conclusion, is that WinnersBet have a completely satisfactory array of bet types for the vast majority of punters.
WinnersBet Promo Code & Betting Offers
Since the infamous sign-up bonus was eliminated before WinnersBet came into being, we can dispense with that easily by simply saying that the bookie sign-up bonus is a thing of the past, regulated out of existence by the Australian Government in 2018.
WinnersBet do have some attractive promotions for current members which can be viewed after they sign in.

Our Experience with WinnersBet
WinnersBet will freely admit that their focus is racing, with the claim that they are one of the best new Australian betting sites for horse racing.
All online bookies, near the start of their existence, rely on race betting to grow their member base and provide them with the revenue to expand markets and offer better odds.
We consider a bookie's website one of the most important elements in bookie selection and we have to say that we appreciate WinnersBet for this aspect of their operation.
The primary desktop website is accessed by directing a browser to winnersbet.com.au.
This URL takes site visitors directly to the main page, where visitors will find a vibrant purple background that is highlighted with a darker purple with white text, or white market backgrounds with black text. The third main colour is a shade of yellowish gold that is used for contrast on key links, such as Racing, Sport, the header of the bet slip, Coming Up for events soon to jump and the like. This third main colour is used judiciously and truly makes key links jump out at you.
The website is simple and intuitive.
The top banner has just seven items. There is the WinnersBet logo, of course, followed by icons for Racing, Sports, Promotions and Registration. Finally, on the far right side, are boxes to either Login or Join.
There is a slideshow on this page and this is not the first time or the first bookie for which we have said that once the main page is left, the slideshow mercifully disappears.
Beyond that, the WinnersBet website uses the familiar three-column layout, so punters with multiple bookie memberships will feel right at home, so long as they are conscientious about making sure that the bookie page they are on is the bookie page they want.
The left column begins with the heading Racing, with boxes to sort by gallops, trots and greyhounds. It displays the next five races to go from nearest to farthest out, and includes domestic and international races.
Under the next-to-jump box is another that provides quick links to Today's Racing, Tomorrow's Racing, and then whatever day happens to be next, in this instance, it was Thursday's Racing. The most important information in this box was the link to Racing Results. We have to offer praise to WinnersBet for two things. One is simply for offering results and the other is for putting this valuable information where it is easy to find.
The bottom of the left column is where Sports markets can be located and it also includes the WinnersBet Election markets.
The centre column is where the price quotes will be found. The country where a race is being held is designated by an icon of the flat for that country. The venues are supplied in bold black text and most prices are black text in white boxes, with some purple, red and orange used for events close to jumping.
Clicking on any price will open the simple but effective bet slip.
Any bets entered in the bet slip can be removed by clicking the red trash can icon that is present with every selected market.
The bet slip shows the potential return of the bet, which is nice, even though the math is fairly simple with the decimal odds format used in Australia, but it is still nice to have this feature for anyone who places multiple bets or stakes in unusual, non-round number amounts.
Under the bet slip is where WinnersBet "Coming Up" markets will be found. On our most recent visit, there were dozens of international events, including the popular code of the U.S. National Basketball Association.
Punters who scroll down to the bottom of a WinnersBet page will find some important information, such as About Us, Help, Responsible Gambling, Sports Events Betting Rules and Racing Events.
The WinnersBet primary website lacks some of the fancy features that some of the older, larger bookies offer, but for us and many others, this is actually a positive feature. Information is presented in an easy to follow format that makes us want to spend more time on the site.
In our judgment, the WinnersBet website delivers everything a racing punter and most sports punters could want in an easily digestible format that is distraction free and pleasant to use.
Just in the short time they have been operating as an Australian online bookmaking agency, we have seen the website undergo nifty modifications that added an extra level of convenience to the process of finding and placing online wagers.
WinnersBet Mobile Apps
WinnersBet do not have mobile apps designed for Android and Apple devices. We assume that at some point, they will roll these out, but we are fine with the mobile version of the website.
As codgers verging on geezer hood, app permissions always evoke our anxiety about data security and privacy. We find it hard to understand why we should grant an app permission to see our files, photos, contact list and other personal details. While we do not know if app developers actually use any of these permissions, the fact that they are requiring them in order to download and install an app is disturbing.
For WinnersBet and all bookies, we promote mobile websites and in the case of WinnersBet, we found the mobile version capable of doing everything we needed to do, with no sacrifice of phone storage space and no demands for private information.
The WinnersBet mobile website is capable of performing all necessary functions and it was simple to navigate, even for those of us with dexterity-challenged thumbs.
Mobile wagering is an important consideration for bookie selection and judging by the rest of the world, it is live prop betting on mobile devices that represents the growth area for the future of the online bookie industry, so here is hoping that Australia figures out a way to move into the 21st century before it rolls to the 22nd century.
We feel that WinnersBet does a great job with its mobile website and is well positioned for what we feel is an inevitable move to live mobile betting in Australia. It is also a solid bet that WinnersBet will soon debut mobile apps for Apple and Android devices.
WinnersBet How To Open A WinnersBet Account
It is easy to register for a membership with WinnersBet. It takes only minutes and WinnersBet has provided a self-guided set of windows and instructions that can get everyone who wants a WinnersBet membership to join and get in on the action.
Here are the steps. The entire process can be completed in minutes.
Direct a computer or mobile browser to www.winnersbet.com.au.
Click or tap the "Join" button in the white box at the top right hand side of the page.
Supply the required personal information. Anything with a red asterisk must be provided, such as full name, date of birth and full address.
Enter a valid email address you would like to have associated with your WinnersBet account.
Enter a valid contact phone number, and then click/tap the box at the bottom labelled "Go to step 2."
Pick a username and password. Confirm the password
Set a deposit limit if desired, or check the box saying, "I do not wish to set a deposit limit on my account."
Click/tap the box indicating that you are of legal betting age and agree to the WinnersBet terms, conditions and privacy policy.
Click/tap "Confirm Registration."
WinnersBet Betting Instructions
Use your user name and password to log in to WinnersBet.
Use the left column to find a code for which you are interested in placing a wager.
Alternatively, WinnersBet may have opened a page with the market already displayed.
Click a price quote in the centre column. This opens the bet slip.
Enter any additional markets if desired.
Enter a stake amount.
Submit the bet.
WinnersBet Deposit Methods
Newer bookies often have fewer ways to collect your money, but WinnersBet has an adequate number that will accommodate all but a tiny minority of punters.
WinnersBet offer four deposit methods, or three, if you consider Visa and MasterCard, as credit cards, to be one of the methods.
The other way to deposit is via POLi.
WinnersBet will acknowledge POLi instantly and permit a new member to start placing bets immediately. With the credit card route, the card issuer can hold things up. An important consideration with credit cards is that some issuers will not permit charges to a wagering account and another is that some banks and card issuers will treat the transaction as a cash advance that will incur fees.
WinnersBet do not charge any fees on deposits, something that was not uncommon in years gone by, but has seemingly now been relegated to obsolescence.
WinnersBet Withdrawals
At this time and based on the best information at our disposal, WinnersBet pays dividends by electronic funds transfer only.
It is important to know that deposited funds must be turned over at least once before a withdrawal can be made and an account must be fully verified prior to any withdrawals.
All withdrawals made prior to 11 am AEST will be processed the same day on Mondays through Fridays, with the exception of public holidays.
We expect that if WinnersBet can succeed in gaining a foothold in the fiercely competitive market that is Australian online wagering, they will add more deposit and withdrawal methods and hopefully, a branded WinnersBet debit card similar to what many of the rival bookmakers offer.
WinnersBet FAQ's
WinnersBet, as well as all the other Australian online bookmakers, do not offer a deposit bonus, as those sorts of promotions were banned by the government in 2018.

---

Not at this time, mid-2022.

---

As of the middle of 2022, WinnersBet does not have phone support of any kind, by which we mean for telephone betting or support.

---

Since WinnersBet do not have phone support of any kind, the chat function operates 24/7.

---

Punters that have not verified their accounts may find that their account is prevented from making withdrawals. They might also freeze an account in the event of their believing that a credit card has been misused or used fraudulently.

---

We acknowledge WinnersBet for addressing the issue of complaints transparently on their website. Complaints can be filed via email at support@winnersbet.com.au. Complaints that cannot be resolved between WinnersBet and a member will be referred to Racing Victoria. Racing Victoria will offer a mediation process provided all parties are willing to proceed.

---

Once a bet has been accepted, which is instantly in most cases as soon as the member submits the bet, cannot be changed or cancelled.

---

WinnersBet is an online bookmaking agency founded in Victoria in mid-2020. The operating license under which WinnersBet operates is issued under the authority of the state of Victoria.

---

WinnersBet are off to a good start. The site is a good one for online betting and in the brief span of its existence, WinnersBet have demonstrated a strong compulsion to improve. They are a great site for racing codes and often offer the best odds on some gallops races.

---

They are slightly above the average, but in instances where WinnersBet provides better odds, this difference in margin is made up for.

---

WinnersBet was founded by and is run by Da He, an online wagering industry veteran with experience gained by working for Sportsbet and ClassicBet.

---

The WinnersBet website provides only chat and email as support options.

---

At this time, mobile betting with WinnersBet can be accomplished by using the excellent mobile version of the website. It is reasonable to expect that they will roll out operating system specific apps for Apple and Android devices in the near future.

---
Conclusion
WinnersBet is a new bookie, but a bookie that has the experience of industry veterans at many levels of the organisation.
They are new, by comparison to some of the other online bookies, some of which were there when the internet was in its infancy, but this newness offers a fresh perspective that is welcome to the Australian online wagering scene.
At the moment, the main things holding them down is the lack of live betting and telephone betting. Those things might come along with time, as they did with other bookies when they were first launched.
For racing punters, WinnersBet offer a complete suite of racing products for all three racing codes, with competitive odds delivered on a smooth, efficient, intuitive and attractive website.
If the other bookies are any indication, it will not be long before WinnersBet expands its sports markets and develops support for live betting and telephone betting.
We would not hesitate to recommend WinnersBet to anyone who wants a quick and easy way to facilitate online wagering.
Products: 
Racing, sports, novelty markets
Location: 
Melbourne, Australia
Phone support: 
None at this time
Live Betting Phone: 
None at this time
Email support: 
support@winnersbet.com.au
About The Author
John DeBiase has been following the online bookmaker industry since 2010. He takes pride in remaining objective and is immune to bookie pressure to supply favourable reviews. When he does not have a bookmaker under the microscope, John derives great satisfaction from his pursuits as a self-taught musician, handyman, and grandfather.