PlayUp has its Australian headquarters in Sydney, but its license is granted by the Northern Territory. It is part of an international company called PlayUp Limited, with offices in Sydney, Melbourne, Darwin and Hong Kong.
PlayUp aggressively competes with the international online corporate bookies, while at the same time claiming strong Australian roots.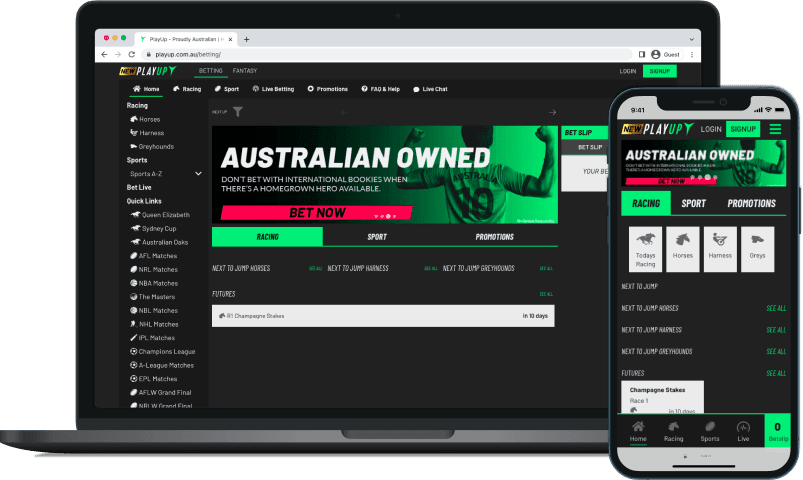 Best Racing Products
in Australia
Popular For
Excellent Customer Service
WHAT ARE YOU REALLY GAMBLING WITH? Set a deposit limit.
---
Strong attention to odds and racing products
Dedicated account manager for punters who appreciate custom service.
Australian owned
Slick iOS and Android mobile apps
Dividends paid on interim and official winner for Australian gallops.
---
No live streaming
Limited funding methods
Form guide leaves something to be desired

PlayUp Odds
PlayUp Australia has positioned themselves as an offeror of great Fixed Win racing odds, so we decided to put them to the test for this PlayUp review and see how they compared with some other bookies for a race meeting that was only hours away from jumping. The race meeting we chose was at Warwick Farm and the race we chose was the Warwick Sandstone, a 1500-metre BM62 race.
The great thing about odds comparisons is that they provide an actual real-time snapshot of a bookie's odds without a PlayUp login, so it was straightforward to investigate PlayUp betting.
The top three for the race we picked were Amore Primus ($4.60), Beach Club ($5.00) and Kellers Shelter ($6.50).
The quotes we saw at a big rival bookmaker were identical, as they were for the third source we checked.
Since the race we chose was a modest event, but this PlayUp review was prepared when any major races were classified under the Futures category, we had a look at the Doomben 10000 when it was about 12 days to the jump. Futures betting is a good way to get on at great prices, but there is no guarantee that a horse will jump.
The top three for PlayUp betting were Mazu ($3.50), Big Parade ($6.00) and Isotope ($8.00).
The top three quotes on the rival we chose for comparison were Mazu ($3.60), Big Parade ($8.00) and Isotope ($7.00).
Finally, our second rival bookie had the top three as Mazu ($3.00), Big Parade ($6.00) and Isotope ($8.00).
PlayUp betting odds, this brief racing comparison shows, are competitive for a race soon to jump and a race that has yet to declare the final nominations, final field or barrier draw. Racing punters who value simplicity might discover that a PlayUp login is all they need for online wagering purposes.
All of that means that without doubt, the prices we saw from PlayUp were always competitive and at times, better than the prices of rival bookmakers.
We did not want to neglect the sport punters, so we had a look at the next round of the AFL. We picked the first fixture of the round, a Friday night match between Port Adelaide Power and Western Bulldogs.
PlayUp had the head-to-head as Port Adelaide Power ($1.95) and Western Bulldogs (1.85). The Western Bulldogs were favoured by 2.5 points.
A major rival was quoting Port Adelaide Power as $1.92, with the Western Bulldogs priced at $1.88. The line with this bookie was Western Bulldogs as 1.5-point favourites.
A second rival we checked had Port for $1.95 and Western Bulldogs for $1.85, with the Dogs favoured by 1.5 points.
As you can see from two racing and one sports example, PlayUp betting is squarely in the mix for odds. We often say that odds alone are not the sole critical criterion for selecting an online bookmaker membership, but they are important.
The other thing to know, at least in the instances from above where there is time remaining before the event, is that the prices we saw will in all probability be different as the events become nearer.
For punters who enjoy the shopping process and we admit, in our cases, to enjoy getting the punt on for the best price mainly to sledge our mates, PlayUp is an online bookmaker that deserves careful consideration.

PlayUp Markets
PlayUp have every imaginable racing market for all three racing codes. We are focused on gallops here at Pro Group Racing and we are impressed by the coverage PlayUp provides for domestic and international Thoroughbred Racing.
They are known to be slower about opening weekday racing markets than some of the other online bookmakers, but they do get the prices posted in time for punters who are interested in those races that take place below Group level.
When it comes to sports markets, we saw plenty of AFL markets. Like most bookies, PlayUp increases the number of markets as the bounce approaches. Our first check showed them with 41 markets for an upcoming AFL match. When we returned less than 24 hours later, the number of markets PlayUp were offering had jumped to 119.
Two rival bookies we checked had slightly more, 158 for the one and another 152, so PlayUp were a little behind, but it has been established that once it goes beyond the top 10 footy markets, the rest of them do not get many takers.
Our conclusion is that PlayUp has plenty of markets for racing and sport punters.
PlayUp Products
Betting products change constantly. A PlayUp betting review necessarily needs to mention this, because the products we mention today could change or be replaced, although there are quite a few that remain constant.
Here are some of the main PlayUp betting products, so exclusive to racing and some applicable to racing and sports betting.
Protest Payout – PlayUp will eliminate the punter frustration of backing the winner, only to see that winner invalidated on protest. In this case, PlayUp will pay the interim and the official winner on Australian Thoroughbred races.

Mobile Wagering – PlayUp has mobile versions of its website, along with iOS and Android apps, so anyone who wants to punt on the go will be well accommodated.

Multi Betting – Permits punters to combine single bets from the same match into one multi bet. Potential payouts increase with each additional leg, which is a true value for savvy punters. PlayUp multi bets, known as the All-Up Bet, allows two to 10 racing and sport bets to be combined for multiplied odds.

Best Tote + SP – PlayUp pays the best price of the three primary TABs or the official starting price on all Australian Thoroughbred meetings. This includes all races at all meetings.

Best of the Best Premium – PlayUp pay Best of the Best on Saturday meetings in Melbourne and Sydney. Also included certain PlayUp nominated Group 1 races at other venues and some Wednesday meetings as well. The dividend will be the best of the TABs or the bookies' top fluctuation.
PlayUp Bet Types
PlayUp have a strong offering of bet types for racing punters. PlayUp betting will always be interesting because of all the different bet types offering variety to every PlayUp bet.
Here is what they have on offer at this relatively early stage of their presence on the Australian online wagering scene. These are the most popular horse racing bet types offered by PlayUp. It is not uncommon for PlayUp promotions to be associated with these bet types, so a good place to begin any visit at the PlayUp website is the promotions page.
Win – The selected horse must win the race by being first across the finish line. This is a bet where PlayUp's Protest Payout may come into play.

Place – Pays punters whose horses finish first, second or third. Place bets will not pay the horse that finishes third in races where there are fewer than eight but more than five runners. Races with four or fewer runners will accept only Win bets.

Each-Way – A bet on a horse race where the selected galloper must win or run second or third. For example, a $100 Each-Way bet would be $100 on the win and $100 on the place. The stake outlayed for this bet would be $200.

Exacta – Pick the winner and the second place runner in the exact finishing order. PlayUp promotions often come into play for this type of bet type, so as before, checking the PlayUp Promotions page is a good place to start.

Quinella – Similar to the Exacta, except the winner and the second place horse can be in either order.

Trifecta – Similar to the Exacta, except it will be necessary to pick the first three finishers in order, rather than the first two.

First 4 – Punters must pick the first four across the line, in correct order.

Running Double – To win a running double, punters must pick the winners of two consecutive races at the same race venue.

Daily Double – This bet requires the punter to pick the winners of two PlayUp nominated races at the same racecourse.

Quaddie – To win this bet, PlayUp members must correctly select the winners of four nominated races at the same meeting.

Super 6 – Requires picking six winners of nominated races, often at the same track, but at times split over more tracks.

Multis – A combination of single bets that provides escalating odds due to the degree of difficulty. A multi bet can be built with a combination of race bets that span different races. A sport multi would be one that includes multiple sports events or matches. It is allowable to combine racing and sport bets on a single multi bet.
There is one more bet type that puts PlayUp high on our list of recommendations. PlayUp have, as part of their corporate DNA, fantasy betting through Draftstars. This is an excellent way of practicing without risk, something we wish all bookies offered. There are many types of fantasy games. The main ones are Head-to-Head, Classic, TipKing and RapidFire. PlayUp fantasy betting by the PlayUp Limited Corporation is a product/bet type that has to be tried, regardless of punter experience level.
The other unique and valuable feature PlayUp offer is not a bet type, but a service called the PlayUp Playbook. This is a free tipping service for sports and racing that is ideal for punters who want to make solid selections, but don't want to do their own form, or want to compare the tips they are getting from another source or sources with those supplied by PlayUp.
PlayUp Promo Codes and Racing Offers
As of now, mid-2022, we are still being asked about a PlayUp deposit bonus, even though a PlayUp deposit bonus has not been legal in Australia since 2018. Those who regulate bookies and online bookmakers in Australia considered sign up bonuses to be deceptive and those punters who discovered that the residency requirements shut them out of using a sign up bonus made their voices heard.

Our Experience with PlayUp
The PlayUp website is gorgeous for its simplicity, ease of navigation and comprehensive coverage of domestic and international sports and racing events. It is not the prettiest in terms of appearance, but it is great for supplying codes and markets with a simple colour scheme that is predominantly white or black text on white or black text, supplying the sort of contrast that makes it easy to click or tap the right spot. There is a little bit of green for highlights. It is used to inform punters about where they are on the website, the button for signing up with PlayUp and the PlayUp bet slip.
The website uses the traditional three-column approach. The top of the home page at PlayUp offers two choices just to the right of the PlayUp logo. Visitors, with or without a PlayUp login have a simple binary choice between Betting and Fantasy. This is where the judicious use of green under the selection will instantly inform punters about which side of the PlayUp website they are on.
Underneath are seven links done in white text with a black background. Once one of those is selected, the PlayUp website again underlines the selection with a green line, making navigation super easy. The choices here are Home, Racing, Sport, Live Betting, Promotions, FAQ , Help and Live Chat.
The Home page does contain one of those distracting scrolling slideshows in the top-centre of the page. Our personal preference would be for those to be eliminated, but plenty of online bookies have them. This is not in any way meant to be critical of PlayUp or any other bookie. It is something we would like to see go away, that's all. It does vanish once a page inside, past the Home page, is accessed, so this is a minor niggle if a niggle at all.
The left column is made up of white text on a black background that really pops. The top of the column is for the three racing codes, allowing punters to sort by Horses, Harness and Greyhounds.
The next section of the left column, underneath the heading of Sports, offers punters an A to Z arrangement once the drop-down carat is clicked. We appreciate this arrangement, as it is easy to determine where the desired sport will be found. Collapsing the section by clicking the carat a second time opens up some screen real estate and supplies a neat, uncluttered look.
This section also contains a link to PlayUp's Politics markets.
Below the sports section, in the final section of the left column are PlayUp Quick Links. These will vary according to the time of year, but the sports listed in this section will be ordered in terms of popularity. When this PlayUp review was prepared, the top five were AFL, NRL, NBA, MLB and NHL matches.
The centre column is where all the markets and odds will be found.
Under the slide show are links arranged horizontally for Racing, Sports and Promotions. The selected link is highlighted in green, once again a plus for ease-of-navigation on the PlayUp website.
On a day when the racing was light, the centre column was sparsely populated with major race futures, but directly under the Racing, Sports and Promotions links are links for Next to Jump for horses, harness and Greyhounds. These links can be expanded to reveal all the soon to jump races for all three racing codes.
Moving from Racing to Sport on the Homepage will again supply markets for soon to jump matches, with plenty of links devoted to soccer markets around the world.
Switching to the final tab, the one labelled Promotions, will require a PlayUp login in order to view the promotions, but getting a PlayUp login is easy and well worth it in order to view all the current promotions.
The right column is devoted to the PlayUp bet slip.
The PlayUp bet slip does exactly what is needed, no more nor no less. Once a price quote has been picked, the bet slip opens for the punter to enter a stake and receive an estimated return. Any bets entered that are no longer wanted can be removed by clicking Clear at the bottom of the bet slip. Bets that are for keeping can be placed by clicking the Bet Now button that is highlighted in green.
The bottom of many PlayUp pages is used to supply links for contacting PlayUp, getting help, Terms and Conditions, links for the Android and Apple mobile apps and PlayUp's links to responsible gambling assistance, including a place to set up pre-commitment limits.
Over the course of multiple visits, the PlayUp website grew on us. It is not colourful or exciting, but colourful and exciting are two things that get in the way of making good selections.
There is a further benefit to the simplicity of the PlayUp website. We observed, over the course of multiple visits, that the pages load as quickly as or more quickly than those of rival online bookmakers do. This is a subjective observation, but one that cannot be discounted out of hand.
Our conclusion is that the PlayUp website is very good and does what needs to be done, easily, quickly and accurately. We view websites as being high on the list of important criteria associated with online bookmaker membership choices. With the familiar layout, punters from other bookies will immediately feel at home, while new punters will be surfing the site within moments of using their PlayUp login.

PlayUp Mobile App
We have encountered some PlayUp reviews that do not think highly of the mobile version of the website. We could not understand what that criticism was about, as we were able to access the mobile version of the website and do everything we wanted to do. The mobile version is possibly not as optimised as those of some others are, but it is highly functional, and the buttons for tapping are large enough for our clumsy fingers, so all good there.
We downloaded and installed the PlayUp iOS app in seconds, so quick that it finished while we glanced away momentarily, we did not notice that the entire process had been completed.
Mobile wagering is where the online wagering industry is headed, or already is, so PlayUp can be proud of the steps it has taken to facilitate mobile wagering for its members.
PlayUp Sign Up Instructions
The process of signing up for a membership with PlayUp is one of the fastest we have seen. Here are the instructions.
Navigate a browser, desktop or mobile to PlayUp.

Click Signup in the top right corner.

Fill out the registration form with the required information.

Fill out the form for date of birth, username and password; set a deposit limit if desired.

Fund the account if desired.

Click "Create Account" and you're all done.
Following this simple process will enable access to all of PlayUp's impressive range of markets, odds and PlayUp promotions.
PlayUp Betting Instructions
Placing a bet with PlayUp is another instance of working with an online bookie that knows how to go about its business. PlayUp betting is easy and fun, so once you have obtained a PlayUp login, made a deposit and verified your account (must be done within 14 days or the account will be suspended) you are ready to begin enjoying all the benefits that accompany a PlayUp online betting membership.
Here are the instructions for placing a bet with PlayUp.
Log in to a PlayUp wagering account.

Select a market from the left or centre column

Click on the market in which you are interested.

Click on the odds box.

The bet slip will pop-up. Enter the desired stake.

When everything looks good, click "Confirm."
PlayUp Deposit Methods
Being a newer bookie, the PlayUp deposit methods are somewhat limited, but not to any extensive degree. All the methods PlayUp offer are methods available to the majority of people.
PlayUp support Visa, MasterCard, electronic funds transfer, paysafecard, BPay and POLi.
PlayUp Withdrawal Methods
Winnings beyond the original deposit made with a credit card can be withdrawn to the same card. Once that requirement is fulfilled, members can deposit winnings directly to their bank accounts.
The other PlayUp withdrawal option is bank transfer.
Processing time for withdrawals varies. A withdrawal made to a credit card will be instant, or close to instant. Bank transfer can take one to three business days.
PlayUp FAQ's
Neither PlayUp, nor any other Australian bookie, are permitted to offer sign up bonuses, as of 2018.

---

Accounts must be verified within 14 days. Verification is required before any withdrawals can be made. If an account cannot be verified using the information provided during the sign up process, PlayUp will send an email to you requesting and specifying the necessary additional information.

---

Go to https://www.draftstars.com.au/

---

Withdrawal requests are processed Monday through Friday, except when a public holiday falls on one of those days. Requests made by 11am Sydney time are processed the same day, those made after 11am will be processed the next day.

---

Generally, no, but in instances where a bet has been placed incorrectly, contact PlayUp before the event has started for a review by PlayUp.

---

Yes. Visit the PlayUp site to find live markets and odds, and then call 1800 888 001.

---

The answer will vary from punter to punter, so the best policy is to visit the PlayUp promotions page often. Some of the most widely accepted PlayUp promotions will be found on Saturdays.

---

PlayUp is one of a handful of Australian owned and operated online bookmakers. The corporate name is PlayUp Interactive Pty Ltd.

---

PlayUp represents the joining of MadBookie, TopBetta and ClassicBet, so while the PlayUp name seems new, this bookie has years of industry experience.

---

Not yet, but that could change at any time in the future.

---

Yes. They are competitive in terms of odds, markets, and their website and mobile apps are amongst the best in the industry.

---
Conclusion
The PlayUp name may be new, but don't be fooled. This outfit has been engaged with the Australian online wagering scene for years through its previous incarnations. It is run by experienced industry veterans.
While PlayUp do not have all the bells and whistles of some of the older and larger bookies, their racing odds are some of the best to be found.
Their sports offerings are also competitive to the degree that we would not hesitate to recommend PlayUp to new or experienced online punters as a sole wagering outlet, or as part of a collection of online bookie memberships.
Owners: 
PlayUp Interactive Pty Ltd
Products: 
Racing, sport and novelty markets
Location: 
Northern Territory license with offices in Melbourne, Sydney and Darwin.
Support via: 
Chat, phone, email.
Turnover on Deposited Funds: 
1x
Phone Support: 
24/7 ph 1800 752 987
Live Betting/Phone Betting: 
1800 888 001
Email Support: 
support@playup.com.au
Post: 
48 Epsom Road, Zetland, NSW 2017
About The Author
John DeBiase has been following the online bookmaker industry since 2010. He takes pride in remaining objective and is immune to bookie pressure to supply favourable reviews. When he does not have a bookmaker under the microscope, John derives great satisfaction from his pursuits as a self-taught musician, handyman, and grandfather.