Doomben Racecourse is located at Hampden Street, Ascot QLD.
Doomben Racecourse is operated by the Brisbane Racing Club, Brisbane QLD. The racecourse is approximately 7 kilometres north of the Brisbane CBD.
The Doomben Racecourse (also known as the 'Garden' course due to the gardens located around the course) is operated by the Brisbane Racing Club which was formed on 1 July, 2009 - the result of a merger between the Queensland Turf Club (QTC) and Brisbane Turf Club (BTC).
The merger of the former 2 racing clubs is a first for Australian Racing which makes Queensland the current front runner in this demanding industry. Doomben Racecourse had a major upgrade in 1982 bringing it up to a world class standard. In 1996 ultra modern drainage system technology was introduced to the course which now provides excellent drainage when heavy rains come.
The first race meeting was held at Doomben Racecourse in 1933. During the 2nd World War the racecourse was taken over by the Army and used to stage troops. It was reopened again in 1946.
Racecourse Details
Doomben Racecourse is fully turfed, is 26 metres wide with a circumference of 1,715 metres and a home straight being 350 metres long. All races are run in a clockwise direction.
The racecourse has three chutes at the:
1,350 metres
1,650 metres
2,200 metres
Doomben Racecourse is another of those tracks with tight turns making it hard for horses out wide in the run to win. Front runners and on pace runners again have an advantage.
Brisbane Racing Club is the leading metropolitan race club in Queensland and organises more than 90 race meetings each year at the Club's two race tracks, Doomben Racecourse and Eagle Farm Racecourse
Doomben Racecourse plays host to the Winter Racing Carnival and the Summer Racing Carnival.
Winter Racing Carnival at Doomben Racecourse In May
BTC Cup G1 1200 metres
Rough Habit Plate G3 2020 metres
BRC Chairmans Handicap G3 2020 metres
Doomben Cup G1 2020 metres
Champagne Classic G2 1200 metres
Doomben Roses G3 2020 metres
Lady Of The Turf Stakes G3 1350 metres
BRC Sprint G3 1350 metres
Fred Best Classic G3 1350 metres
Lord Mayors Cup G3 1615 metres
Doomben 10000 G1 1350 metres
Grand Prix Stakes G3 2200 metres
Premiers Cup G3 2200 metres
Summer Racing Carnival at Doomben Racecourse In December
George Moore Stakes G3 1200 metres
Vo Rogue Plate G3 1350 metres
BJ McLachlan Stakes G3 1200 metres
Transport To Doomben Racecourse
The fastest and easiest way to get to the races is by public transport
Doomben Train Station is only 200 metres from the racecourse. Catch the train by taking the Doomben line from any CBD railway station
Bus Service from Doomben catch route 301 from Adelaide Street, City to Doomben Racecourse
Ample free parking is available around the course and in the middle of the track itself. To enter the track use gate 1 off Nudgee Road. Parking is also available across the road at Eagle Farm Racecourse. Disabled parking is located within the Gate 5 car park
Taxi service is available to and from the racecourse from taxi ranks outside gate 4 on Hampden St Ascot
Contact:
DOOMBEN RACECOURSE
Hampden Street
Ascot, 4007
Queensland
PO Box 817
Hamilton Central,
Queensland, 4007
Ph. (07) 3268 2171
Fax (07) 3868 2410
admin@brc.com.au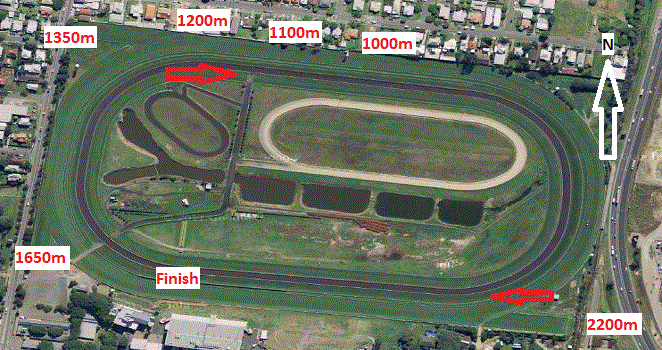 Doomben Racecourse is the home of the Doomben 10,000 | Doomben Cup | Lord Mayor's Cup | BTC Cup | Doomben Roses | Gunsynd Classic | Lord Mayors Cup | Rough Habit Plate.
Find below all the Group Races run at the Doomben Racecourse during the season.
Doomben Racecourse Barrier Guide
1010 metres: Starts on the course proper providing a straight run of 110 metres before a sweeping double bend. Inside barriers have a big advantage
1110 metres: Located on the course proper with a short run of about 210 metres to the sweeping double bend out of the back straight. Inside barriers are a major advantage
1200 metres: Situated on the course proper in the back of the straight. There is a straight run of only about 300 metres to the sweeping double bend. Inside barriers are an advantage from this start
1350 metres: Situated in a chute off the course proper at the end of the back straight. This start gives runners a straight run of almost 400 metres to the first corner. Despite this, inside barriers are favoured
1615 metres: This start is located in a chute off the course proper. Runners only have a short run of about 50 metres before a sweeping turn. Wide barriers are a big disadvantage
2020 metres: Starts on the course proper in the home straight. It provides runners with only 230 metres of straight before the sweeping turn into the back straight. Inside barriers are favoured
2200 metres: This barrier starts in a chute at the top of the home straight. There is a straight run of more than 400 metres to the first sweeping double bend. Inside barriers are a slight advantage