Unibet started in London, first obtaining an operating license from Malta. With a track record of over 20 years, anyone considering a Unibet membership has the security of longevity in the often chaotic world of online gaming.
They are an international bookmaker, although Unibet Australia has been customised to better align with the idiosyncrasies of the Australian wagering market and the unique priorities of Australian punters. Unibet holds an Australian license issued by the Northern Territory.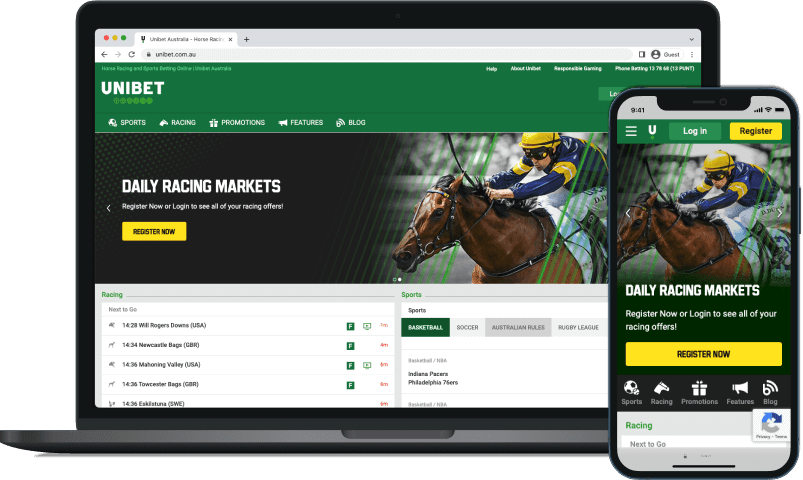 Unibet Offers Leading Racing Betting Experience
Popular For
Racing Bet Bonus Up To $200 In Matched Racing Bets
TC's - Existing Customers Only. Excludes SA
WHAT ARE YOU REALLY GAMBLING WITH? Set a deposit limit.
---
International bookie with a vast range of international and Australian markets
Consistently great odds on Australian racing
Incredible depth of analysis supplies good punting insights
Access to better odds through Unibet Uplift
Many years of industry excellence awards
---
Occasionally suffers in an odds comparison to some other online bookies, mostly in the less popular wagering markets

Unibet Odds
Unibet Australia offers competitive odds on Australian racing and sports. We often compare odds between bookies and have yet to find Unibet being far off the market for major racing and sports codes.
In the vast majority of instances, Unibet odds will be equivalent to other bookies and in the rarer instances when they do not have the best price, the difference is so negligible that only a punter making hundreds of bets per week would notice. The same is true in the instances where Unibet has the better odds; the difference does not amount to enough to matter.
Years of examining online bookies in Australia have convinced us that picking online bookmakers on odds alone is a disservice to the person picking the bookmaker. There are other criteria that combine with odds to form a more complete picture of bookie worthiness.
Since we were preparing this Unibet review a day ahead of the Group 1 Vinery Stud Stakes at Rosehill, we thought we would supply this example of an odds comparison.
With Unibet, the top three were Hinged ($4.00), Gypsy Goddess ($4.20) and Fangirl ($6.50). Ladbrokes were offering the exact same prices for the exact same Fixed Win bet. Bookmaker.com.au had the same quotes.
While this might not be true for every race and every galloper, it should supply some indication that in the fiercely competitive arena of online wagering, having uncompetitive odds would be the kiss of death.

Unibet Markets
There is some criticism aimed at Unibet on occasion that they do not have as many markets as some of the other bookies when it comes to the niche markets. If true, we would suggest that anyone who wants to punt on darts might want a different bookie. For punters interested in major thoroughbred and major sports action, Unibet has enough markets to easily place a 20-leg multi bet on any fixture.
Using the same Unibet competitor bookies from above, we took a quick glance at the popular Australian punters U.S. National Basketball Association.
For one upcoming fixture, Unibet was offering 225 markets in addition to the Win and Line quotes. Ladbrokes had 114 and bookmaker.com.au had 114.
Whether or not any punter actually needs 225, or even 114 markets, is something we have never been able to determine and online gambling statistics suggest that most punters seldom go deeper than the win, line and margin or total points markets.
Unibet racing has all the different bets, including win/place, exacta, Quinella, Trifecta, First Four and the list goes on. Other Unibet features that racing punters will appreciate are Best Tote, Mid Tote for place bets, Dead Heat and Protest Payouts and Money Back for a win bet that finishes second or third in select races or on selected runners.
Unibet Products
Constant innovation over the course of many years has seen Unibet in general and Unibet Australia specifically, introduce a line-up of products that are amongst the best found anywhere. One that comes to mind is the shift from desktop online wagering to mobile wagering.
Here are some of Unibet Australia's top products for Unibet racing and Unibet sports.
Uniboost – Members have the chance to boost the odds on the runner of their choice. These are available every day, not just during the big meetings.
Unibet Uplift – Similar to Uniboost with the primary exception being that enhanced odds only apply to certain Unibet nominated races and / or runners.
Re-boost – Get unlimited boosts until you collect. Available every Wednesday and Saturday.
BetShare – Allows you to share your sports bet with the world.
Weekend Bundle Bets – choose 2, 3 or more runners in the same race and get one price.
Jockey Specials – Bet on a jockey to win a certain number of races for a meeting.
Unibet Match Multi – This is a Unibet sports offering similar to the Mega Multi except that punters are permitted to combine up to 12 outcomes from a single match or event. Can be used on any sports market.
Unibet Bet Types
Unibet supports all the bet types anyone could want. We focus on Thoroughbred racing and Unibet racing from the main website or the Unibet app. Sports punters, don't worry, Unibet betting types cover it all.
Here are some of the main bet types found on the Unibet app on the Uni bet Australia betting sites.
SPG – Starting Price Guarantee. Unibet will pay the Starting Price if it is higher than the three Australian TAB tote dividends.
Best Tote – Will pay a win dividend equal to the highest of the three TAB dividends.
Middle Tote – Winning dividend is based on the second highest of the three TAB dividends.
Top Fluc – Punters receive the top price of any fluctuations as quoted by any on-course bookmakers.
Owners – Horse owners receive greater odds for their winning horses.
Protest Payout – A guarantee to pay if a backed winner loses on a protest.
Fixed Odds, Place Betting
Exotics – Quinellas, Exactas, Trifectas, First Four, Quadrellas
Unibet racing has other bet types, but the above are the main ones.
The Unibet app is a great way to stay on top of what is going on for both Unibet sports and Unibet racing markets and it is easy to check for these by anyone who signs up for a Unibet membership and uses their Unibet log in. If anyone has questions that cannot be answered on the Unibet website directly, Unibet live chat is ready to render assistance.
Unibet Promo Codes and Betting Offers
Many punters will enjoy using their Unibet log in frequently to check on Unibet promotions or to look for Unibet betting offers for Unibet sports and Unibet racing.
Many of these promotions are announced in the lead-up to a major race meeting and others are available almost any time.
Another feature in this category is the Unibet Dead Heat Payout, where they will pay the backer of a runner in a race that results in a dead heat the full dividend, rather than splitting it like other bookies do.
Unibet Live Streaming is another keen feature, Watch and Bet on over 400 events every week. To view Unibet's live streaming you must have a funded betting account.

Our Experience with Unibet
Websites have definitely improved since we did our first Unibet review back in the early years of the 21st century.
We always liked the website we found when we directed a browser to www.unibet.com. We could have taken advantage of a Unibet first deposit bonus back then, but since 2018, a Unibet sign up bonus or bonus promotions or incentives to join is prohibited by law.
Now, through constant innovation and a drive to hold its position as one of the world and Australia's top online bookies, the Unibet website is, in our opinion, a thing of beauty.
Many feel as though a bookie website is well down the list of important criteria when it comes to selecting an online bookmaker membership, but it is important to anyone who spends any amount of time looking for good information leading to good punts to feel good about the bookie website.
We appreciate Unibet.com.au for its subtle colour scheme of predominantly white, grey and green and for the wide-open, uncluttered feel.
Here is what to expect for anyone visiting the site for the first time, perhaps to find a Unibet sports bet, or as we would prefer, a Unibet racing bet.
As racing punters, we appreciate that when we enter www.unibet.com.au into our browser, we are taken straight to a lovely page where one click will take us to Unibet's Daily Racing Markets.
The top banner of the site contains quick links to Help, About Unibet, Responsible Betting and the number for phone betting. Directly below are tabs for Sports, Racing, Promotions, Features and the superb Unibet Blog.
You will need a Unibet log in to view the promotions. The Features tab will redirect to The Vault, where members can view all their Daily Racing Rewards, check the early and late mail on the Unibet Blog, or click on the Unibet Live Streaming icon and choose from over 400 events every week.
We could spend days writing about the Unibet Blog, but for here and now, everyone looking to make their best possible Thoroughbred racing bets should visit the Smart Punter section of the blog.

Finally, from the Racing Home section, there are very useful links to helpful content, such as About Racing, Rules and Racing Guides. These are essential to racing punters, both the ones making their first racing punt and the ones that are old hands.
The left side of the blog has icons to drill down to any specific markets in which they may be interested. It is also possible to use the search box in the blog to truly speed things up.
Of course, one of the first things to do is to click on the Racing tab. Prepare to be amazed. In the left column, punters have the opportunity to sort the three racing codes, although we ourselves would tell Unibet to dispense with the dogs and the trots. Right below is Next To Go. At the time of preparing this Unibet review, there were 20 races in the Next To Go column, none of them more than an hour from the jump.
The centre column where the prices are displayed is exceptionally well organised. Next to the racing tab is a tab for Results, along with another labelled Live Now for currently available Live Bets. There is also a tab for The Vault so that everyone who finds a desirable racing punt can check to see if there are any Unibet racing promotions waiting to make a good punt into a great punt. This only applies to current members.
Beneath that is a section devoted to Featured races. On the day we were doing this Unibet review, Unibet were granting quick access to the Group 1 Australian Derby, along with the top three price quotes.
Underneath the section for Featured and Next is a box that permits sorting races by Today, Tomorrow and so on, along with Futures and Extras, plus a link to Create Multiple Coupon.
Next are the racing markets for Australia. Scrolling down will show all the Australian tracks that are having races. Next comes races for New Zealand, followed by all the international venues and concluding with racing in the U.S.
The best thing about this section is that all the prices are quoted with white text in a green box. This is so easy to see and is the best we have seen, in our opinion.
Any racing market that has Fixed Price betting available includes a white "F" on a green background. Other such notices that appear next to the odds quote are icons for races that offer Unibet Promotions, Unibet Uplift, or Closed and Abandoned markets, again, only available to current members.
The right column is reserved for the betting slip.
Clicking on any one of the prices in the centre column opens the bet slip. The next step, which will be covered in more detail in the Betting Instructions section of this Unibet review, is to enter a stake. Unibet even has some quick links to round bets, such as $10, $50, $100 and $500.
There is a check box for anyone who wants to make a Win/Place bet.
Entering a stake will reveal the potential return from a winning bet. We wish that was in a larger font, but that only goes to show how far we need to go to find something about Unibet about which to whinge.
The odds quotes are updated in real time, so punters will always know when and if any price fluctuations have happened.
To conclude, if we were the people who handed out the award for online bookmaker website design, we would be handing that award to Unibet.
Unibet Mobile
If we were being succinct, something of which we are seldom accused, we would simply say that everything we said about the Unibet website goes for the Unibet betting apps.
Our preference for mobile betting through Unibet is the mobile version of the website. Doing this affords a consistent experience across all devices. That is also our preference for any online bookie app, but we understand how many punters appreciate a dedicated app for Android or iOS operating systems.
Oddly, unlike other bookies who splash links to their mobile apps on almost every web page, we did not find a single icon for mobile apps on any of the Unibet pages we visited.
To find the Unibet mobile apps, we had to resort to typing "Unibet Australia mobile app" in our browser search box. This took us to a Unibet page that had a link for the iOS mobile app. It is still true that the Android app store does not support apps that relate to gambling.
Punters using any of the Unibet mobile apps will be treated to the same great features as are users of the desktop version. This includes Unibet's long list of live streaming events.
We suggest using the larger screens of desktops to do any intensive pre-punt research, but all other functions are just as easily performed on the Unibet mobile apps.
You will need your Unibet log in to steam live events, but that is hardly rare with any of the online bookies.
Unibet Sign Up Instructions
Signing up for a Unibet online wagering account is simple.
From the home page, click on the Register icon
Follow the on-screen prompts to provide personal details
Set up a username and password
Deposit funds
Set up deposit and wager limits if desired
Punt
Any difficulties, on the odd chance that there might be one, can be solved with Unibet's great support section, or they can be called on the phone or live chat.
Unibet Betting Instructions
Navigate to www.unibet.com.au. Unibet is an international company, so make sure to add the .au on the end or it is possible to land on a Unibet site that is for overseas users.
Click on Racing in the top green banner below the Unibet logo.
Click on the icon of a galloper with a jockey to filter out the dogs and the trotters.
Use the left column to see the races that are soon to go, or click one of the prices in the center column to open a betting slip.
Add stakes for a race or multiple races, or multiple runners.
When everything looks correct, click on Place Bet.
Unibet Deposit Methods
Unibet keeps adding ways to fund a wagering account through the desktop, mobile site and Unibet mobile apps. At this point in time, they have enough ways to fund that no one should be unable to find a convenient funding route.
Unibet accepts Visa, MasterCard, POLi, PayPal, Apple Pay, Ecopayz Flexipin, BPay, and Neteller. Those should suffice for most punters, although we do have to admit to some disappointment that there does not seem to be a branded Unibet card.
Looking closely at the bottom of a Unibet page, we find them listing only POLi, MasterCard and Visa. The other deposit methods will be shown only after entering a Unibet log in on a Unibet mobile app or on the desktop site.
Unibet Withdrawal Methods
The Unibet withdrawal methods are the same as the deposit methods. Keep in mind that deposit and withdrawal methods can vary according to state and country regulations.
Unibet FAQ's
A Unibet sign up bonus is no longer available. The various Australian governments that have authority over online bookmaking abolished first deposit bonuses and incentives to join in 2018. News must travel slowly in some parts, because we are still being asked that question four years after the fact.

---

Unibet have a nice feature for Unibet results. Click "My Bets" under the Account tab. This will redirect you to your betting history. Not only can you check a recent bet, you can find the results of all your past bets. If you check before a bet has settled, it will be designated as "open."

---

A Neteller or Skrill withdrawal takes under 12 hours. A bank transfer can take up to three days. Credit and debit card withdrawals require 3 – 5 working days.

---

Unibet has bank level encryption for any financial transactions and personal data. Unibet have been around since 1997, which would not be the case if they were somehow cheating members out of money.

---

Yes. Unibet have one of the better live betting offerings of any Australian bookmaker. It still requires a phone call to place a live bet, but our prediction is that in the near future, Australia will authorise reputable bookmakers such as Unibet to offer live betting online through a mobile app or desktop computer.

---

Unibet is safe for all wagering, be it racing or sports. We recommend Unibet for its superb website and mobile apps, competitive odds, entertaining promotions and its great live streaming.

---

Unibet was at one time at a serious disadvantage when it came to live streaming, but in recent years, they have addressed this shortcoming and now offer comprehensive live streaming.

---

Unibet promotions are very worthwhile, with great features such as Daily Racing Uniboosts, Dead Heat Payouts, Protest Payouts and the Unibet 15% owners' bonus for owners who back their own horses. They also have some nice sports promotions and rewards.

---

There are punters that insist on Australian owned online bookies, but most will agree that Unibet Australia has been tailored for the unique wagering needs of the domestic wagering scene. When they took over Betchoice, many members did not even notice the switch.

---

Unibet always have competitive odds. When they are not the highest odds they are within pennies of any other bookmaker and with racing programs that pay according to the highest tab or the top fluctuation, it is not necessary to shop multiple bookies to find the best price unless it is something someone wants to do for the fun of it.

---

It is very easy to bet with Unibet. After signing up and depositing funds, choose from any of the thousands of markets Unibet offer, place your stake, submit your bet and sit back.

---

If Unibet, or any other bookie for that matter, observes punter irregularities, they can restrict punter accounts. In many instances, this is because the punter has forgotten to verify their Unibet wagering account.

---

There will be Unibet racing promos that run the entire year. There are others that only pop up for a short time during the spring and autumn racing carnivals.

---

Unibet are part of the Kindred Group, which is one of the biggest online wagering companies in the world.

---

Unibet has received many gaming industry awards in such categories as Sports Betting Operator, In-Play Operator of the Year, App of the Year and Socially Responsible Operator of the Year.

---

Yes. Members can set deposit and wagering limits during the signup process and any time after. They also have support for punters who feel as though their wagering could be getting out of hand.

---

Unibet has a nifty nine question quiz that allows punters to find out if they could be at risk for developing bad gambling habits.

---
Conclusion
If the situation were to become one of us having only one bookmaker online wagering account, Unibet would be our first choice, primarily because we personally think they have a superb website and mobile apps.
Of course, there is no such restriction, so we would tell those punters who have a different online bookie preference that Unibet definitely deserves a place in the conversation.
Unibet have done an excellent job at strengthening their offerings over the years, including adding more live betting and live streaming options.
Products: 
Races, Sports & Novelty Betting
Location: 
Fannie Bay Racecourse, Northern Territory
Languages: 
English, Spanish, French, Russian, German and Portuguese
Support via: 
Phone, email & live chat
Social Media: 
Facebook Twitter, YouTube and followed on Twitter
Turnover On Deposit Funds: 
1x
Phone Support: 
1300 246 673
Live Betting Phone: 
13 78 68 (13 PUNT)
Email support: 
customerservice@unibet.com.au
Post: 
Fannie Bay Racecourse, Dickward Drive, FANNIE BAY NT 0820
About The Author
John DeBiase has been following the online bookmaker industry since 2010. He takes pride in remaining objective and is immune to bookie pressure to supply favourable reviews. When he does not have a bookmaker under the microscope, John derives great satisfaction from his pursuits as a self-taught musician, handyman, and grandfather.