The detailed history of the Totalisator Agency Board and all of the variants is a convoluted history. Along with the above regarding the TAB boards in Victoria and New South Wales, the TAB operated in Queensland, South Australia, Northern Territory and Tasmania was known as UBET in 2015.
As of this time, all the state TABs are owned by Tabcorp, with the exception of Western Australia.
The TAB used to have stand-alone betting shops, but the number of those has been dwindling due to the popularity of online betting and the TAB services being integrated into hotels and clubs. There is almost a correlation between this decline and TAB app downloads.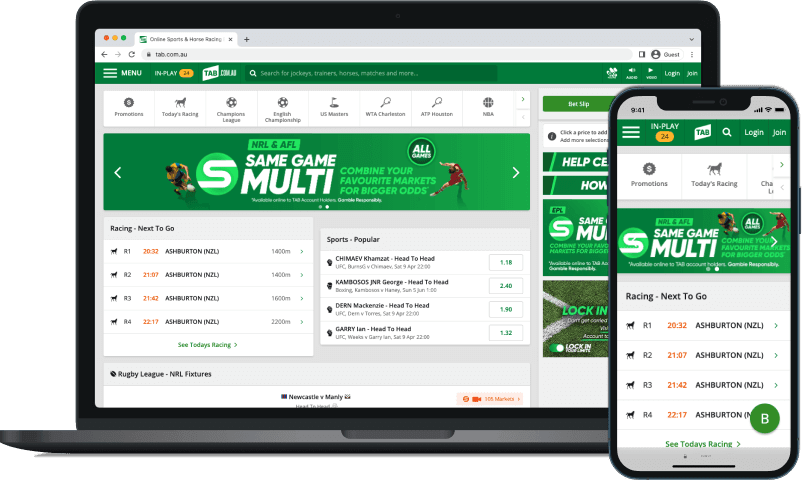 All Sky Racing Channels
Live on your Tab App
Popular For
Superb Website & Mobile Apps
WHAT ARE YOU REALLY GAMBLING WITH? Set a deposit limit.
---
Largest in Australia with over two million members
Members access every race live on SKY TV
Retail Branches
The most horse racing markets
Great mobile apps and website
---
Higher racing margins
ASX listing may make shareholders more important than punters

TAB Betting Odds
Many punters, racing punters in particular, always ask us which bookie has the best odds.
The answer is complicated, because we cannot name one bookie that has the best odds all the time. The answer is simple, because the variances in the odds between one bookie and another is so minimal as to be inconsequential for anyone other than the punter who is making dozens of bets per meeting, hundreds of bets per month and thousands of bets in a year.
The variance we see is usually two cents at most. It is better to focus on making good selections. If you see a favourite for $2.10 on your preferred bookie website, you will not find it on another bookie website for $3. The online bookmaker industry is simply too competitive for such a disparity in price quotes to exist.
Another factor we have encountered is that by the time we see a price on one bookie website, and then click over to another to do a comparison, the quote on the first bookie will have changed. This effect is most pronounced on the morning of a meeting or the day before.
We like a good deal as much as anyone does, but shopping the odds for a couple of cents is not necessary unless it is part of the recreational aspect of punting that any particular punter enjoys.
Additionally, if a favourite galloper is priced at $2.10 and somehow another bookie was quoting the runner at $2.50, if that favourite does not win, your stake is gone, whether you got on for $2.10 or $2.50. The price on a loser might as well be 100/1.
With regard to TAB specifically, we know they have competitive odds, or they would not have almost 2.5 million members. We have looked at TAB prices since the Totalisator Agency Board started going over from the government to private industry. TAB were competitive in 2000 and they are still very competitive today. The proof is that they are still here and it is quite difficult to fool an Aussie punter.

TAB Markets
What we have observed here is that TAB.com.au has plenty of sports markets. Naturally, what we report in our TAB review is a brief snapshot in time. We could check back in five minutes and see the number of markets change. This is often observed in the footy codes, where the number of markets per bookmaker increases as it gets closer to the bounce.
For example, an upcoming match between Port and the Dees found TAB offering 141 markets, while one scheduled for the following day had only 102.
We compared that with the markets for Neds and saw them offering 192 markets for the Port/Dees fixture and 159 for the next day's game.
It would be accurate to say that Neds offers more markets than does TAB. If we could get figures from the bookies about which markets draw punts and which are ignored, it would be plainly visible that well above 80 percent of the money wagered on a footy match is on the top 10 markets following the head-to-head and line markets.
Our view, though, is that the vast majority of punters will never need some of the markets for which the online bookies post odds. Anyone who needs more of those obscure prop bets would be better served by a bookie other than TAB.
Our view is that TAB offers more markets for sports punting than anyone will ever need, in fact, we find TAB far above satisfactory in terms of number of markets.
A switch to the racing codes will supply the same conclusion.
When we were composing the TAB review and checked on some minor races, we saw TAB offering Fixed Odds Win markets, along with Tote Win and Tote Place markets, more than enough to find a good plunge.
TAB Bet Types
This is more a consideration of the racing punter than it is for the sports punter. We can sum up TAB sports bet types by saying that every type of bet worth making can be found from TAB.
For racing, returning to the minor race we mentioned earlier, these are the bet types that TAB were offering.
Win/Place
Quinella
First 4
Exacta
Odds and Evens
Duet
Trio
Bundle Bet
Parlay
Double
Quaddie
Big Six


TAB offers an exceptional array of racing bet types, so no one need experience any anxiety that they are missing out on anything.
Other TAB products related to racing are TAB Money Back Specials, which is a great help in stretching wagering dollars by offering a bonus bet for a backed runner that finishes second, third or fourth. This promotion is only available to existing clients.
TAB offer a variety of specials, promos and other products that help racing punters. These change almost daily and are found by clicking the drop-down labelled "More Info and Options." To use any available bonus bets, simply select the bonus bet desired – it will instantly be applied to the bet slip. Again these offers are only available to existing clients.
Another one to look into is the Multiplier, which allows punters making bets on certain races to multiply the return of one bet per day. This multiplier varies from just over one to five times the existing odds.
TAB also have the popular First Past the Post feature, where a winning runner that is relegated to a lower position still pays as though the protest never took place.
The easy way to view all of the various product types of TAB and others is to log in often. There is a good chance that any popular product type will be available in some form for all the bookies.
TAB constantly innovates in addition to their running offers, so checking in with your TAB log in frequently is the best and only way to see everything on offer.
A few other TAB products that have proven popular with members are described next.
Tab Account Card – A quick way to place bets on the self-service terminals at TAB retail outlets.
Cash Out – A way to conclude a wager without waiting for the end result.
Tipping Competitions – Aimed at sports punters, but even racing punters will find an occasional sports punt or two and season-long tipping competitions are fun.
TAB Trackside Live – early morning sports and live racing broadcasts beginning at 11 am every day. There are two channels on Sky Racing. These can also be accessed on TAB's Watch & Bet service for current members.
TAB Promo Codes & Betting Offers
TAB promotions are similar to the promotions of the other online bookmakers. It is necessary to have a TAB log in to see the current promotions and it is a good idea to log into a TAB account on a regular basis to see if there is anything new. The best times to do this are in the weeks or days leading up to a major event.
TAB racing promotions are often available for the big races such as the Melbourne and Caulfield Cups and the Cox Plate. There are often promotions for most Group 1 races, but even when there is not one specifically associated with a race; say the Group 1 Australian Cup, TAB will have a racing promotion that will enhance the prospect of punting on the race.
Some of the promotions TAB were featuring when we prepared this snapshot TAB review looked stale or fresh. They were running one for the U.S. NFL several months out from the season, while they had another for Major League Baseball in the days before the season began. They were calling that one the MLB Pre-Pick that is being run as a weekly prize pool.
TAB do promote Sky Racing Live Vision, which is one of their stronger offerings, as it affords racing punters the chance to view every race live.
A racing promotion they were running when we were working on this TAB review is called Treble Time. Punters who successfully pick three winners from three nominated races are paid as though the bet was a Quaddie.
Critics of TAB are quick to point out that a TAB promotion is not as good as some of the other online bookies, but from an objective perspective, we found TAB promos to be absolutely adequate.
Promotions are an important element in the selection of an online bookie. It is always entertaining to see what they will come up with next, which is a reason to log in. If things remained static, boredom would follow, the result being dormant membership accounts.
The one thing to avoid doing is looking for a TAB offer for a sign up bonus bet. TAB sign up incentive bonuses are a thing of the past, as the various Australian governments that oversee online wagering made sign up bonuses illegal in 2018.
Our Experience with TAB
With all the focus and attention devoted to odds, markets, bet types, funding methods and the rest of it, punters occasionally overlook the important factor of a bookie's website and mobile apps.
Even the casual racing punter will spend considerably more time collecting data and making the determinations of which meeting, which race, which horse, which jockey and so on than will a sports punter, who can construct a sports bet on a two-outcome scenario in a matter of seconds.
In short, if you do not like a bookies website, you will probably not use that bookie. The same is true, possibly more so, for mobile wagering apps.
Here is what we experienced with the TAB website and the TAB mobile apps.
The website at www.tab.com.au is a little different from the websites of some of the other bookies.
They use the widely familiar three column arrangement with which most punters will be familiar, with one notable exception.
The left column is accessed via a hamburger icon that is at the very top left of the various pages. It is labelled "Menu." Clicking this icon will open the options on the left panel. The menu is subdivided into sections and requires clicking on Racing or Sports to access those markets and the corresponding odds quotes. Clicking on Menu a second time will close the options in the left column.
We were slightly put off by this at one time, but we have grown to accept and appreciate this option because it makes it easier to focus on the prices in the centre column.
The other options immediately to the left of Menu in the top green banner are a tab to instantly access any of the TAB In-Play markets. Punters who trend toward live betting will appreciate this. Next is a tab labelled TAB.com.au.
The next section of the top banner is a strength of TAB. It is a search box that Thoroughbred punters and others can use to search for jockeys, trainers, horses, sports matches and other areas of interest.
We give TAB high marks for putting their search box in such a prominent position.
On the far right of the top green banners are tabs for Sky Racing, with links to racing audio and video. This is another great feature.
The final two tabs on the top banner are for members to log in to My TAB account, or to Join for those who have yet to set up their TAB membership.
Immediately beneath the top green banner is a message in a yellowish box that offers help with signing up for a TAB account, place a bet, reset a PIN number or watch some nice and informative help videos. This box can be closed if not wanted.
The TAB website has another great feature. After the yellowish box is closed, there is a subtle grey banner with black text that from left to right, offers quick links to Promotions, Today's Greyhounds, Today's Harness and others that will vary according to any important goings on. For example, we saw a link for Champs Day 2 with quick access to some major autumn races, the U.S. Masters, NRL, AFL and many more that were viewed by clicking on right and left arrows.
The rest of the centre column is devoted to price quotes. There is one of those awful scrolling slideshow things that seem to show up on plenty of websites, but the one on TAB goes away once some internal markets are opened.
The right column is for the bet slip. No surprises there. When there are no selections made, or no pending bets to be seen, the right column is devoted to some punter resources. There is a link to the excellent TAB Help Centre FAQs and another with some succinct instructions for How to Bet.
The bottom part of the right column, on the day we looked, featured a promotion for Same Game Multis for the EPL. Under that was a banner taking members to a section of the TAB website where they could set lock limits designed to promote responsible gambling.
Finally, there was a quick link labelled "Welcome to Your New Home of US Sports", where members can access TAB Live Vision, content exclusive to TAB and Same Game Multi Wagering across all the major codes.
We do not always find a lot of information in the bottom section of the centre column, but TAB is a big exception. Scrolling down to the bottom of a racing page, for example, we found a section that supplied us with the TAB phone numbers for live betting, phone betting, TAB customer service and a way to find the nearest TAB retail outlet.
There were also links to the TAB mobile apps for Android and Apple.
Even bookies that do something similar are left in the dust by TAB's links to Racing, which displays such things as information about all the racing codes, the big races, results, Sky Racing and more.
Punters have the option of clicking Sports and seeing similar information about sports codes, live streaming, AFL and NRL tips and other popular codes.
All this valuable information is presented in an easily accessible fashion.
The great thing about the TAB website, in this case saving the best for last, is that TAB uses a pleasant colour scheme that is mostly black text on white and grey backgrounds.
TAB Mobile Apps
In addition to a highly functional and pleasant mobile version of the TAB website, there are available TAB apps for Android and Apple.
In the case of all three, it is hard to discern much difference, other than the smaller screen display, clicking being replaced by tapping and scrolling being replaced by swiping with a finger.
You can use a TAB app to place bets, deposit and withdraw and even use the mobile website or the TAB apps to find the TAB Customer Service Number, or tap on "TAB agency near me" to find a nearby retail outlet.
We are not claiming to have invented this tactic, but dedicated racing punters report that they use the desktop website to examine form, fields, track conditions and all the other factors that help determine a good punt, and then follow the action of a bet or market on their mobiles as they go about other business.
The TAB mobile apps, in our opinion, are some of the best in the industry. We have noticed an improvement as the technology, and the wagering market has come to rely heavily on mobile wagering apps.

TAB Sign Up Instructions
It will only take moments to enroll for a TAB membership. Before we get into that though, there are also options to sign up by phone or at a TAB retail outlet.
Here are the steps for signing up online.
Direct a desktop or mobile browser to TAB.com.au
Click or tap on the Join button in the top right corner
Provide your state of residence where the betting account will be located
Fill in the requested information on the following page with such things as date of birth, security info, address, mobile number and so forth
Set a deposit limit – this is optional and can be skipped or a limit can be set at any time
Click or tap Create Account
Select a funding source and make the first deposit – this also can be done at a later date
TAB will send an email with further instructions, along with an eight-digit account code – this code is used for logging in, as TAB uses the account number in place of a user name
Complete the final instructions and provided you have made a deposit, start betting

The process for signing up via a mobile app is essentially identical and those people who are adept at tapping and swiping will be able to sign up via that method.
TAB Betting Instructions
The process for placing a bet with TAB is basically identical to placing an online bet with any bookie. It is quick and easy. Here is an example on how to place a bet on Thoroughbred racing. The procedure will be identical for a sports wager.
Log in to your funded TAB account
Click or tap on the Racing tab
Find the meeting, race, and horse on which you want to bet
On the Racing page, choose from the three racing codes, which could be Today's Racing or a Futures race
Click or tap the race desired
Pick a Bet Type from the next page
Click the odds quoted on the desired runner to open the bet slip
Enter the amount you wish to stake
Press "Bet Now"
TAB Deposit Methods
TAB have fewer deposit methods than some other bookies have, but they have enough to satisfy most punters.
TAB accepts MasterCard and Visa for credit card deposits. A successful credit card deposit is available for immediate wagering. These can also be done over the phone using TAB's automated service on 1800-446-003. A credit card is necessary for anyone who wants to use Apple Pay.
A great way to make a deposit with TAB is PayPal. The nice thing about PayPal funding is that PayPal can be linked to a bank account. As long as the Bank account is open and has funds, deposits can be made, so no worries about a credit card expiring and necessitating updating the TAB account with new credit card information.
Any of the TAB retail outlets will accept cash deposits from Australian residents only.
TAB offers Credit Card IVR as a funding option. This is a credit card management suite TAB provides members. You may see it on the TAB websites as CCIVR. Using this method, members can register a credit card, remove a card, make deposits, cancel a deposit and update credit card information.
Australian residents can also use BPay for deposits. This is a quick way to transfer funds from a bank savings or cheque account directly to a TAB account.
Remember, though, regardless of which deposit method is chosen, there is no TAB deposit bonus. Australia no longer permits any bookie to offer sign up incentive bonuses or free bets to join.
TAB Withdrawals
Please note that before any withdrawals can be made, your TAB account must be fully verified. The website contains complete and simple instructions for completing this procedure.
Funds can be withdrawn via Electronic Funds Transfer, PayPal, Cheque, or at any TAB retail venue.
Cheques can take up to five working days to be processed.
TAB FAQ's
Customer service can be reached in Australia at 131 802.

---

By calling 1300-408-773.

---

TAB constantly offers new promotions, so the best promotion today might not be the best promotion tomorrow. Racing punters have expressed satisfaction with TAB's Money Back Racing Special, which automatically applies a bonus for a backed runner that finishes second or third on selected races. These offers are only available to current customers.

---

Yes. There is even a choice of low and high definition streaming.

---

Yes. They can be found on Facebook and Twitter.

---

Use the TAB locator function to find a retail outlet, a pub or club that offers TAB facilities or a TAB digital venue.

---

Yes. This can be done when completing the sign up process, or at any time once a membership has been created.

---

A TAB account can be opened, funded and used to start betting immediately. The account must be verified before any withdrawals are permitted. TAB has to ensure that withdrawn funds go to the intended person. This is done on the Verify Your Identity screen, where multiple ways of proving your identity is on offer.

---
Conclusion
Obviously, TAB, with its origins in the Australian governments, has been subjected to intense oversight, so there is no risk involved with depositing money with them.
Our opinion of their website and mobile apps is that they have some of the best offerings in Australia.
If we were somehow limited to one online wagering account, TAB would be one of our top choices.
We found some criticism of TAB, but most of those were minor niggles and not the sort of thing to compel us to steer punters in the direction of a different Australian bookmaker.
We would be comfortable recommending TAB to family members and friends.
Owners: 
TAB Corp Holdings
Products: 
Racing, Sports, Lottos & Keno
Location: 
Level 21, Tower 2727 Collins Street Melbourne VIC 3008
Languages: 
English, Chinese (Simplified) and Vietnamese
Support via: 
Phone and email
Turnover On Deposit Funds: 
1x
Live Betting Phone: 
1300 408 773
Email support: 
enquiries@tabcorp.com.au
Post: 
Level 21, Tower 2727 Collins Street Melbourne VIC 3008
About The Author
John DeBiase has been following the online bookmaker industry since 2010. He takes pride in remaining objective and is immune to bookie pressure to supply favourable reviews. When he does not have a bookmaker under the microscope, John derives great satisfaction from his pursuits as a self-taught musician, handyman, and grandfather.