Neds seemingly fell from the sky in 2017, just ahead of the Melbourne Cup. Their unique Punters Products made them one of the premier racing online bookmakers and apparently so attractive that Ladbrokes bought Neds in 2018!

This merger and Australian regulation preventing a Neds sign up offer happened about the same time. Read our betting review if you are thinking of signing up to Neds.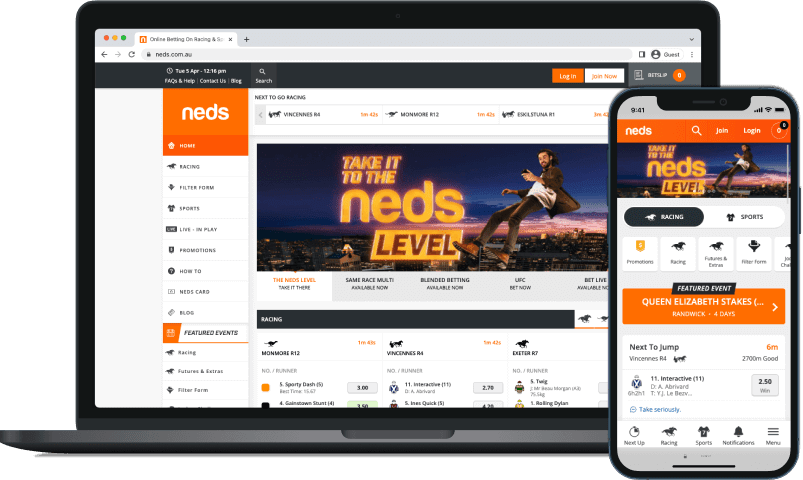 Same Race Multi On All Meetings All Over The World
WHAT ARE YOU REALLY GAMBLING WITH? Set a deposit limit.
---
Low Minimum Bets - $0.50 online, $20 for telephone sports bets, $50 for telephone racing bets
Neds MasterCard
Stability and security of ownership by Ladbrokes
24/7 customer support and betting
---
Has been known to restrict winning punters
Fewer steaming options by comparison to some competitors
Some niche sports markets are lacking

Neds Bookmaker Odds
As part of Ladbrokes, Neds will offer the identical odds that Ladbrokes offer. This is reassuring, as no one wants to place a bet at a bad price. Neds is fiercely competitive when it comes to odds, so the chances of finding quotes with a wide disparity compared to other online bookies are minimal.
We have been following the online bookmakers for over 10 years, and in all that time, we have seen different bookies offering prices where the biggest difference is two cents.
What we are attempting to tell the casual recreational punter, and even the dedicated amateur that has dozens of bets per week is that it is okay to shop bookies for odds if that is part of the enjoyment, but you can trust Neds to always be right there with the best quotes.
Neds Markets
Similar to what we said above with regard to odds, the Neds racing and Neds sportsbook markets take a rear seat to no other bookie.
Between multi bets for Neds racing and sports, anyone who logs in and has a gander will find thousands of markets every week, for domestic and international racing and sports from around the world.
Neds Products
Once again, Neds ticks all the boxes when it comes to the products they offer.
Some of the Neds offers are unique to them and the following list is just an example of what products to expect when you log in to a Neds online wagering account and do a little investigation.
This is not meant to be an exhaustive account of Neds products, but simply to supply an inkling of the vast array Neds offer.
In-Play Betting – It is very easy to find Neds live betting. It is one of their most popular features, even though it requires a phone call and a larger stake to participate.
Todays Racing – View all the days Horse Racing Venues along with betting odds for all States of Australia plus the rest of the World along with Trots and Greyhounds.
Neds Card – It is hard to imagine a better way of funding a Neds wagering account and withdrawing any winnings. Any ATM in Australia will dispense cash for any monies on the Neds card, subject of course, to account verification and turnover requirements.

Neds Blog – Neds supplies fresh content every week in an easy-to-follow format. This is a great place to find betting previews for not only racing, but sports as well. The blogs span the spectrum of domestic and international codes, supplying keen insights in assisting members to find logical bets.
Neds Cash Out – Allows members to take winnings early for a reduced amount if new information suggests that a bet is about to go sour for some unexpected reason.
Filter Form – Racing punters receive assistance in placing singles and multi bets from all three racing codes without the necessity of pouring over boring form guides ad infinitum. There are filters for jockeys, trainers and tracks.
Protest Payout – Anyone who has experienced the jubilation of backing a winner, only to have an upheld protest cruel the bet will appreciate Neds Protest Payout. Neds will pay the interim AND the official winner for Australian Thoroughbred and harness racing.
Early Quaddie – Punters who use this Neds product receive two chances at the Quaddie on selected Australian Thoroughbred meetings.
Neds Bookmaker Racing Bet Types
Major, as well as more obscure sports codes offer a great selection of markets.
Neds offers about 30 different sports where members can choose from a great assortment of bets, including but not limited to head-to-head-line betting, and a vast assortment of exotic prop bets.
Our site is focused on racing. Here are the primary bet types offered by Neds horse racing.
Win – Probably the most popular type of racing bet
Place – Requires selecting a runner to finish first, second or third. Many racing punters use this type of bet to spread their risk around, as opposed to having everything on one galloper.
Each-Way – A simple yet effective way to bet on racing, an Each-Way bet has a stake on a galloper to win and place.
Super 6 – Members try to pick the winner in six consecutive races. This is extremely hard to do, but the potential dividends represent a windfall of epic proportions.
Trebles – Requires the member to pick the winners of three Neds nominated races.
Quinella – Correctly pick the first two horses to finish in any order.
Exacta – Identical to the Quinella but the order of finish must be filled.
Trifecta – Commonly used exotic bet picking the first three to finish in order. A variation is the boxed trifecta is filled by the three picks finishing in any order.
First 4 – Next degree of difficulty above the trifecta, available at Neds in exact order of finish or boxed.
One other bet type that bears mention with Neds is the Multi or MultiBets. These are a way for members to combine several or more single bets, even, in the case of Neds multi bets, permitting members to combine the racing and sporting codes in hundreds of combinations. Neds multi builder is easy to use.
These bet types apply for online betting apps and bets placed through the Neds betting contact number.
In conclusion, Neds is an agency in which we have ultimate confidence for treating members fairly, especially Neds horse racing and the Neds live chat feature.
They also set the bar high for what would be considered a Full Service online bookmaker with exceptional design and functionality. The Neds multi builder is a key feature.
Neds Promotions & Neds Betting Offers
There is no longer a Neds Sign Up promotion.
Neds does a great job with a variety of promotions that keep things interesting. Neds betting promotions and Neds Betting Offers can be found online and are only visible to current members only.
Due to Australian regulations, neither Neds nor any other online bookmaker is permitted to offer Sign-Up bonuses or Neds Betting Offers as incentives to open a Neds Betting Account.
Our Experience with Neds

The Neds website is a favourite of ours here at Pro Group Racing. We think anyone who spends the time familiarising themselves with the desktop wagering portal will like it immediately.
Neds took the formula that has been successful for so long and used it to create an entertaining and intuitive site that does exactly what it should. Whether it is Neds sports betting or race betting, Neds betting is sure to become a valuable source for both casual and dedicated punters.
Neds are great for punters who love horse racing, and this fact asserts itself as soon as www.neds.com.au is typed into a browser window. When the home page loads, members are immediately taken to a familiar three-column layout that has been adopted as an industry default. That is a main reason for our positive Neds review.
The top banner is dark gray with white text that really pops out. The text gives the date and the time of day. Directly beneath are links to Neds' FAQ & Help section. Just to the right is a magnifying glass icon with the white text word "Search," which is handy for quickly drilling down to the desired information. To the right-centre are boxes for entering a Neds betting login or "Join Now" for potential new members to open a Neds Betting Account.
Finally, at the very right edge is the Neds betslip that remains unobtrusive until an odds quote is selected. The betslip can be closed when not needed and it is divided into sections labelled bet slip and pending bets.
Neds users should feel comfortable practicing with the Neds betslip, as the bottom provides options for clearing the betslip or submitting the bet. There is no cause for anxiety that an actual bet could be accidentally submitted.
The left-most column contains grey text links on a white background. The column begins with Home, followed by Racing, Filter Form, Sports, Live – In Play markets, Promotions, How To, Neds Card and Blog.

Just below is a header for Featured Events, which is divided into links for Racing, Filter Form, Futures and Extras, Jockey Challenge and NBA.
The left column continues with the other sports markets Neds offers. The items in this list will vary according to the time of year. The AFL and NRL were not playing when this snapshot of Neds was prepared. Rest assured, when those codes come close to jumping for the next season, Neds will cover these and any others extensively.
The final bits of information in the left column are important.
This is where the number to be called for telephone betting will be found. That number is 134 777. This is also the number for phoning in a live bet.
There is another phone number in the left column for customer support. It is different from the Neds betting contact number. The customer support centre is staffed 24/7. That number is 1300 006 337.
There are links to Neds' FAQ section and a section titled about Neds, along with buttons for entering your Neds login or to join Neds.
The centre column is where all the price quotes will be found. This column occupies about half of the screen, as it contains the most important information. Neds is a great site for racing punters that permits members to filter the racing codes or view all three at the same time. The top portion is reserved for Next To Go Racing. Directly beneath are Next To Go quotes for impending sports events, which could be anything from darts to basketball to soccer.
We appreciate how Neds does not cram too much into the centre column.
Clicking any price quote in the centre column will open the Neds betslip, which is located in the right column. The betslip has a box where you can enter your stake and immediately learn the potential dividend.
Our conclusion is that the Neds website, the mobile version, and the wagering betting apps for Apple and Android platforms are good systems. Every page we visited loaded quickly, instantaneously so far as we are concerned. We recommend that anyone join Neds.

Neds Sign Up Instructions
It will probably take less time to sign up for a Neds online wagering account than it requires to read the instructions, but having an advanced knowledge of the sign-up procedure will pave the way for a smooth and successful enrollment. It is easy to get to Neds log in.
We would recommend using a device with a full keyboard, but only because we are old and unaccustomed to the latest technology. Any of our kids could probably sign up with Neds using just their thumbs to enter all the information faster than we could do it with a keyboard and extra fingers.
How to open a Neds Online Betting Account
Note: Australian online bookmaking agencies are no longer permitted to offer sign-up bonuses. When they were, the Neds sign up offer was one of the best, but since the Neds sign up offer is no longer valid, don't waste time looking for it. Logging into Neds is easy.
Navigate to www.neds.com.au
Click the Join button on the top right. This will take you to a page where you can fill out the form. There is an option to join through your PayPal credentials, or you can choose to fill out the form with personal details, such as name, email and those sorts of things. This is a good way to get a Neds log in.
Once the form is filled out and submitted, the next page that will open will have spaces for choosing a user-name and password, your date of birth, mobile number and address. This page will have an option to set a limit on your deposits. You can set a limit at this point or skip this step. You can return at a later time if you decide that a deposit limit serves your interests.
Click "Create Account", and then pick a funding option. We cover the various funding options that Neds offer in another section of this review.

Congratulations! You have successfully established a Neds Betting Account, one of the finest online wagering agencies in Australia. Neds Login - Remember to keep your Neds betting login confidential.
Neds Verify Account - You will have to verify your account fully at some point, especially when it comes down to withdrawing your winnings.
Neds Betting Instructions
Placing an online bet with Neds is simple, as this Neds review will show. They focus on the important function of finding a good bet or bets, which is why the process of placing a bet on the Neds website or the Neds betting app is quick and straightforward.
There is a purpose behind this ease of use. Racing and sports punters often want to wait for the last possible moment to get a wager on. Once someone gains familiarity with the procedure, the whole process can be done in under a minute.
Neds Betting Instructions, step by step: (please note that the following instructions for betting with Neds are for the desktop or mobile-friendly version of Neds, but the Neds app mobile for Android and Apple functions similarly)
Neds Login - Use your Neds betting login to your funded Neds account and click the Account tab to make sure your deposited funds are available for wagering. This is done by entering your user-name and your password. It is fine to log in some time before your event. For example, you could log in to Neds an hour or two before the event and follow the odds as they instantly update when necessary. You can use the time to research the Neds betting site for other markets in which you might be interested, or dig into the vast trove of data Neds offers for the market that caused you to log into Neds in the first place.
Select Sports or Racing from the left column if the market you want is not instantly displayed - Many punters will find the market on which they wish to wager prominently on the Neds Home Page. In this instance, think of a major spring carnival gallop or the AFL or NRL fixtures. If there is not a quick link to a desired market, find the racing or sports category you are interested in in the left column.
Find a runner or a club that you wish to select - This is where you will be working the centre column of the Neds site. For a race, all the nominated runners will be shown according to price, from shortest to longest.
Once a market is selected, the bet slip will open and show the bet - On the bet slip, you will see that the slip is divided into sections, one for currently selected bets and another labelled Pending Bets that will show any bets that have yet to jump, but have already been entered. A selected bet can be deleted in two different ways. The first is to click or tap the little red "x" just to the right of the price for the selected bet. The other is to click the "Clear" button at the bottom of the Neds bet slip.
Enter a stake amount - The Neds bet slip will calculate the estimated dividend(s) for your wager(s). If you plonk down $100 on a market that is priced at $1.35, the bet slip will show an estimated dividend of $135.00.
Check everything over to make sure it is correct - This is one spot where it pays to slow down and take a good look.
Click the Submit button - Once everything looks good and is as you intend, click the "Submit" button to confirm your wager(s).
Neds Deposit Methods
Online bookmaker Neds offers plenty of secure and instant payment methods to satisfy every preference.
Neds Card
This is the best and fastest deposit and withdrawal method offered by Neds. It provides instant access to winnings, which can be used for purchases any place MasterCard is accepted. Members with an activated Neds Card can deposit directly into a wagering account. This is not a credit card, so you cannot spend more than you have deposited to the card, but conversely, you do not need to fret about interest charges on unpaid balances.
The best feature of the Neds Card is that once you have it activated, you can load winnings straight to the card and withdraw those winnings in cash from ATMs. The withdrawal typically shows up in the member bank account in a matter of seconds.
Credit and Debit Cards
Credit and debit cards are a safe and convenient way to add funds directly to a Neds online wagering account. They accept Visa and MasterCard, but not American Express or Diners Club.
The Neds betting site is kind enough to point out that some credit card issuers will treat credit card deposits as a cash advance, which could incur fees from the card issuer.
Cash-In
Those members who prefer to manage their Neds online wagering account with cash can make deposits at thousands of participating newsagents all over Australia and bet on Neds horse racing.
Flexipin
Flexipin's business is selling prepaid cash vouchers. Like Cash-In, Flexipin is available from participating newsagents all around the country. Flexipin locations can be searched on the Neds deposit page.
Apple Pay
Apple Pay is an instant option that will enable wagering right away. Members must set up their funding method, that is, credit card with Apple Pay by adding an accepted Apple Pay debit or credit card to the Apple Wallet App.
BPay
BPay is used to deposit to a Neds online wagering account via a member's online or telephone bill paying service.
POLi
POLi is faster than BPay, permitting cash deposits into a Neds account from participating Australian banks.
Bank Transfer
Bank Transfer is to online wagering as 18th century sailing ships were to mail delivery, but it is still a viable and secure way to make deposits. If you are not in a rush, bank transfer is just fine.
PayPal
PayPal is by far our favourite electronic funds transfer method. It is safe, fast, and very easy to use.
PayID
Another instant deposit option, PayID has its own section on the Neds betting site.
Neds Withdrawal Time
This is the best part, but punters should know that before funds can be withdrawn, they must turn over their deposit at least once. We believe this is an anti-money laundering requirement.
The other thing about Neds withdrawal is that a punter account must be fully verified, which is another fraud prevention tactic.
Punters wanting to withdraw will find easy-to-follow, comprehensive instructions on the My Account section of the website to easily complete a Neds withdrawal.
Neds withdrawal time requests received before noon during the weekdays will typically be available in the nominated bank the following day.
Neds FAQ's
Australian law now prohibits Neds and other online bookmakers from offering new members a sign-up bonus. The various governments felt that the sign up bonus cash and offers were misleading. Neds and all the bookies were clear in supplying the terms and conditions for sign up bonuses including Neds Betting Offers, but too many people were of the opinion that they had been misled.

---

Extra head on Neds is simply Neds offer to pay for a backed horse running second. If the margin is less than 0.1 length, you will be credited with a winning bet. On selected races only.

---

Neds is relatively new, having launched in 2017. The agency was run by experienced gaming industry veterans who knew that it was imperative to establish a pristine reputation.

---

No. Neds is an easy and intuitive wagering platform. Anyone who can send an email or do online banking will find Neds easy. That answer applies to the Neds online wagering platform, the website's mobile version, and any Neds betting app anyone uses.

---

In our years of reviewing online bookmakers, we have found that odds are fiercely competitive.

---

Race betting can be challenging for the simple reason that most races have at least six gallopers participating. On the surface, in a six-horse race, a punter has a one-in-six chance of picking the winner, as opposed to Neds sports betting on a sports event between two clubs. Fortunately, Neds will quote prices that indicate which horses can win and which can be overlooked. While it is true that horses can supply a boilover and win from long odds, such as the 2015 Melbourne Cup victory by 100-1 Prince of Penzance, this sort of win from long odds is noteworthy only for being so rare. The other thing Neds supplies to assist members in making the best selections is a vast form guide that looks at a galloper's history, who is riding that galloper, how the track conditions affect some horses more than others-the list goes on and on.

---

Very few people can claim that online gambling is their profession and that they earn a good living through wagering, even though Neds deals are very helpful. The best approach is to have financial stability through some other income source and to wager only with money that you can afford to lose. This is not to say that you should try to lose, just that a few people can create problems when their wagering gets out of control and strays into the realm of addiction. Anyone who suspects that gambling is becoming problematic can call Gambling Help Line on 1800-858-858. The Neds online betting wagering portals also have a feature that permits members to set a limit on their deposits and wagers.

---

No. Members' personal information is guarded scrupulously through some of the most sophisticated encryption techniques available. Neds also have identity verification requirements for new members that make it as close to impossible for a fraudulent character to set up a Neds betting account using someone else's personal and financial information.

---

Yes. You can watch live races on Neds. You can watch live races on Neds that include every Australian race and important international races. This is a great place to try out some of Neds racing tips.

---

Pro Group racing is dedicated to the idea that people who want to wager, want to wager with reputable gambling operators. Neds is an agency that has stood the scrutiny we have directed at it. Neds have made the cut onto our list of endorsed online bookmakers, and anyone who takes the time to look at our list will see only the top echelon of Australian wagering agencies.

---
Conclusion
Neds have done a great job of building an online wagering site that takes a back seat to no other bookies. Next time you see a Neds betting ad, consider joining, so that when you see a Neds betting ad, you can focus on something else. The most recent Neds betting ad we saw was very entertaining.
We could easily see Neds as an ideal choice for the casual punter who does not want to maintain multiple online bookie memberships, while the more serious punters should consider Neds as a must-have membership.
History: 
Launched in 2017-purchased by Ladbrokes in 2018
Location: 
Licensed by Northern Territory. Office in Melbourne
Neds Deposit Limit: 
$2500.00
Languages: 
Neds works in English only
Branded Credit Card: 
Fastest way to collect winnings
Minimum Bet: 
$0.50 (fifty cents) for online bets. Telephone bets have a $50 minimum for racing and $20 for sports
Dormant Account Fees: 
None
Customer service phone: 
1300 006 337
Email support: 
support@neds.com.au
Mailing address: 
PO Box 3321, Newstead, QLD 4006
About The Author
John DeBiase has been following the online bookmaker industry since 2010. He takes pride in remaining objective and is immune to bookie pressure to supply favourable reviews. When he does not have a bookmaker under the microscope, John derives great satisfaction from his pursuits as a self-taught musician, handyman, and grandfather.