bet365 is one of the global leaders in the wagering industry and it's introduction to the Australian market, whilst initially rocky has proven to be one of the best drivers of innovation down under.
Based in the small British town of Stoke-on-Trent bet365 has grown from a small betting shop to one of the most recognisable brands in the world. Their introduction to the Australian market brought a breath of fresh air to wagering in Australia and punters who have adopted the product have stuck with the brand throughout.
bet365 continue to innovate and expand, while at the same time, seamlessly tweaking there product to continue to drive innovation and development.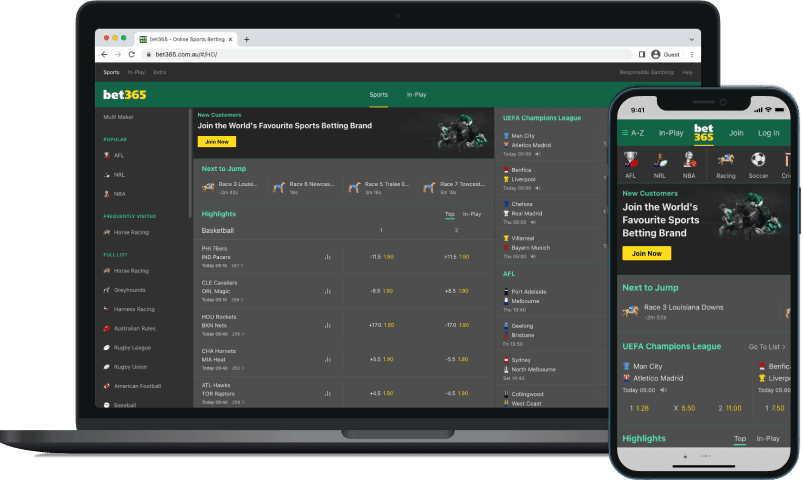 Very Friendly
Betting Platform
Popular For
Easy To Use & Fast Mobile App
WHAT ARE YOU REALLY GAMBLING WITH? Set a deposit limit.
---
One of the best Fixed Odds agencies in Australia
Great bookie for someone who does not want multiple bookie memberships
Great selection of betting markets
bet365 Mastercard (available subject to qualifying conditions)
---
Has been known to restrict winners' accounts
bet365 website design may confuse some punters

bet365 Odds
Comparing odds from one bookmaker to others can be entertaining, but the odds are often identical or so close that it makes little difference to anyone who is not making hundreds of bets.
Still, if we were to recommend a bookie on the odds alone, we would pick the bet365 website or the bet365 betting app. bet365 horse racing and bet365 online sports betting consistently has a slight edge on most of the others, including the corporate bookmakers.
bet365 Markets
The bet365 app and bet365 online, the primary website, both grant access to the thousands of markets that can be found every day. bet365 is one of the best sportsbook apps and bet365 racing is one of the top offerings amongst all the bookies in Australia.
Sports punters will find hundreds of markets for a typical AFL or NRL fixture and the same applies for our specialty, Thoroughbred Racing.
Racing punters also have vast choices through various bet types from Fixed Win to all the exotics anyone could ever want. With racing coverage that includes domestic and international meetings, each day will reveal bet365 offering hundreds of racing markets.
One of the key differentiating factors between bet365 and the most Australian bookmakers when it comes to markets is there global reach means they have a far more extensive range on events. Things like global politics, tv and social markets as well as sports from around the world are traded through bet365.

bet365 Products
As one of the world's largest bookies, bet365 online betting is bursting with all the best wagering products, especially for racing, although bet365 sports betting takes a rear seat to no one. The same products that will be found on the bet365 desktop wagering portal are quickly accessible with the great mobile app.
As racing enthusiasts, we have a different concept of what constitutes an actual betting product.
Here are some of the racing products offered by the website and the mobile betting app. bet365 sports betting will offer some of the same products.
bet365 Master Card – Good for online and in-store purchases or withdraw winnings as cash from any ATM that accepts Visa transactions.
Live Match Alerts – This supplies the ability to track just about any market and be notified when something significant that could affect betting decisions or event outcomes takes place.
Quick Code – A feature that makes it quicker to place in-play and multi bets on the phone.
Match Live – Receive real time updates of events as they unfold.
Live Streaming – bet365 streams events to a smartphone app, which makes their mobile betting sites one of the best. Included is live streaming for racing from Victoria and South Australia. You can watch live sport on your mobile, tablet or desktop including Soccer, Tennis and Basketball. All you need is a funded account or to have placed a bet in the last 24 hours to qualify. Under Australian law, we are required to inform you that Live Streaming on bet365 is exempt from Parts 3 and 4 of the Broadcasting Services (Online Content Service Provider Rules) 2018.
bet365 Bookmaker Racing Bet Types
bet365 racing offers every conceivable bet type and is in line or superior to the best sportsbook apps and mobile betting sites in the world. This was/is necessary for them to persist for as long as they have persisted.
While 365 sports betting is fairly straightforward, because there are generally only two choices for a team sport, most Thoroughbred races have six or more runners.
Here are some of the most popular racing bets for bet365 on their website and their superb betting app for mobile devices.
Fixed Odds – the easiest type of bet to place
Each-way Betting – A runner is backed to either win or finish second or third
Place Betting – Often combined with other bets in order to allow for a bet at longer odds on a horse that might not be a good chance to win, but could run second or third for a great price
Starting Price – A horse can be backed well before the jump of a race, with the punter getting the odds posted at time of start
Best Tote – A guarantee to pay the top dividend of the Totalisator Boards
Top Fluctuation – A promise to pay the top odds on a runner during the lead up to a race (usually 30 minutes). Odds often vary up and down during the time between when the market for a race opens and when the jump occurs
Exotic Bets – bet365 horse racing offers the following exotic bets: Exacta, Quinella, Trifecta, Quaddie, Double bet, Treble bet
Top Tote Plus – Always get the best dividend across the three national totes
Protest Promise – bet365 will pay the past the post winner and the amended winner.

bet365 Promo Codes and Betting Offers
There are no longer any new customer free bets that use to be offered to new members.
Our Experience with bet365
The bet365 website is a little different than most of the other Australian bookmakers' websites, but it only takes a few minutes to gain familiarity and those few minutes are well worth it to have instant access to great odds. Combine all that with the best betting app and it easily becomes apparent that bet365 deserves consideration.
We like the fact that the landing page on the bet365 website is free of flashing distractions. We like the subdued colour scheme consisting of mostly shades of grey with white text.
Once one of the selections in the left column is clipped or tapped, the bet365 website appears very similar to other bookies' websites, so punters accustomed to other sites will feel comfortable.
The top of every bet365 page has a very simple interface that supplies active links to Sports, In-Play and Extra when you are on a racing page. Immediately below is a green banner with the bet365 logo, with Sports and In-Play tabs in the centre. On the right of the banner is a search function and links for joining or logging in.
There is no link for racing, but the link for the racing is in the left column, which is divided into categories, with the most popular codes at the top under the heading of "Popular."
Next is a heading titled "Full List" that gives the current list of all the codes bet365 have on offer. Following the full list are a few extra categories for niche sports and seasonal offerings.
The centre column is where all the price quotes can be found. This takes up about 2/3 of the screen, so there are plenty of markets to be seen. Clicking on "Racing" in the left column will reveal live racing markets, followed by racing for Australia and New Zealand and completed by racing from other parts of the world, such as South Africa and the United States.
The right column is for the bet slip. The bet slip remains closed until a price is clicked, or in the case of the bet365 mobile app, tapped.
The bet slip can be closed to keep it out of the way. It also calculates dividends, which is considered a necessity by all bookies, but maybe more so for bet365 that might be dealing with members in unenlightened countries where they do not use decimal odds quotes.
We have been following bet365 for years now. We do not spend a lot of time on the site, at least not by comparison to punters who use bet365 regularly for the extensive betting resources and some of the best gambling apps anywhere, but over the years, we have never had any sort of connection failure or any other issue with the website and the associated mobile apps.
This platform stability is critical. No one wants to be in the dark about a punt when there is money on the line.
Our opinion of the bet365 website and mobile apps is that there is not a bookie in Australia that offers anything substantially superior that would lead us to suggest choosing a bookie other than bet365.

bet365 Mobile Offerings
Every bet365 app has always impressed us. They introduce new betting apps every so often, but the switch has always been seamless and practically unnoticeable.
Users will not see as many markets displayed on the bet365 app, but that is just because smaller screens require more scrolling and tapping. We have never had an issue with this, although we often recommend that punters do the heavy lifting of finding markets and good punts on a desktop computer.
That suggestion probably reveals our age, as the younger generation will be able to do it all on the bet365 mobile app. We have been ringside observers to the shift from rails and retail betting to online betting. It happened fast, but when smartphones came along, the shift to mobile app betting took off like a rocket.
All the bet365 in play betting are ready and waiting for mobile punters. For a lot of these, current members do not have to do anything other than check the Account section of the bet365 website or a bet365 app.
From the technology viewpoint, there is very little of a critical nature that can be aimed at bet365. bet365 is regularly mentioned for having one of the better betting app offerings of any bookie in Australia. They are regularly recognised for having one of the top 10 betting apps and our opinion would place them in the top five or higher.
bet365 Sign Up Instructions
We often wish that everything we do online would be as easy as it is to sign up for bet365 or a bet365 app. The entire process can be completed in just a few minutes by anyone. bet365 guides new members through the entire process with simple, succinct instructions that leave little room for doubt.
Here are some instructions for signing up with bet365.
Point a browser to the bet365 site.
Click on Sign Up – found on most bet365 webpages
Fill in the required information
Pick your bet365 login username and password
Supply any deposit limits if desired
Click Submit
From that point, it will be necessary to choose a deposit method, and the amount of that deposit. Many bet365 deposit methods will grant limited instant access to wagering, although there will be a point in the process where new members will have to verify their identities.

bet365 Betting Instructions
Placing a bet with bet365 for the first time, whether on what many punters consider as the best betting app going, or on the primary desktop site is one of those things that takes some concentration at first, but will quickly become second nature. This is true for all online betting apps as well as bet365 online.
Here are some instructions that will guide new members through their first couple of wagers.
Direct a browser to www.bet365.com.au. They are an international bookie and we have found ourselves on the Great Britain site when we did not include the ".au".
Click on the Login button at the top, right-hand side of the screen using your user name and password. For the bet365 app, tap on Log In.
Find the market on which you are interested in placing a wager. Popular bets will be on the first screen. If not, use the left column to find a sport or racing code.
To add a price quote to a bet slip, click or tap on the price. Continue doing this until you have all your bets ready. They will be shown on the bet slip.
Add a stake amount to the bet slip.
Once everything looks okay, click or tap Place Bet.
We recommend keeping it simple at first for anyone who is new to online wagering. An example would be a Fixed Win bet on a race or picking the winner of a footy match if you are interested in bet365 online sports betting.
Remember, you can clear any bets about which you are hesitant before you submit the wagers.
bet365 Deposit Methods
bet365 offers plenty of ways to fund an account.
Credit/Debit Card – This is the choice for most people that already have a Visa or MasterCard and want to start betting quickly.
Online Banking – Some banks permit setting up bet365 as a payee for their online bill payment service.
Bank Transfer – These take time, but they are very secure, although with modern technology, it feels a little bit like showing up for a speedboat race with a sailboat. The issuing bank might charge a hefty fee and some will not permit using a transfer to fund a gambling site.
PayPal – This method is safe, fast and very easy to use. It would be our top choice after a branded bet365 Visa or MasterCard.
Apple Pay – Used and trusted by millions.
POLi – a trustworthy and safe way, but slower.
Skrill – Another funding option in a long list of funding options.
NETELLER – A good service if none of the other options works.
Flexepin
bet365 Withdrawal Methods
After a bet365 deposit has been made and some winnings accumulated, it is time to withdraw. Sometime between funding and withdrawal, the account must be verified in accordance with government regulation.
Here are bet365's withdrawal methods.
bet365 Visa or MasterCard – These are actually debit cards that can be used anywhere Visa and MasterCard are valid. Winnings are instantly available and can be used for cash from an ATM.
PayPal – No fees if used domestically, but PayPal takes a percentage if any currency exchanges are involved.
Skrill
NETeller
Cheque – Difficult to think that anyone would still want this, but bet365 goes out of the way to accommodate everyone.
bet365 FAQ's
Yes. They have been operating in Great Britain since around 2000 and they have been operating in Australia since 2013. If they were not trustworthy, the government regulators would have shut them down long ago.

---

Yes. They will freeze an account that is suspected of fraudulent activity or other irregularities, but they have also been known to restrict punters they think are winning too much.

---

Members who have placed a bet in the past 24 hours or maintain a funded bet365 account have access to bet365 live streaming via the betting app or website.

---

These will be found in the Apple app store or the Google Play store, but app developers have at times placed apps in those sources that charge punters. The legitimate bet365 app is free to download and free to use.

---

The bet365 Quick Code is a way to make live bets more quickly. To use a Quick Code, click or tap on the odds for the code/market in which you are interested. A reference code for each choice will be supplied. From there, click or tap on the Telebet centre and provide the reference code to confirm the desired bet.

---

They certainly do and they have as many, and in some instances, more live markets than do some of the other online bookies.

---

Yes. bet365 has operations around the world. They have been expanding rapidly, which benefits punters through new markets and the economics of scale. bet365 started moving on the U.S. market in 2018.

---

Right here at Pro Group Racing. We have been following the online bookie realm since the first online bookie showed up around 1997. We take pride in supplying punters with accurate and timely information about all the Australian online bookmakers that we believe are worthy of consideration.

---

bet365 can be contacted via live chat, email, telephone and even through the postal service. Chat, email and the telephone are available 24/7.

---

The bet365 mobile app is considered one of the best and is frequently at or near the top of the list as one of the top 10 betting apps in Australia.

---

Yes. Along with the top race offerings, bet365 have an extensive selection of sports codes and markets, making their website tops and their mobile apps some of the best sports betting apps.

---
Conclusion
bet365 are regularly one of the top bookmakers in Australia. Their decision to enter the Australian market in 2013 was a watershed moment in the development of online wagering in Australia, as the already established bookies knew there was a new player with deep pockets in the market.
We would have no qualms about recommending them to new punters just learning the ins and outs of online wagering, occasional casual punters and serious hobbyists who maintain multiple bookie memberships.
Owners: 
Denise Coates, John Coates (brother), Peter Coates (father).
Products: 
Races & Sports Betting
Location: 
Headquarters in England, with offices in Gibraltar, Malta, Bulgaria and Australia
Languages: 
English and 17 other languages
Support via: 
Phone, email & live chat
Social Media: 
bet365 will be found on all the major social media sites
Turnover On Deposit Funds: 
1x
Phone Support: 
1800-200-365
Live Betting Phone: 
1800-365-365
Email support: 
support-eng@customerservice365.com
Post: 
bet365 Customer Services, Hillside (Australia New Media) Pty Limited, PO Box 113, Parap, NT 0804
About The Author
John DeBiase has been following the online bookmaker industry since 2010. He takes pride in remaining objective and is immune to bookie pressure to supply favourable reviews. When he does not have a bookmaker under the microscope, John derives great satisfaction from his pursuits as a self-taught musician, handyman, and grandfather.