Ladbrokes as a bookmaker can be compared to fine wine and of the betting sites Australia offers, they are vintage.
They continue to get better with age, something not all Australian betting sites can claim. In the following review, we pop the Ladbrokes cork and explore why this British bookmaker has enjoyed vintage success in the Australian online betting landscape.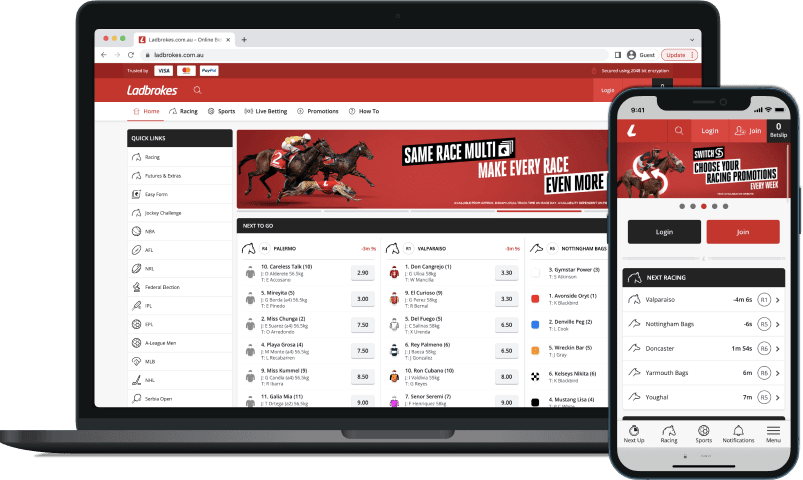 Live Betting Now on Racing. Get on After the Jump
Popular For
Ladbrokes Debit Card Available
WHAT ARE YOU REALLY GAMBLING WITH? Set a deposit limit.
---
24/7 Customer Service
Quick and simple sign-up process
Ladbrokes Branded Visa Card
Easy-to-navigate website and mobile apps
Extensive number of Betting Markets
---
Slower than other bookies to post racing odds
Fewer live streaming options than some competitors
Some the Ladbrokes site and web pages feel claustrophobic

Ladbrokes Betting Odds
Let us get the Ladbrokes odds portion of this article out of the way straight off. We have been following online bookmakers for over 10 years. During that time, we seldom found any major disparity between the odds Ladbrokes offers and the odds offered by any other Australian online bookmaker.
When we look at betting markets across Sports, Racing and even Political events we know that there is generally only a few cents difference in market prices between bookmakers. If someone were to go over the odds the bookmaker would end up in a negative equity position so it wouldn't be worth trading the event.
So where price isn't a factor why do we lean towards Ladbrokes? Well mainly it's because of the features Ladbrokes offer, such as a slew of live markets, superb punter assistance tools, live streaming of thousands of events annually, and most importantly, the security of dealing with an agency that has been around for 150 years.

Ladbrokes Markets
We will mention that for any popular sports or racing code, Ladbrokes has an extensive list of markets. During the days immediately preceding an AFL match, punters will find hundreds of markets per fixture. Punters who like constructing multi bets will have no problems doing so with Ladbrokes.
Ladbrokes Products
As would reasonably be expected, the Ladbrokes product list is as full as anyone could desire, as they are one of the better Australian bookies.
All of the Ladbrokes products are available on the website and the mobile betting apps. Australian betting agencies are trending toward mobile wagering and of the online bookies Australia offers, Ladbrokes Bookies has one of the better betting websites Australia offers when it comes to Australia online betting.
Live Streaming – Ladbrokes stream thousands of events every year for members
Easy Form – Racing punters can enter their selection criteria with a series of filters and Ladbrokes will find a runner for you to back.
Cash In – Over a 1,000 newsagents across the country will accept cash from Ladbrokes members.
InfoHub – Great way to filter information and find bets
Call Me – Eliminates the necessity of languishing on hold whilst your live bet comes and goes.
Cash Out – Cash Out enables the choice of letting a punt ride or claim a portion of the potential dividend before the final result is known.
Facial Recognition Software – Provides extra security on top of 2048-bit encryption.

Ladbrokes Bookmaker Racing Bet Types
Ladbrokes online race betting supports every conceivable type of racing bet.
Win/Place or Each Way Betting – This is probably the most popular type of racing bet.
Win / Place Multiples - Examples include Doubles, Trebles, Quaddies and Super 6. These require skill in addition to a healthy measure of luck. New punters might want to avoid these at first.
Exotic Wagers – Quinella, Exacta, Trifecta, First Four. Like the Multiples, these will offer amazing dividends, but hitting one of these is difficult.
Placecards – Similar to a Quaddie, except rather than picking the first to cross the line, punters try to pick the place getters.
Pre Post Betting
Same Race Multi, Split Multi, Blended Multi – For punters who require a challenge more difficult than finding a winner.
Jockey Challenge – A bet on which jockey will win the most races for the day.
Best Tote – This is important because it gives punters the assurance that they will receive the best price on a winning bet of all the totalisator boards. It eliminates the necessity of chasing prices across multiple bookmakers.
Favourite Versus Field – Punters can back any runner in the field of a race to beat the favourite, which almost turns race betting into sports betting.


This is not a complete list of Ladbrokes sports and racing bet types, because this is an element that changes through innovation and evolution. Watching Ladbrokes as they shift and grow is a good reason to have a Ladbrokes account and once you have a Ladbrokes log in, you can be an observer and an active participant in all that is going on.
The Ladbrokes betting portal is one of the best anywhere. Some of the best sports bets Australia offers can be found easily.
Ladbrokes Promotions and Betting Offers
There are no longer Ladbrokes Sign Up promotions, Ladbrokes Bonus Bets or Ladbrokes Free Bets as incentives to join Ladbrokes or any other bookmakers due to Government Regulations.
Like many online bookies, Ladbrokes have an extensive array of appealing promotions to keep things fresh and interesting. Ladbrokes Promotions, due to current regulations by the Government, are only visible to current members who login to their accounts.
Racing promotions with promo codes are a large part of Ladbrokes deals. The key is for punters to log in frequently to have a look, because Ladbrokes promotions and offers change and evolve constantly. Here are a few of Ladbrokes popular betting promotions.
Australian Thoroughbred Races Mega Multi Offer
Kingston Town Classic Day at Ascot-Double Fixed Odds Winnings
Ladbrokes Weekend Wind Up Promo-for racing
Protest Payout-If your backed winner is relegated due to an upheld protest, both the first to cross and the official winner are paid
Favourite Versus Field-simplified way to punt the gallopers-almost like a sports bet
We have followed the Ladbrokes website over the course of the past decade. It has changed to a degree, for the better, but we truly appreciate that the changes have been incremental and gradual.
They were pioneers/early adopters of the three-column arrangement for their web pages. The layout could be considered as the de facto industry standard. For good reason too, it works, it is simple, and it is intuitive to use.
You can find reams of data about betting markets all across the world. Even if you do not use all this data in making your selections, it is all entertaining at the least and valuable at the best. Ladbrokes is among the top of the list of online bookmakers Australia offers.
In over 10 years of tracking Ladbrokes, we do not recall a single instance of the site not functioning properly.
Pages load quickly and completely, even when internet traffic is heavy and some slowdowns might be expected.
Here is a more detailed breakdown of the Ladbrokes website.
There are banners at the top of Ladbrokes' various pages. At the very top is a banner that declares that Ladbrokes is trusted by Visa, MasterCard and PayPal, along with a security logo that states that the entire Ladbrokes site is protected with 2048-bit encryption, something that makes Ladbrokes one of the best on the list of bookmakers Australia offers.
The more important banner is directly below, where you will find the Ladbrokes logo beside a magnifying glass that supplies search functions.
On the right side of that banner are the important elements with buttons for logging in and joining, along with one for the betslip that indicates if there are any pending bets that have yet to be placed.
Many of the online betting sites Australia offers have similar bet slips, but Ladbrokes wins by a head every time.
Immediately below is a banner with icons for Home, Racing, Sports, Live Betting (Ladbrokes In Play), Promotions and How To. How To is where you can find guides that will supply succinct and logical instructions on how to do everything from betting to searching for markets, understanding promotion details, account funding and withdrawals, and so forth.
The Home tab will display races that are soon to jump, along with odds.
From the Home page tab, all the current sports are listed, beginning with racing. Right below racing is the Easy Form tab, something new and experienced racing punters will want to explore thoroughly and often.
The rest of the list from the left column is Futures and Extras pertaining to racing, Jockey Challenge, NBA, Big Bash, Ashes, NFL Champions League, A-League, EPL, NHL, Soccer, Tennis and Cricket.
The Ladbrokes betting portal is one of the best anywhere. Some of the best sports bets Australia offers can be found easily.
The bottom portion of the Home page, along with most Ladbrokes web pages, supplies phone numbers for the 24/7 betting line and the general customer support phone number. Below the phone numbers are icons for the iOS app and the Android app.
Next, we look at the centre column.
This is where you will see odds quotes for whatever markets you are exploring. The centre section of the web pages is where punters will select wagers. This section is a strength for Ladbrokes.
Along with prices, punters will see how many markets are available for a match or a race. Just as an example, when this review was prepared, the U.S. National Basketball Association was in the early stages of its season.
For one game, Ladbrokes had 241 markets listed.
The Ladbrokes betslip is in the right-hand column.
It is invisible by default and opens up whenever an odds quote is clicked. It can be closed by the punter if desired. Ladbrokes has included a handy calculator that gives the return on a successful bet.
Once it is decided to place an actual bet, simply click the Place Bet button, or if not logged in, the Login and Bet button.

Ladbrokes Mobile Offerings
The Ladbrokes mobile offering is one of the best on the market and possibly one of our favourites. The desktop browser is mobile responsive so quickly reduces to fit a mobile screen and still provides clear direction into the next to jump markets as well as bigger event markets.
Ladbrokes reduces the amount of information on the screen to make it easier to navigate the website on the smaller platform however there are still easy access points to additional information such as form guides and exotics markets.
Punters who want to dive deeply into the information on the Ladbrokes website might want to consider using bigger screens for this aspect of wagering, but to track a pending bet or place a quick wager on the fly, the mobile version of the website is highly adequate.
We will say the same about the dedicated Ladbrokes mobile apps. Ladbrokes has two of the best in their offerings for iOS and Android devices, which is easy to realise, as mobile betting is doing to desktop betting what desktop betting did to going to the track or the betting shop.
Ladbrokes Sign-Up Instructions
The process for signing up for a Ladbrokes online betting account is essentially identical whether you use a desktop, laptop, tablet or mobile phone app.
We recommend using a desktop computer for signing up for an account on the official Ladbrokes website because there will be some typing involved.
Instructions for a Ladbrokes Online Wagering Account
Note: Ladbrokes Bonus Codes or promo codes: Online bookies are no longer permitted to offer a Ladbrokes sign-up bonus as an incentive to join.
From any browser, enter the URL for the official Ladbrokes website, which is www.ladbrokes.com.au
Click "Join" on the top right hand side of the page. This button will be found on most Ladbrokes web pages.
Decide whether you want to sign up using a PayPal account or an email address.
If you click PayPal, you will be redirected to the PayPal site, where you will log in the way you always do.
For the email route, fill in the information on the form, which will be your salutation (Mr., Mrs., Miss or Mrs.), and then your first and last names.
Enter a valid email address. Use the email address that you want to be associated with your Ladbrokes online account.
Click "Continue".
Fill out the information on the next page, which will be your chosen username and password for purposes of future logins to your Ladbrokes online account. Note that Ladbrokes passwords must include upper and lower case letters, at least one number and be at least eight characters in length. Also, note that Ladbrokes gives you the option of seeing your password, which is vastly useful for those who are typing challenged like us.
The next page in the Ladbrokes sign up process is for your date of birth, your mobile number and your address. Note that the address you supply must match the address on your ID.
After you have filled out the information on the "Your Details" page, you can click a box to set a deposit limit, or you can click "Don't Set a Deposit Limit.
Click "Create Account."
Ladbrokes Sign In - Congratulations! You have set up a Ladbrokes online wagering account. Your next step, which is to fund your account, will be covered in another section.
Ladbrokes Bookmaker Betting Instructions
Placing an online wager with Ladbrokes by using their website or their Ladbrokes mobile apps is quite simple. This assumes that the procedure for obtaining a Ladbrokes log in has been completed.
The process of placing a bet might seem intimidating at first; after all, a wager represents a monetary risk on an uncertain outcome. This risk of losing money is naturally worrisome to anyone. It's the prospect of winning money by correctly predicting that uncertain outcome that will lead a punter to overcome his or her initial anxiety.
New punters can take reassurance in the fact that there is a confirmation step required at the end before the bet becomes real, which makes it possible to practice the whole process.
A few minutes of this is all that it takes to gain familiarity and grow comfortable with the function of the Ladbrokes website and remember, Ladbrokes live chat is always there if needed.

Ladbrokes Betting Instructions Step By Step
Ladbrokes Sign In - Log into the Ladbrokes site with the Ladbrokes Log In credentials set up according to the instructions of the section describing the Ladbrokes Sign Up procedure.
Select from Home, Racing, Sports, Live Betting, Promotions or How To. Note that the How To section provides guides that will promote better understanding of how all of Ladbrokes tools and features work.
For our example, we will click on Racing.
From the main racing page, there are choices for the current day's races and races the following days of the week and featured races. There is also a calendar that permits searching for future races beyond the current week.
Racing is subdivided into Australia and New Zealand and another section for the rest of the world. To restrict the displayed markets to gallops, uncheck the icons for greyhounds and harness if a more focused view is desired.
Pick a location. For this example, we clicked on Geelong Racecourse in Victoria.
Pick one of the nine races being held at the Geelong meeting. For this example, we selected race seven. The Ladbroke site was informing us that the jump of the race was in approximately 11 hours. Clicking on the box for race seven opens up the page that shows the runners and the current quotes for each.
Ladbrokes supplies important bits of information here. The first will identify the favourite for the race and the other will show any galloper that is moving its price significantly.
Choose from the available bets, which in this instance included markets for Fixed Win or Place, Starting Price, Best Tote and Mid-Tote Place. For this example, we will use a Fixed Win bet on the favourite.
Click on the favourite's quote.
On the now open bet slip, enter the desired stake.
If everything looks correct, click on the Place Bet box.
The same process can be used to explore some of the other options a Ladbrokes online betting account provides.
Beyond Win/Place bets, there are also options to explore the odds quotes for Same Race Multi, the new Ladbrokes Blended Multi feature, plus all the exotic bet types Ladbrokes offers, a list that includes Trifecta, First Four, Quinella, Exacta, Quaddie, Early Quaddie, Daily Double, Running Double, Treble and Big 6.
Beginners may want to focus on the simple Fixed Win type of bet initially. Another route that makes race betting similar to sports betting is to use the Ladbrokes Favourite versus Field feature, where it is possible to limit the choices from the number of horses in the race to just a choice between whether the favourite will win or be beaten by any of the other runners.
It only takes a few moments to gain familiarity with the function of the Ladbrokes desktop site.
The experience gained through this process will also help when it is time to explore Ladbrokes mobile betting, which is essentially similar except for the smaller screen.
Ladbrokes Deposit Methods
Ladbrokes offers seven different online wagering account funding options.
Those are Visa, MasterCard, PayPal, POLi, BPay, Flexepin and PayID.
It is also possible to take a slower route and fund a Ladbrokes new customer account with a bank wire/direct bank transfer or a paper cheque.
Something unique to Ladbrokes is called Ladbrokes Cash-in prepaid card available at participating Newsagents. You can deposit funds without using your credit card.
Ladbrokes Visa Card
All that in mind, the Ladbrokes Visa card makes so much sense that we can think of few reasons to withdraw via any other method, with the possible exception of PayPal. Australian online betting sites such as Ladbrokes offer plenty of funding options.
Advantages of Ladbrokes Visa Card
Instant access to settled winnings
Ideal for online shopping
Fast cash from ATMs
Use anywhere Visa is honoured
Instructions for Requesting Ladbrokes Visa
Log into a verified and funded Ladbrokes betting account
Navigate to "My Account"
Use the provided screen prompts to supply necessary details
Submit
Ladbrokes mails their Ladbrokes Card via the post, usually within 10 business days.
All of the above instructions are very similar to those that would be used for those punters who use their mobiles for the bulk of their tech activities. Those of you with keen vision for a smart phone screen and the vast thumb dexterity of some of our kids will have no need for a full-size keyboard.
Credit Cards such as Visa and MasterCard
One of the first steps to funding with a credit card is to register it with Ladbrokes. This is only necessary the first time you fund your Ladbrokes online betting account, or any time you want to add an additional credit card.
PayPal
We ourselves have been using PayPal for many years and for many types of transactions beyond wagering. This is a highly secure and convenient way to fund a Ladbrokes online betting account.
POLi
Access to online banking is necessary. To use POLi, login to your Ladbrokes online wagering account and add the POLi add-on. From there, follow the on-screen prompts.
BPay and Direct Bank Transfers
These are time-tested and safe methods, but it is hard to say that they are any more secure than any of the other methods. These two funding methods will take up to three business days.
Cash
Ladbrokes have an arrangement with over 1,000 news agencies where punters can fund a Ladbrokes online betting account and make additional deposits.
In summation, Ladbrokes has more than enough ways to fund a wagering account.
If we were to rank Ladbrokes' payment methods according to our preferences, it would be PayPal, and then the others.
The minimum deposit to fund a Ladbrokes online wagering account is $10.00.
Withdrawing Winnings from Ladbrokes Betting Account
The Ladbrokes Terms and Conditions state that any winnings will be added to your account balance once the bet has been settled.
Assuming this has taken place and you desire to collect your dividend, these are your options.
Also, remember that while there is no minimum withdrawal requirement with Ladbrokes, there is a limit of between $10,000 and $50,000 daily per sport. The maximum daily payout for city races is capped at $100,000.
Ladbrokes FAQ's
Australian regulations now prohibit any online bookmaker from offering sign-up bonuses as an incentive to join. Even when this type of bonus was available, anyone not living in Northern Territory or Queensland was ineligible anyway.

---

Ladbrokes has been around since the 1880s. They started in England and came to Australia in 2013. Whether you look at the date the agency was established, or just the date they started in Australia, Ladbrokes has carefully cultivated a reputation of dependability that would never have lasted this long if this betting agency were not entirely reputable.

---

Opening an account is a simple process that can be completed in as little as 15 minutes. There are detailed account opening instructions included with this Ladbrokes review. Of all the online betting Australia offers, this is one of the easiest to join.

---

Our years of following Ladbrokes Australia have informed us that Ladbrokes has odds that are competitive with the rest of the Australian online bookmakers. There are times when Ladbrokes will have the best odds by a slight margin and other times where another bookie might have slightly better odds, but unless you are a punter turning over hundreds of bets, the difference in prices between Ladbrokes and another bookmaker are not a major concern, which makes Ladbrokes one of the best betting sites.

---

Yes, but there is a caveat. Australian Government regulations mandate that live bets can only be placed via telephone. This applies to all Australian betting agencies. To place a live bet, call 1800-523-276 if you are in the country. Ladbrokes has a service where you can request them to call you, so you don't have to wait on hold. To use this feature, login to your Ladbrokes account, navigate to the live betting and request a Quick Code - Ladbrokes In Play When they call, tell them who you are and tell them your Quick Code. This is a great feature that makes Ladbrokes one of the best betting sites.

---

Absolutely. The website is very user-friendly and frequently updated. They also have some of the best Ladbrokes betting apps for mobile devices. Most Australian betting sites have mobile apps, but Ladbrokes mobile app is exceptional, making them one of the top players in the Australia betting scene. The same can be said of Ladbrokes' mobile apps. Even old geezers like us are able to use it, making it one of the best betting apps going, but the millennial generation will appreciate the many elegant and efficient features of the Android or iOS apps, as well as the mobile version of the website that is optimised for phone screens. Taken in combination, the Ladbrokes wagering portals are top shelf.

---

For phone bets, call 1800 523 276, but you might want to use the Call Me feature to have a Ladbrokes agent call you. For 24/7 customer support for any reason other than to place a bet, call 1300 523 276.

---

From looking at the list of online bookmakers Australia offers, the Ladbrokes betting apps are some of the best betting apps we have seen and they are one of the better betting companies.

---
Conclusion
Ladbrokes' wagering betting platforms are top shelf in every regard. Pages load quickly, the platforms are stable and we often find ourselves wishing that every website we used was as intuitive and reliable.
For the recreational punter, Ladbrokes has everything anyone could want plus so much more.
Products: 
Races & Sports Betting
Location: 
Ladbrokes are licensed and regulated by the Northern Territory Government
Languages: 
English, Deutsch, Irish, Svenska
Support via: 
Phone, email & live chat
Social Media: 
Facebook Twitter, YouTube and followed on Twitter
Turnover On Deposit Funds: 
1x
Phone Support: 
1300 523 276
Live Betting Phone: 
1800 523 276
Email support: 
support@ladbrokes.com.au
Post: 
PO Box 3321, Newstead, QLD 4006
About The Author
John DeBiase has been following the online bookmaker industry since 2010. He takes pride in remaining objective and is immune to bookie pressure to supply favourable reviews. When he does not have a bookmaker under the microscope, John derives great satisfaction from his pursuits as a self-taught musician, handyman, and grandfather.