Eagle Farm Racecourse is located on Lancaster Road, Ascot QLD.
The Eagle Farm Racecourse is operated by the Brisbane Racing Club. The track is situated 6.3 km from the City of Brisbane. It is conveniently located at the gateway to Brisbane's southern suburbs.
The Brisbane Racing Club formed after the merger of the Queensland Turf Club (QTC) who organised Eagle Farm racing, and the Brisbane Turf Club (BTC) which raced at Doomben Racecourse. The BTC and QTC had over 140 years combined racing and administration experience.
The official commencing date of the Brisbane Racing Club was the first of July 2009.
Previously the Eagle Farm Racecourse was operated by the Queensland Turf Club Ltd. The Club was formed in 1863 with the first race meeting held in 1865. The Queensland Turf Club was managed by a Board of Directors.
The Brisbane Racing Club proposed in 2009 a $1.2 billion self-funded development upgrade to facilities at both Eagle Farm and Doomben racecourses along with a variety of lifestyle, commercial precincts and residential. This is to ensure that Brisbane Racing stays up to date with the countries finest racing amenities.
Eagle Farm Racecourse Details
Eagle Farm Racecourse has a circumference of 2,027 metres with a straight 434 metres long with the width at the winning post 28.5 metres. All Racing at Eagle Farm is in a clockwise direction. It is a turf track and is an excellent all seasons racecourse that can cope with all types of severe weather conditions. Races are run between 1,000 metres and 3,200 metre. Racing facilities at the course include
Course Proper Use Occasional
Grass Track
American Dirt Track (wood fibre & sand composite)
Sand Track
Cinders (for slow pace-work)
B Grass
Bullring
Swimming Pool
On-course Stabling For Over 200 Horses
Seven 10 Horse Walking Machines
A good even track with no sharp turns making it a fair course. Runners coming from behind in the run often win. Events between 1,000 metres to 1,600 metres the inside barriers are an advantage but saying that the 1400 metre start is fairer because it has a long run to the first bend.
Eagle Farm Racecourse hosts the Winter Racing Carnival in June.
Queensland Oaks G1 2400 metres
Sires Produce Stakes G2 1400 metres
PJ O'Shea Stakes G2 2200 metres
Dane Ripper Quality G2 1400 metres
QTC Cup G2 1300 metres
Stradbroke Handicap G1 1400 metres
The TJ Smith G1 1600 metres
Queensland Derby G1 2400 metres
Queensland Guineas G2 1600 metres
Brisbane Cup G2 2400 metres
Winter Stakes G1 1400 metres
WJ Healy Stakes G3 1200 metres
Tattersalls Cup G3 2200 metres
Transport to Eagle Farm Racecourse
Eagle Farm Racecourse is located on Lancaster Road, Ascot
Bus to Eagle Farm, Buses 300 and 301 depart regularly from Adelaide Street, Brisbane and stop outside the main entrance to Eagle Farm Racecourse on Racecourse Road
By Train from Brisbane, use the Doomben Line from Roma St, Brunswick or Central St Stations to take you to Ascot Station. The Station has direct access to the track via the Railway Entrance
By Car, there is ample free parking at Eagle Farm. The car park entrance is off Lancaster Road or Nudgee Road
Ferry to the Track. The City Cat operates down river to Bretts Wharf. Take a 10 minute walk (800 metres) along Racecourse Road to the main entrance of Eagle Farm
Taxi ranks can be found at the front main entrance of the track
Contact:
EAGLE FARM RACECOURSE
230 Lancaster Road
Ascot,
Queensland 4007
PO Box 817
Hamilton Central,
Queensland 4007
Ph. (07) 3268 2171
Fax (07) 3868 2410
Email: admin@brc.com.au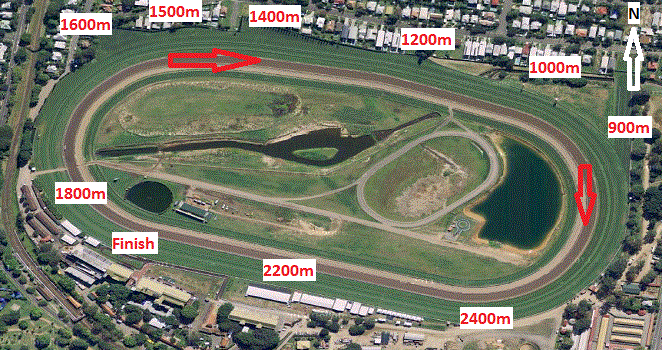 Eagle Farm Racecourse is the home of the Brisbane Cup | Stradbroke Handicap | Queensland Oaks | The TJ Smith | Queensland Derby | Winter Stakes | Dane Ripper Stakes | Grand Prix Stakes | Tattersall's Cup | QTC Cup | Queensland Guineas | Sires Produce Stakes and more...
Find below all the Group Race run at Eagle Farm Racecourse during the season.
Eagle Farm Racecourse Barrier Guide
1000 metres: Starts at the end of a chute off the course proper giving runners a 250 metre straight before the sweeping home turn. Inside barrier draws are a great advantage here.
1200 metres: This start is on the course proper and runners have only about 180 metre straight before commencing a sweeping double turn. Runners drawn out wide are of a disadvantage.
1400 metres: This barrier is also situated on the course proper, with a run of about 380 metres to the sweeping double turn. Inside barriers have the advantage.
1600 metres: Starts on the course proper and there is a straight run for 580 metres to the first turn into the back straight. Inside barrier draws have a slight advantage.
2100 metres: Located in the home straight on the course proper giving runners just over 100 metres before the first sweeping turn. Because of the distance of the race and the gradual first turn barriers are of little importance.
2200 metres: Same as the 2100 metre barriers are of little importance.
3200 metres: Barriers are placed at the 1200 metres start. Runners have 180 metres before commencing a sweeping double turn. This barrier is rarely used apart from the Brisbane Cup. Because of the distance of the race runners have time to find a good position in running. Inside barriers are of slight importance.