Eagle Farm Racecourse is one of the most prominent heritage listed racecourses in Queensland. Located just 7km from the Brisbane CBD Eagle Farm races take place all year round on its main turf track.
Location: Eagle Farm, Ascot, Brisbane
Main Track Circumference: 2,027 metres
Length of home straight: 434 metres
Races: 1000m - 3200m
Overview
Along with Doomben racecourse Eagle Farm is one of Brisbane's premier racecourses which hosts some of the biggest Group 1 races on the horse racing calendar.
Located in the suburb of Ascot outside Brisbane Eagle Farm racecourse is combined with Ascot Railway Station which as it was built in 1863 is listed as a heritage building. This meant that when the station was listed as a heritage building in 2004 so was Eagle Farm.
Eagle Farm is currently operated by the Brisbane Racing Club. Previously run by the Queensland Turf Club the Brisbane Racing Club was formed out of a merger between the QTC and Brisbane Turf Club which raced at Doomben Racecourse.
The first Eagle Farm races took place in 1865. Two years earlier in 1863 the Queensland Turf Club Ltd was formed and laid the groundwork for racing to commence in 65.
Eagle Farm Racecourse Details
Eagle Farm racecourse is located on Racecourse Road in the suburb of Ascot, roughly 7 kilometres outside Brisbane CBD.
The racecourse hosts racing all year round on a turf track. Eagle Farm is a clockwise track that follows the same format as New South Wales in running right to left up the home straight.
There is one main track at Eagle Farm which is approximately 2,207 metres and 28 metres wide. The home straight for Eagle Farm races is 434 metres which is one of the longest across all premium racetracks in Australia.
The track itself is an evenly laid course with no sharp turns allowing for all runners to have a solid chance of victory with only little bias allowed for barrier draws. With little bias and such a long straight it is often seen that Eagle Farm is a promising track for back markers.
Despite having only one track, The Eagle Farm Course Proper, Eagle Farm also has several training facilities to allow for trainers to continue working on their craft all year round. These include:
Grass Track
American Dirt Track (wood fibre & sand composite)
Sand Track
Cinders (for slow pace-work)
The Farm also boasts a swimming pool on course, on course stabling for over 200 horses and a robust bullring.
History Of Eagle Farm Racecourse
When the Queensland Turf Club was founded in August 1863 racing began on a patch of land in Ascot, Brisbane. The patch of land soon became Eagle Farm in 1865 after a government grant allowed the Queensland Turf Club to develop the land.
In 1889 an architectural partnership named Hunter and Corrie along with architect John H Buckeridge jointly designed the long standing grandstands known as the Paddock Stands as well as stable and shed facilities on course.
Eagle Farm remained relatively intact over the future years until 1941 where the course was designated to the military as part of Pacific War efforts. The course was allocated to aid the US Military and housed thousands of troops and was renamed U.S. Camp Ascot during the period.
In 2009 once the Queensland Turf Club and Brisbane Racing Club announced its merger it announced its plans to launch a $1.2 billion development project to improve facilities at both Eagle Farm and Doomben race tracks.
Originally there had been plans in 2006 to inject $130m into Eagle Farm and sell Doomben off for redevelopment, however in 2009 plans had changed and $400m was to be invested in both tracks as well as additional funding to redevelop the land between the two courses.
With a 10 year plan to complete the work Eagle Farm specifically was being allocated funding to improve racing facilities including stables and new tunnels under the racecourse to reduce traffic.
In addition to on course facilities the Eagle Farm racecourse was to develop a nearby boutique hotel as well as a new carpark to host up to 1,600 cars on major race days. There were also additional plans to create new residential properties nearby.
With the upgraded track and surrounding facilities Eagle Farm racecourse is now one of the top standing racecourses in Australia if not globally.
Racing At Eagle Farm Racecourse
As previously mentioned the two main race tracks in Queensland are Doomben and of course Eagle Farm. During the month of June both tracks are in full action playing host to the Queensland Winter Racing Carnival.
For Eagle Farm June is a great chance for Brisbane Racing Club to show off there state of the art facilities by hosting 17 group races including 5 group 1 races.
Group 1 races at Eagle Farm are more for the middle to long distance runners with them being run between 1400m and 2400m.
With a range of set weight, weight for age and handicaps group 1s Eagle Farm attracts a high calibre of horse to compete for millions in prize money. Those races include the weight for age Winter Stakes run over 1400m, The TJ Smith Handicap run over 1600m, The Stradbroke Handicap also run over 1400m, The Queensland Oaks and Queensland Derby both run over 2400m.
The last three of those races run at Eagle Farm Racecourse are arguably the most famous with the Oaks and Derby having a rich history alongside similar events in NSW, VIC and SA as well as the Stradbroke dating back to 1890.
The Stradbroke Handicap in particular has a long history associated with not just Queensland but horse racing in Australia as a whole.
Run in June of each year, The Stradbroke is one of Queensland's Premier races with prize money of $350,000 up for grabs. The race is run over a distance of 1400m and is the heart of QLD's winter carnival.
Named after Lord Stradbroke, the race has deep ties with Henry John Rous one time earl of Stradbroke in the UK and inventor of the weight for age handicapping system that is widely used in horse racing today.
In 1890 the Stradbroke handicap was initially run over 6 furlongs (more commonly known as 1200m) however in 1953 the race was extended to 7 furlongs which is its current distance of 1400m.
During renovations to the Eagle Farm track in 2014 and 2015 the Stradbroke was briefly run at Doomben. Issues with the drainage and quality of the Eagle Farm race surface led the BRC to ripping up the track to be relayed.
The Stradbroke Handicap has been won by some excellent racehorses in recent years with the likes of Under The Louvre, Srikandi and Santa Ana Lane all taking Group 1 glory.
In 2020 the race was won by Queensland native Tyzone for the Toby Edmonds yard. The 7yo gelding out of Rezonet by Written Tycoon was victor in a close finish narrowly beating Chris Waller trained Madam Rouge and fellow Queenslander Niccanova.
Alongside the Stradbroke the two other most prominent group 1s to be run at Eagle Farm Racecourse are the Queensland Oaks and Derby both run at set weights over 2400m.
Despite being a common staple of all major racing carnivals in AU the Oaks has only had a brief history in Queensland only being inaugurated in 1951.
Run during the Winter Carnival in June the Oaks is a race just for the fillies at set weights over 2400m. With $500,000 in prize money available runners will often transfer from the Sydney Autumn Carnival across the border to compete for 3yo black type race glory.
The race has been bounced around somewhat on the thoroughbred calendar since it was first run in 1951 when it was run on the 27th of December during a Christmas meeting at Eagle Farm. By 1953 the race was run in November to coincide with the Victorian Spring Carnival until 1973 when the race was moved to be part of the Winter Carnival where it is now run in June.
In 2020 due to the pandemic the Oaks was postponed. It is not the first year that the race has not been completed at Eagle Farm with races in 2015, 2017 and 2018 was transferred to Doomben because of track redevelopment work. This led to the race being run over the 2200m in line with the distances at Doomben racecourse.
In contrast to the Oaks the Queensland Derby has a much steeper history with the first running of the race dating back to 1868 where it was first run at Gayndah Racecourse in Northern Queensland. The race was relocated to Eagle Farm in 1871 when the track was resurrected to permanently host horse racing.
The Queensland Derby is currently one of the richest races in the state with $600,000 in prize money available to entrants. The race can be entered by 3 year olds and is run at set weights over 2400m at Eagle Farm.
Similar to the Oaks and racing in general across Australia the Queensland Derby did not take place in 2020 due to the Covid-19 pandemic.
There could be a temptation to replicate the 1870 edition of the race where it was run twice in a year and won by the same runner, Grafton over the 2400m.
A Day Out At Eagle Farm Races
Eagle Farm has seen its fair share of development work in the past decade meaning a day out at the Eagle Farm Races are now one of the best race day experiences in Australia. With the upgrades to the oncourse facilities, the surrounding facilities and the race surface itself a Saturday trip to Eagle Farm has something to offer everyone.
Transport to Eagle Farm Racecourse
Attending by bus: Buses 300 and 301 depart regularly from Adelaide Street, Brisbane and stop outside the main entrance to Eagle Farm Racecourse on Racecourse Road.
Attending by train: use the Doomben Line from Roma St, Brunswick or Central St Stations to take you to Ascot Station. The Station has direct access to the track via the Railway Entrance.
Attending by car: there is ample free parking at Eagle Farm. The car park entrance is off Lancaster Road or Nudgee Road.
Attending by Ferry: The City Cat operates down river to Bretts Wharf. Take a 10 minute walk (800 metres) along Racecourse Road to the main entrance of Eagle Farm.
Attending by Taxi: There are multiple arrival points and taxi ranks at Eagle Farm that can be used by punters.
Betting At Eagle Farm Racecourse
Whether you're attending on a weekday or Eagle Farm races on a Saturday there are plenty of options for you to place a bet.
There's the traditional TAB machines and vendors dotted in and around the track that can be utilised to back your runner. There is also a bookies ring located near the main grandstand that can be used if you want to place your bet with a traditional bookmaker. Alternatively if you've found your spot on the Eagle Farm racecourse you can bet online through one of the many betting apps like Ladbrokes or Neds.
Facilities At Eagle Farm Racecourse
There are plenty of options available for attending a race day at Eagle farm for all punters looking to enjoy a day at the races.
General admission tickets are generally available from $20 which give you access to the lower areas of the main grandstands. There are options for access to the public lawn as a group however these are upwards of $40.
For those looking to host there are two cocktail options located on course with the Champagne Bar and Ascot Bar giving tapas and drink package options.
Corporate options are also available on course with several restaurant and terrace options available through the Moretan and Ascot terrace options as well as private suites for businesses or parties looking to host.
Recommended Dress Code
Similar to all racecourses in Australia there is an expectation that dress standards are kept high with a smart and appropriate theme required for members.
The BRC outlines that in general men should be wearing a collared business shirt with trousers and jacket. Dress shoes must be worn and thongs, jeans or ripped denim are not permitted.
For the ladies the BRC recommends a smart dress in keeping with the dignity of the members reserve with no bare midriffs or playsuits permitted.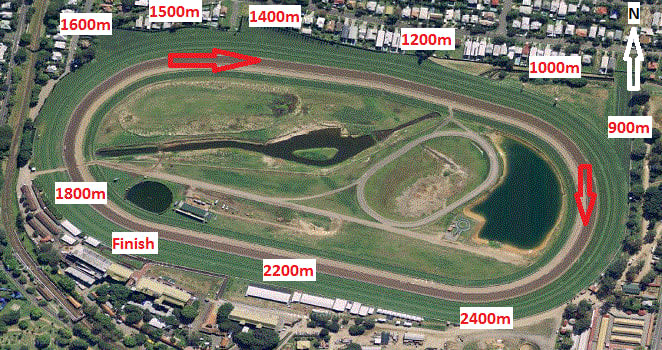 The Eagle Farm Barrier Guide
1000 metres: Starts at the end of a chute off the course proper giving runners a 250 metre straight before the sweeping home turn. Inside barrier draws are a great advantage here.
1200 metres: This start is on the course proper and runners have only about 180 metre straight before commencing a sweeping double turn. Runners drawn out wide are of a disadvantage.
1400 metres: This barrier is also situated on the course proper, with a run of about 380 metres to the sweeping double turn. Inside barriers have the advantage.
1600 metres: Starts on the course proper and there is a straight run for 580 metres to the first turn into the back straight. Inside barrier draws have a slight advantage.
2100 metres: Located in the home straight on the course proper giving runners just over 100 metres before the first sweeping turn. Because of the distance of the race and the gradual first turn barriers are of little importance.
2400 metres: Same as the 2100 metre barriers are of little importance.
3200 metres: Barriers are placed at the 1200 metres start. Runners have 180 metres before commencing a sweeping double turn. This barrier is rarely used after the Brisbane Cup was reduced in distance.
Contact Details For Eagle Farm Racecourse
230 Lancaster Road
Ascot,
Queensland 4007
PO Box 817
Hamilton Central,
Queensland 4007
Ph. (07) 3268 2171
Fax (07) 3868 2410
Email: admin@brc.com.au
Conclusion:
With some of the biggest races in Queensland hosted at Eagle Farm we strongly recommend taking advantage of the new facilities and seeing some truly great racing.
The redevelopment work, admittedly with issues has now been completed to propel Eagle Farm to one of the best race tracks in Australia.
An ideal time to go would be for the Winter Carnival when racing is at its peak. However for those wanting to go when there is less of a crowd an Eagle Farm race day during the week will also offer a great race day experience.