Leonard Ross "Mick" Dittman, also known as the "Enforcer".
Because of his willingness to apply the stick to a mount when needed, Mick Dittman is one of Australian horse racing history's most successful jockeys of all time.
Between the mid-1960s Mick Dittman began his career as an apprentice to Bill Kraft and when he retired after 20 years in the saddle to become a bloodstock agent in Asia, Dittman racked up over 1700 victories.
Born in Queensland in 1952, Mick Dittman first raced on the Gold Coast, and landed a double at Murwillumbah as a sixteen-year-old. His first notable win came in the 1968 Gold Coast Newmarket (known now as the Goldmarket) aboard Red Shah. The 1969 Ipswich Cup was the second notch in his crop, coming aboard Makata.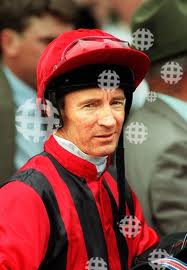 Mick Dittman won his first major Group 1 race, The Doomben Cup, riding Knee High to victory in 1972. This was the final chapter of his time as an apprentice under Pat Duff in Brisbane.
From there, Dittman dominated the Brisbane racing scene throughout the 1970's. He consistently raised the bar year after year including the Brisbane mark for the most wins in a season with 97 and half in the 1983/84 campaign. On one exceptional day at Eagle Farm Racecourse in November of 1976, Mick Dittman tallied 6 wins and one second place in a 7 event program.
During the 1980s, Dittman formed a close and formidable partnership with trainer Tommy Smith, where they focused on Sydney. As the top rider in that stable, Dittman, along with Smith, brought home three Sydney Jockey Premierships to go along with five Brisbane Jockeys Premierships, putting him behind only Russell Maddock and Bill Briscoe in Brisban honours.
Mick Dittman Racing Highlights:
Over 1700 race wins
88 Group 1 race wins
Winner of the Melbourne Cup in 1982 riding the G. Murphy trained Gurner's Lane where he collared the formidable Kingston Town by half a head.
Winner of three Golden Slipper Stakes: 1981 aboard Angus Aramanasco trained Full On Aces, 1986 aboard Tommy Smith trained Bounding Away, and 1993 aboard filly Bint Marscay, trained by Lee Freeman
Winner of two Cox Plates in consecutive years: 1983 on Strawberry Road and 1984 on Red Anchor
Winner of the Caulfield Cup in 1990 aboard Tasmanian bred Sydeston
As in the case with most sporting endeavors, fans love to speculate and play "what if" for any number of reasons.
In the case of Mick Dittman, people knowledgeable about horse racing often wonder what Dittman's achievements would have been if he had ventured onto overseas tracks, but this speculation is idle due to Mick's love of Queensland, so the big carnivals were the only thing to even lure him into racing interstate.
If there is anything that could even be considered as a blemish on an otherwise stellar career it might be this: Mick "The Enforcer" Dittman never won a single Stradbroke Handicap in 28 attempts. Some say this would have meant more to him than any other win in his illustrious career.
Mick's wife, Maureen was a trainer of horses, and Mick's son Luke has followed in his father's footsteps as a jockey.
After his retirement from Australian horse racing, Mick Dittman rode for two years in Singapore before becoming first a racing manager and then a bloodstock consultant.
Honors and Recognition:
In 2002, Mick Dittman was honoured with induction into the Australian Racing Hall of Fame, just two years after the Hall was created.
A race known as the Mick Dittman Plate at Eagle Farm pays tribute to his rich legacy.
The annals of Australian Horse Racing History would not be complete without considerable acknowledgment being given to the longevity, success and impact on racing of Leonard Ross "Mick" Dittman.
Few jockeys can lay claim to his record of achievements, combined with Mick Dittman's tenacity and will to win.