Might and Power: Champion New Zealand Thoroughbred.
Along with half brother Octagonal, Might and Power was another of the colts to be produced in New Zealand by the productive sire Zabeel.
Might and Power was nearly as productive on the track as Octagonal, but was gelded and did not have stud duties to perform once his days as a runner were concluded.
Foaled in 1993, Might and Power came out of the Irish mare Benediction, like Octagonal's dam, another Irish mare. Might and Power is also another example of the modern practice of shuttling stallions between northern and southern hemispheres to take advantage of broodmare cycles.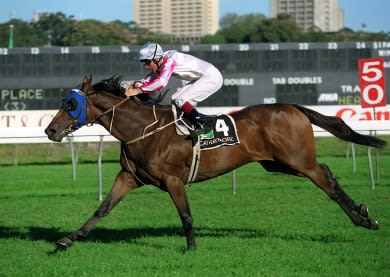 Racing Results.
Might and Power made his debut at Canterbury Racecourse 12th June 1996 in an event limited to two year old colts and geldings with no previous Metro wins.
He finished behind Imprison and Gymnastics causing his connections to give him five weeks to freshen.
His third attempt, last as a two-year-old, brought him a win at Randwick over 1400 m with jockey John Marshall aboard.
His next try, first up as a three-year-old, came at Rosehill Racecourse, where he produced a second.
Might and Power took nearly half a year off before coming out in early January of 1997. It took three attempts for him, but he won a class 3 event at Canterbury, significant by reason of, at 1900 metres his largest distance ever and first race win with Jim Cassidy in the stirrups.
A week later that duo repeated at the same track and distance.
Three starts at group 1 level followed, but it took returning to group 3 to produce a win at Randwick's Frank Packer Plate, where Might and Power prevailed by six lengths.
Not exactly a stellar three-year-old season, but certainly enough to show promise.
A spell of 20 weeks had Might and Power first up as a four-year-old for a sprint win in a listed race at Flemington Racecourse. Brian York had assumed the duties for this and the following three, which produced no wins, but did get Might and Power back to top level races.
He lost the Epsom Handicap by under three lengths, his connections went back to Jim Cassidy and the rest, as they say, is history.
18th October, in the second time tried at 2400 metres, Might and Power revealed his true nature as a stayer and front runner, winning the Caulfield Cup by 7 1/2 lengths and creating major turmoil in the betting market for the forthcoming W. S. Cox Plate and the Melbourne Cup.
Trainer Jack Denham chose to bypass the Cox plate and not run Might and Power until the Melbourne Cup.
Due to winning the Caulfield Cup, Might and Power was awarded an extra 3.5 kg for the Melbourne Cup.
He went off as the favourite, overcoming weight and the 3200 metres distance as well as several quality stayers from Europe. He led from the start, but was challenged repeatedly at 1600 metres, the home turn and the home straight. In a photo finish, Might and Power held off Doreimus for a Caulfield/Melbourne Cup double and World Champion Stayer of 1997 recognition.
Returning to Caulfield Racecourse in February of 1998, Might and Power produced no wins, but a minor injury and reduced distances no doubt played roles. His connections switched away from Cassidy and back to York for wins in the group one Mercedes Classic and AJC Queen Elizabeth Stakes, in the latter of which he left a field of multiple group 1 winners and won by over 10 lengths.
He backed that with a group two win at the Gold Coast, then concluded a four-year-old campaign with a course record setting win in the Doomben Cup. A virus hampered Might and Powers spring campaign as a five-year-old, but he did post victories in the group two Chelmsford Stakes and the group 1 Yalumba Stakes, Jim Cassidy once again performing jockey duties.
He then bested Shane Dye steered Tycoon Lil in the Cox Plate, again running toward the front and taking the post comfortably.
He next put the field down by seven lengths in the the VRC Queen Elizabeth Stakes for what would prove the final win of his career.
After being been unraced for nearly 2 years, Might and Power was unsuccessfully tried on three occasions, then retired.
Might and Power finished with 15 wins, 7 seconds and one third in 33 starts, producing over $5 million in prize money.
He was named Australian Horse of the Year in 1998 and 1999 and inducted into the Australian Racing Hall of Fame in 2002.
Might and Power's 10 major wins may seem paltry amongst Hall thoroughbreds, but as one of the few to claim a W. S. Cox Plate, a Caulfield Cup and the Melbourne Cup, whilst being the only horse to lead the latter two from the first, plus the combination of speed and stamina that turned many of his races into a contest of demoralised also-rans, leaves little, if any room for controversy.