One of New Zealand's recent contributions to the Sport of Kings, Octagonal.
Octagonal is one of the instances where racing success and good results as a progenitor of successful thoroughbreds comes together.
Foaled in 1992, Octagonal's sire was Zabeel. The bloodline on that side contains some genuine luminaries of the track, names such as Ireland's Sir Tristam and Canadians Northern Dancer and Nearctic to name a few.
British dam Eight Carat, by way of Ireland's Pieces of Eight, has one of the most legendary ancestors in the racing history of the world in the immortal American, Man O' War.
Octagonal thus represents a fine example of the potential presented by the era of shuttle stallions.
As a runner, Octagonal first won in late 1994 in a handicap for two-year-old colts and geldings over 1100 metres at Rosehill Racecourse with jockey Michael Evans on board.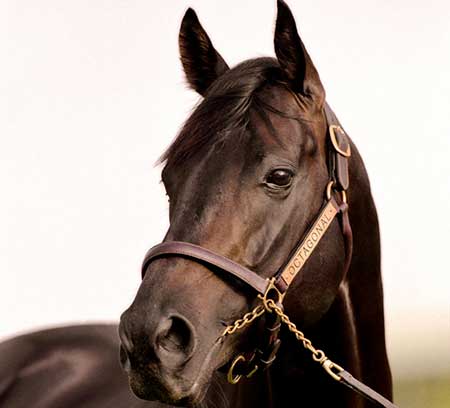 His fall campaign as a two-year-old had Grant Cooksley aboard for a win in the set weight group 2 Todman Trial at Rosehill.
Backed by a close second in 1995's Golden Slipper Stakes, followed by his inaugural group 1 win in the AJC Sires Produce Stakes, concluding with another narrow second in Randwick's group 1 Champagne Stakes.
Octagonal was named Australian Champion Two Year Old on the basis of those results.
An 18 week spell followed before Octagonal, now aged up to three, notched another second in a group 3 race on a dead track over 1200 metres at Randwick Racecourse.
He then returned to Rosehill, where a dead track proved no hindrance to his winning a listed race.
A change in riders followed. The Caulfield Guineas of 1995 eluded Octagonal, but a switch to Shane Dye for Moonee Valley's W. S. Cox Plate proved a winning combination.
Another narrow second to Nothin' Leica Dane preceded another brief spell prior to resuming in early 1996.
Nothin' Leica Dane bested him again at Warwick Farm before Darren Beadman took the ride in a Octagonal's Canterbury Guineas victory. Beadman again steered Octagonal for the group 1 Rosehill Guineas victory, where Octagonal extracted a measure of revenge on Nothin' Leica Dane.
Octagonal was then tried to good result at 2400 metres, winning the Mercedes Classic at Rosehill and backing that with the AJC Derby at Randwick.
Those results, featuring seven wins from 11 starts, garnered Australian Champion Three Year Old and Australian Horse of the Year accolades.
Resuming as a four-year-old, Octagonal fell off some and didn't win until the Underwood Stakes in September of 1996, the only highlight of his four-year-old spring campaign.
Autumn saw him faring much better. Wins in the group one Chipping Norton Stakes, the Australian Cup and the Mercedes Classic featured him and Shane Dye coming out of the field for wins.
Octagonal concluded his racing career with a runner-up finish in the Queen Elizabeth Stakes.
His final tally was 28 starts for 14 wins, 7 seconds and one third to go along with just shy of $6 million in purses. As mentioned earlier, Octagonal back his track exploits standing stud at Cootamundra.
He has sired 427 winners that have accounted for well over $30 million of earnings, which represents a 60% strike rate starters/wins.
Octagonal most notable progeny includes four group 1 winners, Lonhro with 11 being foremost. Lonhro's brother Niello has produced three group 1 wins. French Laverock and South African Sontagonal complete the list.
Originally commanding stud fees up as high as $50,000, Octagonal's rate has declined to the point where some of the best blood to be boasted by any thoroughbred, along with the potential to produce another Lonhro, is now well within the reach of smaller operations.