Jim Cassidy is one of Australia's formidable jockeys, among the top seven to win a career grand slam.
A competitive spirit and will to win has seen Jim Cassidy through the toughest times which include numerous injuries and riding bans, only to come back with greater determination.
A favorite with the punters, Jim Cassidy is sure to make the most of the racetracks before he finally hangs up his boots.
New Zealand born Jim Cassidy quickly rose to fame as a jockey on the Australian turf, winning the 1983 Melbourne Cup on Kiwi at the age of 20.
His second was to follow fourteen years later in the 1997 Melbourne Cup astride Might and Power, the duo's second triumph after the 1996 W.S. Cox Plate. Jim Cassidy is also a three time winner of the Australian Derby, winning in 1990, 1993, and then again in 2009.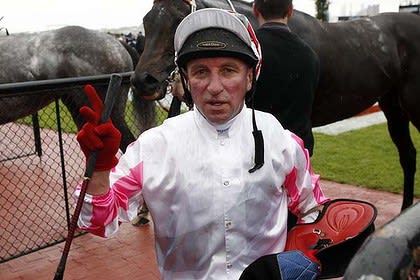 Jim Cassidy is among the top seven jockeys to win a career grand slam which includes the Caulfield Cup, Cox Plate, Golden Slipper Stakes, and Melbourne Cup.
Strangely, as a young boy, Cassidy was determined to become a rugby player but did not have the size, which made him choose to become a jockey.
He even toured Australia as part of a New Zealand rugby team at the age of 11.
Both sports need courage which Jim Cassidy wasn't lacking. His first glimpse of his 1983 Melbourne Cup winning partner, Kiwi, was as an 18 year old, riding the horse in a minor race at Stratford.
The Wellington Cup followed, which the duo won handsomely, setting the stage for the Melbourne Cup.
The 1983 Melbourne Cup victory prompted Jim Cassidy to move to Sydney in 1984, soon to become every punter's favorite with his daring style, many believing that he could do the impossible on a horse. His riding abilities and superior skills made him much sought after by trainers and owners.
For someone who has won 84 Group One races, it is not surprising that Cassidy gathered a huge fan following. While major triumphs seemed to come easily, he has had his fair share of setbacks as well.
A run-in with stewards resulted in a 21-month suspension for his involvement in the 1995 Jockey Tapes affair. Numerous back and knee injuries have plagued the formidable rider until this day. Most recently, Cassidy sliced two fingers while gardening at home, almost putting an end to his career.
On 3 November 2010, Jim Cassidy was given a three-month ban by Racing NSW stewards for testing positive for marijuana. However, Cassidy has always staged a comeback, making it back to the top of riding charts.
For the most part, his talent, competitive spirit, and determination are what get him back to the top. Being written off so many times, only made him come back stronger.
Jim Cassidy continues to be a regular rider for Maluckyday, Nick Moraitis's horse and runner up to Americain in the 2010 Melbourne Cup. Although the three-month ban comes at the age of 47, a time when jockeys choose to hang up their boots, Cassidy's resilience may be his ticket to success on his return.
Jim Cassidy has three daughters to keep him busy while he isn't on the tracks. Although a round of golf is always on the cards, Cassidy adrenalin fix only comes from racing. Many ask why the champion jockey shouldn't retire now with injuries, operations, and other issues making life uncomfortable.
Jim Cassidy's answer is in the horse called Maluckyday, which he fancies to do well over the 2011 season. Probably, the most interesting combination to watch for during the next 12 months.