Canterbury Park Racecourse is nestled in Sydney's South West in the small suburb of Canterbury opposite Canterbury Train Station. Canterbury is located roughly 11km for the Sydney CBD and holds race meets all year round...
Canterbury Park is owned and operated by the Australian Turf Club which also runs and operates Royal Randwick Racecourse in Sydney's East and Rosehill Gardens located in the city's West.
Location: Canterbury, Sydney, New South Wales
Main Track Circumference: 1,579 metres
Length of home straight: 317 metres
Races: 1000m - 2800m
Overview Of Canterbury Park Racecourse
Canterbury Racecourse might not be as well known on the global racing stage but in Australian Horse Racing Canterbury Park is well known for its mid week and evening races on the thoroughbred racing calendar.
Just a short hop from the Sydney CBD Canterbury Park Racecourse's operators the Australian Turf Club describe Canterbury races as a relaxed community oasis and the undisputed home of Sydney's Night Racing.
To be honest it's hard to argue with that analysis considering its the only track in Racing NSW that offers a constant night racing schedule during the summer months with the KIA Friday Night events geared up to drive punters to the track in a unique under the lights experience.
Canterbury Park is geared towards catering for race goers who want a relaxed race day experience without travelling too far from the city. What makes it even more attractive to locals is the easy access you can get to the course via the Canterbury Train Station located less than a minutes walk from the track.
The track itself is compact and small when we compare it to the bigger brothers like Rosehill and Randwick however it does offer trainers and jockeys to test the horses out over short distances with tight bends and a short finishing straight.
Despite being on of the smaller tracks what Canterbury Park lacks in quality of racing it more than makes up for in its history. Canterbury races have seen a fair amount of change over the years and it's definitely something that will create an eyebrow raise.
Canterbury Park Racecourse Details
As mentioned above the Canterbury Racecourse track is compact with a circumference of just 1,579m making it one of the smallest metropolitan tracks in the country. As a result of it being so compact Canterbury racecourse offers a distinct advantage to front runners who favour a short stride.
Canterbury races no longer feature Group Racing or carnivals after all senior black type racing was moved to the bigger venue of Rosehill in the west. As a result Canterbury was turned into a mid week and evening racing venue.
The key to Canterbury race results are in those aforementioned night race events which take place through the summer. The Kia Friday Night racing series is held under the floodlights and are geared towards families and groups attending the races for the first time.
The format for Canterbury Park Night Races follows that of the Friday Night Under The Lights events held over the border at Moonee Valley. The Valley hosts night racing most Fridays and is geared to run alternate races ever 15 minutes.
Canterbury Parks mid week racing is a bit less adventurous as it generally gives trainers a chance to tune up there runners before hitting the bigger metro meets on the weekend.
Canterbury Park Racecourse does have a total of 4 tracks and offers training facilities for stables in Sydney's metro areas. The Canterbury Park race track underwent redevelopment late in 2020 that meant a new surface and drainage facilities were added to the track.
History Of Canterbury Park Racecourse
Like we said, what Canterbury races lack in quality they do not lack in history with the Canterbury Racecourse having a colourful background of change and development.
The first recorded racing in Canterbury dates back to 1852 where racing was held on a patch of land owned by Cornelius Proud. He cleared the grassland in order to host racing and it was regularly used by the local community before interest generally fell by the wayside.
In 1871, after no race meets had been held for a few years, land was leased by Thomas Austen Davis near to the original racing site and a new race track was created. This site in 1884 was leased as the headquarters of the Canterbury Park Racing Club.
The site of Canterbury races are a far cry from the facilities that were first set up in 1884 where a 700 seat grandstand and recreational park were the only facilities at the first Canterbury Park Racecourse which then saw its first proper race day on the 19th January 1884.
As part of the Park Canterbury Racecourse was home to Kangaroos, Wallabies, Emus and other animals via the on course Zoo. The Zoo remained an active attraction at Canterbury Park right up until World War 1.
After Davis purchased the land for Canterbury Park Racing Club in 1886 a network built up around the racecourse. This included stables, saddlers and harness makers all geared towards developing the race track and race day facilities for all Horse Racing Tips.
Canterbury Park Racecourse although today doesn't feature the highest level of racing it has been the scene of many firsts with the Canterbury track being the site of the first ever photo finish camera in 1946. The first female training success in 1957 and Sydney's first ever TAB meeting in 1964.
In 2020 the Canterbury race tracks course proper underwent redevelopment work to address the surface and drainage. Work was completed later in the year in time for the 20/21 Night Racing series.
Racing At Canterbury Park Racecourse
The Sydney Turf Club was founded in 1943 and is the youngest of Australia's Principal Race Clubs. It was formed following an Act passed by the New South Wales parliament called the Sydney Turf Club Act. The Act had taken 40 years to draft and gave the club the power to hold 62 race meetings a year at the Rosehill and Canterbury tracks.
The Sydney Turf Club and the Australian Jockey Club officially merged in February 2011 to form a new Sydney racing club, the Australian Turf Club and commenced operations on Monday 7th February in NSW.As part of the merger and also the set up of the Sydney Turf Club all Canterbury's feature racing and carnival racing was moved over to Rosehill in order to allow greater crowds to attend and bet on the races.
The Canterbury track is mainly used for midweek and night racing and generally take place on Thursday or Friday nights .
Canterbury Racecourse does host 2 listed races throughout the season, those being Canterbury Classic over 1100 metres in January and the PJ Bell Handicap over 1200 metres in April.
A Day Out At Canterbury Park Racecourse
Canterbury Racecourse offers punters a great chance to get up close and personal with live horse racing. The compact nature of the course means that racegoers are right on top of the action without being on top of each other.
Mid week race meetings tend to be quiet however can provide a great chance for racing fans to meet some of there favourite jockeys and trainers without having to battle the crowds. Without as much pressure on the runners stable connections are generally more approachable and happy to chat or take a photograph.
For even the most hardened punters Friday night under the lights is a truly unique experience of watching the horses perform in completely different conditions. Most runners and trainers are up early to trial horses so running in the evening creates a whole new ball game for entrants.
With its easy access from the city via the train Canterbury racecourse is an easy and relaxed entry for first time racegoers and families alike.
Transport To Canterbury Park Racecourse
Canterbury Park is a short drive from Kingsford Smith Airport and just 15 minutes from the Central Business District. The track is situated on King Street.
Free parking in the course onsite for up to 2,000 cars via Frederick Street. For members' parking, travel along King and Princess Street entrance.
Canterbury Racecourse is a 10-minute walk or 2-3-minute taxi ride from the Canterbury Station. Catch Bus 471 and Bus 472 between Canterbury Station and Ashfield Station. These buses run regularly every 15 minutes and stops outside the main entrance of Canterbury Park Racecourse. Contact the Transport Information Line on 131 500 for more information.
During Night Races, there is a Strathfield Station service that runs from 5:30pm to Canterbury Track every hour till 8:30pm. The return service starts from 9:20pm & 10:20pm back to Strathfield Station.
During Day Racing there is a Strathfield Station service that runs from 10:30am to Canterbury Track every hour till 2:30pm The return service starts from race six or 3:30pm back to the Station.
Betting At Canterbury Racecourse
Canterbury Park Racecourse is one of the easiest to navigate with viewing access only on the stand side and there is only one grandstand on course. Within the grandstand on the ground floor is the bookies ring. Its a very relaxed experience where punters are able to go in and place cash bets.
Important to note that Canterbury Racecourse only has 3 ATM points so it is worth remembering to bring your cash to the track incase these are emptied out before the end of the event.
Other betting options include the TAB facilities as well as being able to bet online through website or APP. Sometimes having a pre deposited account to use on course can help avoid queues and mean you can place bets more easily.
Hospitality Facilities At Canterbury Racecourse
Given the nature of race meets at Canterbury Park corporate and hospitality options are limited. There are a number of bars and hawker style food outlets on course to try which provide a unique chance to taste some of the best local cuisine.
For those looking for a more exclusive setting to watch the racing the ATC recommends trying Canterbury Parks Open Terraces. The Terraces offer an exclusive space in the second tier of the grandstand for punters to view the races in a VIP reserved area with food and beverages.
The Canterbury Park Racecourse Terraces offer a relaxed yet formal setting to entertain and provide panoramic views of the racecourse in an exclusive setting.
Recommended Dresscode For Canterbury Park Racecourse
Given the ATC only hosts racing at Canterbury on a weekday and Friday evenings dress standards are a lot more relaxed than the formal attire requirements of a Saturday.
For Ladies:
All fixtures at Canterbury Park, Ladies are permitted to wear jeans (without rips), chinos or untailored slacks. Dress code applies for children 14 years and over.
NOT ACCEPTABLE:
Any form of the following footwear; joggers, sports shoes, track shoes, runners, thongs, dilapidated footwear, scuffs, gumboots or slippers
Jodhpurs, shorts or playsuits
Torn or ripped clothing
Garments which show midriff or with cut-outs
Leggings worn as pants
Parkas, duffle coats, windbreakers, tracksuit tops, denim jackets or anoraks
For Gentlemen:
When attending Canterbury Park, Gentlemen are permitted to wear neat and tidy pants including jeans (without rips), chinos or untailored slacks.
NOT ACCEPTABLE:
Any form of the following footwear; joggers, sports shoes, track shoes, runners, sandals, thongs, dilapidated footwear, scuffs, gumboots or slippers
Shoes without socks
Jodhpurs, shorts or untailored slacks
Torn or ripped clothing
Parkas, duffle coats, windbreakers, tracksuit tops, denim jackets or anoraks
Tracksuits
Peaked caps, beanies
Pullovers or cardigans (without a jacket), rugby tops and football jerseys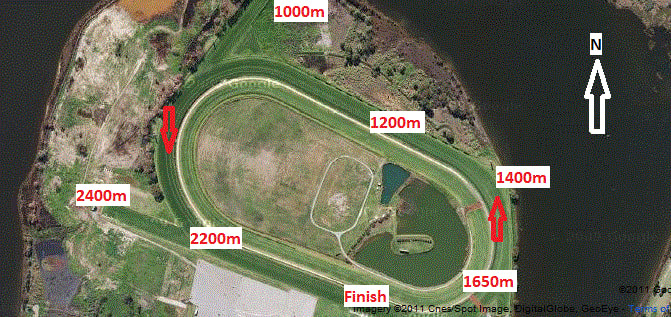 Canterbury Park Barrier Guide:
1100 metres: Start is on the course proper in the back straight. Provides runners with a 400 metre straight before a sweeping double turn out of the back. Inside barrier draws have a slight advantage.
1200 metres: Starts in a chute at the end of the back straight. Has a long straight run before runners have to negotiate the turn. Gives runners ample time to find a position in running. Barriers have little importance.
1550 metres: Is in a small chute near the finish line off the course proper. There is only a short run before a long sweeping turn into the back straight. Inside barrier draws have an advantage.
1900 metres: This Start is found at the top of the home straight in a small chute providing a 300 metre straight run before the sweeping turn into the back straight. Inside barrier draws are an advantage.
2600 metres: This starts on the course proper in the back straight. There is a straight run for about 350 metres before the sweeping double bend into the home straight. Inside barriers have an advantage.
2800 metres: Is found on the course proper in the back straight near the 1250 metres start. There is a straight run for 550 metres before the sweeping double bend into the home straight. Inside barriers have only a slight advantage.
Canterbury Park Racecourse Contact Details:
CANTERBURY RACECOURSE
98 King Street Canterbury,
NSW 2193
PO Box 21,
Canterbury,
NSW 2193
Ph. (02) 9930 4000
Fax (02) 9930 4098
Canterbury Park Racecourse Conclusion
If you haven't been to a night or evening race meet then we highly suggest trying out Canterbury Racecourse. The Friday Night Kia Series is one of the best in the Country and gives punters a chance to experience night racing in a chilled out relaxed environment.
The racecourse is definitely worth a visit and highly recommended for Family days out or first time racegoers.