Black Caviar, an Australian thoroughbred is a horse that means business.
The brown mare has already found favour with the IFHA as the number one rated sprinter of all time in the World Thoroughbred Rankings.
With over $2 million in the kitty that comes from 11 victories from 11 starts, there is no stopping Black Caviar who has no regard for her opposition, beating Golden Slipper winner Crystal Lilly in her latest outing in the William Reid Stakes at Moonee Valley Racecourse.
There has been many top-notch racehorses to blaze the Australian turf with Phar Lap, Lonhro, Makybe Diva, Carbine, Super Impose, and many more. However, the one to be officially rated the world's best and fastest sprinter is Melbourne racehorse, Black Caviar.
According to the international rankings for 2011, Black Caviar is invincible.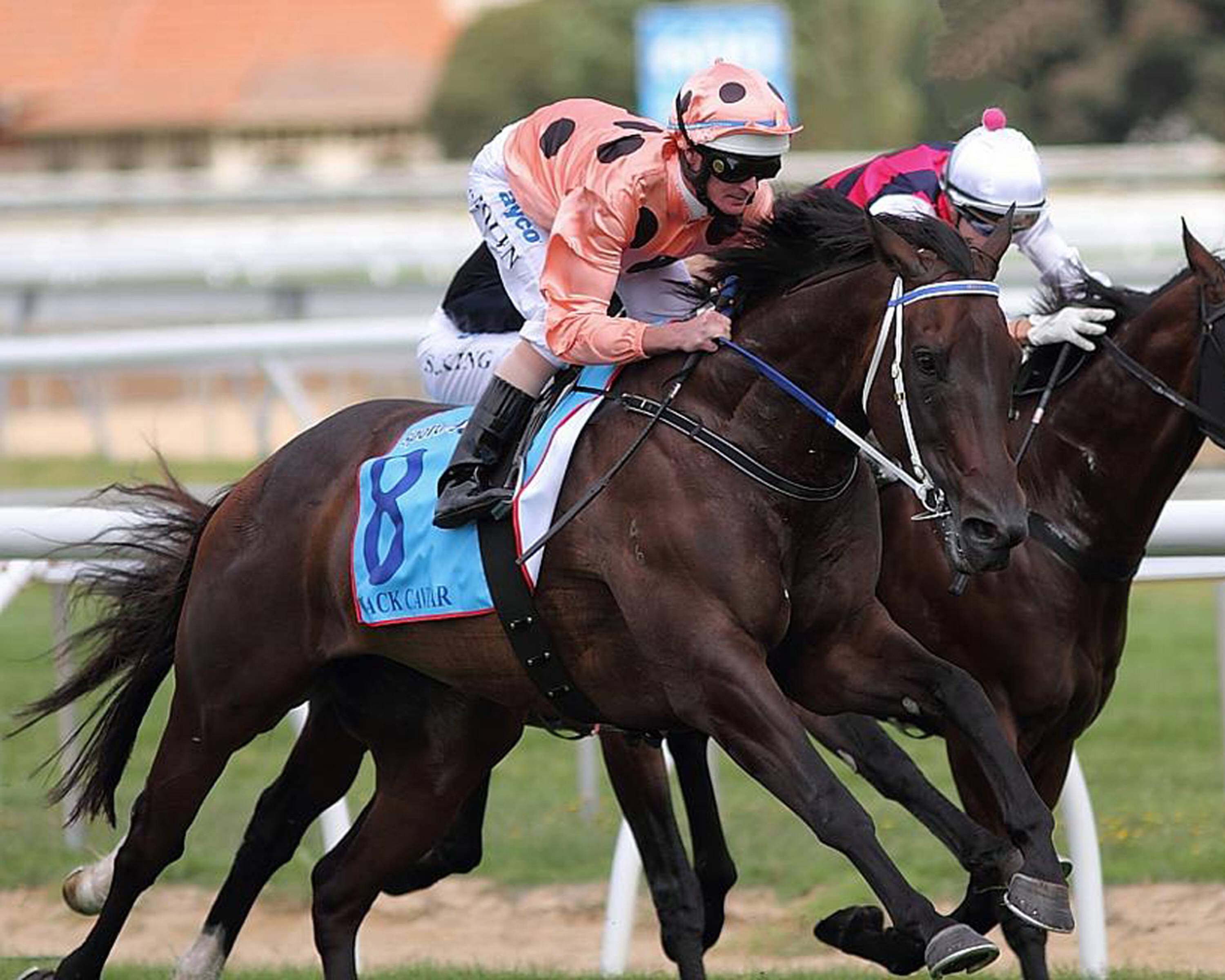 Since the International Federations of Horse Authorities (IFHA) began the World Thoroughbred Rankings (WTR) in 2002, Black Caviar has become the highest-rated sprinter and Australian horse.
The WTR considers performances of horses in all racing jurisdictions worldwide.
Black Caviar has eclipsed Oasis Dream's ranking as the highest-rated sprinter in 2003 by five points to earn 130 points, the highest ever so far.
Black Caviar's March 12, 2011 victory in the International Federations of Horse Authorities at Flemington was rated as the best performance by a thoroughbred around the globe for the six-month period from October 1, 2010 to March 27, 2011. Thanks to an unbeatable streak of 10 wins from 10 starts, Black Caviar's Newmarket Handicap triumph earned her a 130-point rating.
Several winners at US Breeders' Cup, Dubai World Cup, Arc de Triomphe, and Hong Kong International meetings have not been able to catch up with the mare.
Foaled in August 2006 at the Swettenham Stud, Black Caviar comes from a strong lineage sired by the winner of the Doomben 10,000 sprint Bel Espirit, out of Helsinge by Desert Sun.
The mare was sold at the Inglis Melbourne Premier yearling sales for AUD 210,000.
Bred by Mr. R. Jamieson, Black Caviar is trained by Peter Moody.
In 2012 the Lightning Stakes was officially renamed to the Black Caviar Lightning in honour of Black Caviar.
The mare's major victories have been in the VRC Patinack Farm Classic in 2010 and the VCR Newmarket Handicap and VRC Lightning Stakes. She remains undefeated now with the Group 1 weight-for-age $500,000 William Reid Stakes adding to her eleventh straight victory. Among the other major victories includes the MVRC 3-year-old race for Fillies, VRC Danehill Stakes, MVRC Australia Stakes, MRC Schillaci Stakes, and the MVRC Schweppes Stakes.
Gary Wilkie and his syndicate remains the owner of the world's best racehorse, who never imagined in their wildest dreams that Black Caviar would reach such heights. Adding to her reputation is the record of the second-fastest sprint in recorded history at Flemington.
The mare's owners include seven from Melbourne and one from Sydney. Co-owner David Taylor's wife Jill wasn't too keen on the investment on an unknown filly but has plenty to rejoice with each victory which has made the syndicate richer by $2,299,250.
Melbourne 's racing fraternity is simply mesmerized by Black Caviar's runs in the last six months, running 200 meters in 11 seconds.
With Luke Nolen in the saddle, the mare seems to have no competition to speak of on the Australian racetracks. However, for trainer Peter Moody, the mare's routine is similar to all the other horses under his wing.
As a young horse, Black Caviar's speed and strength caused her to suffer recurring chest and lower-leg injuries, which strapper Donna Fisher remedied by keeping her moving. Not a horse to be pampered before a race, the mare certainly means business every time she is out on the tracks.
According to her jockey Nolen, Black Caviar's speed and strength is evident in the middle stages of a race, which makes a win with relative ease.
May be the mare's secret is in her laid back attitude where nothing worries her or fazes her at all. That's what trainer Moody says about her success.
Black Caviar Part 2
In March 2011, the formidable sprinter, Black Caviar, had already won 11 races from 11 starts with her connections becoming richer by over $2 million after her victory in the Group 1 William Reid Stakes at Moonee Valley over her favourite distance of 1200 metres.
Almost a year on, the 5 year old mare hasn't given up her winning ways with a record 19 wins from 19 starts. Nothing can seem to stop her from winning and that too, winning convincingly by huge margins of up to six lengths.
The only horse to come closest within 0.8 lengths of the mare was Wanted, in the Group 2 Danehill Stakes over 1200m of the Flemington Racetrack in September 2009. By the end of the Group 1 Coolmore Lightning Stakes over 1000m at Flemington in February 2012, Black Caviar made it clear that she had no intentions of giving up on her winning streak while making her connections richer by AUS $5,153,550.
Earlier in January 2012, trainer Peter Moody so rightly predicted that the 5 year old world champion sprinter may still be improving. Her trainer has always believed that she would blaze the tracks as a five year old. Moody went on to humbly add that either Black Caviar would prove him to be a genius or a mug.
True enough, a month later Moody has the right to be called a genius, plotting and planning the mare's schedule before heading for the Royal Ascot later in June. Now that she has proved she is good enough to step up to 1400m by winning the Group 1 CF Orr Stakes at Caulfield Racecourse in mid February 2012, there is no guessing what surprises the mare has in store for the racing fraternity.
Jockey Luke Nolen is as confident about Black Caviar as trainer Moody, rightly predicting that she would adapt easily to 1400m at Caulfield. Nolen remembers the words of trainer Jim Conlan when he was a junior jockey. Conlan claimed that any horse with the ability to run strongly up the1200m straight at Flemington would be best suited at 1400m, and Black Caviar proved Conlan right.
So, is it really her mature muscles and healthy coat that hints at her being at her physical peak? It may be so, although credit must go to trainer Moody and jockey Luke Nolen for forming a formidable trio.
Recently, Black Caviar's rating jumped another spot from 135 to 136 after Hay List, rated 132, won the Group 1 Lexus Newmarket Handicap over 1200m at Flemington with a topweight of 58.5 kg. This has made the world champion the equal highest-rated filly or mare in the history of Timeform, the other horse being Habibti, a British sprinter in the 1980s and Allez France , a French filly who was the first to set the record in the 1970s.
Right now, Black Caviar is preparing under Peter Moody's watchful eyes for Royal Ascot. While he fancied a run in Adelaide in May in search of her 20th consecutive win, rumours are abuzz that we might see the champion sprinter earlier at the Sportingbet Classic at Morphettville Racecourse at the end of April or the Goodwood Handicap a fortnight later on the same track.
There is no doubt that racegoers can't get enough of the wily sprinter. Michael Wright, the former racing minister, desires to make South Australia the first state to name a race in honour of Black Caviar, hosted by the SAJC. According to Wright, horses like Black Caviar are few and far between and come around once in a generation. In the meantime, the lil' beauty has nothing but good wishes from everyone and is guaranteed to have a 'royal' time at Royal Ascot in June.
Black Caviar Part 3
Black Caviar Retires in April 2013:
Punters who have a keen appreciation for greatness will indeed feel privileged to have borne witness to the exploits of one of the best sprinters and one of the greatest thoroughbreds of all time, for that matter, when they look back on their participation as spectators in the history written by a six-year-old filly going by the name of Black Caviar.
When we first looked at her back in 2011, she was already well established, having won all 12 of her starts. Now, in the midst of her campaign as a six-year-old, she has just one the Group 1 TJ Smith Stakes for a second time, having eliminated that race from her schedule in 2012 in favor of runs in the Sangster Stakes and the Goodwood Stakes.
Her record now stands at 25 consecutive, along with nearly $8 million in earnings, a figure that ranks her number 15 all time. She is bows out as number four in terms of Group 1 wins and it had seemed to some knowledgeable handicappers that the only way she would ever be beaten would be for her connections to continue to run her until she was a 12-year-old.
She was capable under various running conditions and possessed a remarkable ability to win on dead tracks as well as good. Quite simply, the thesaurus lacks enough synonyms for superlative to do her justice.
The international Federation of Horse Authorities World Thoroughbred Rankings System, established in 2002, unabashedly declares her the world's best sprinter and greatest horse of all time.
She was foaled at Swettenham Stud in August 2006. Her sire was Bel Esprit and her dam was Helsinge. Her sire was himself a formidable champion, placing 13 times during his brief 19 start career that produced over $2 million in earnings. Her dam was an un-raced broodmare.
Her bloodline almost defies imagination with names such as Desert Sun, Nijinsky, Vain and Northern Dancer contributing on both sides.
Such has been the impact on the collective psyche of Australian race fans that her most recent TJ Smith Stakes victory rendered the Australian Derby to what could very nearly be considered a second class warm-up act.
Her first Group 1 win happened on 6 November 2010 , in the 1200 m weight for age Patinack Farm classic with Ben Melham aboard who was filling in for a suspended Luke Nolen. She finished ahead of Star Witness by no less than four lengths. She has not run at anything below group one level, save for a trial in September of 2010, ever since that first significant victory.
About the only two possible criticisms to which Black Caviar could be subjected is that she has occasional difficulties in the barrier or stumbles out and that wagering upon her provides little in the way of rewards to punters.
Following her recent victory in the TJ Smith Stakes, trainer Peter Moody and Black Caviar's owners made the decision to retire her. According to Moody, "The connections of the horse and I decided 25 was a great number and she did us proud on Saturday," spoken just four days subsequent to her most recent victory.
It is hoped that at some point, Black Caviar will produce progeny even remotely close to her in their racing abilities. She is certain to command high fees, although given a thoroughbred's long gestation period, those fees would have to be astronomical indeed for her to earn anywhere near what she was able to bring in through racing.
The Lightning Stakes, of which she won three, has been renamed the Black Caviar Lightning in her honour. She was awarded Australian Champion Sprinter and Australian horse of the year honours in 2011 and 2012.
Internationally, she was declared World Champion Sprinter in 2011, 2012 and 2013. She entered the Australian Racing Hall of Fame after her 23 rd in 2012 victory being only the second horse in the Hall's history, along with Sunline, to be inducted whilst still active.
If you placed a $1 bet on Black Caviar to win her first race and rolled the winnings into every one of her career races you would have collected all of just $337 dollars such was the dominance of the champion mare.
If you had, the bet for her final run would have been $296 at $1.14.
Find here a compiled a list of interesting betting stats following the news Black Caviar has pulled up stumps:
Biggest bets placed on Black Caviar with sportsbet.com.au - $1.65million, 2 x $1million, 5 x $500,000 and 4 x $300,000
The smallest single bet placed Black Caviar with sportsbet.com.au – 5 cents at $1.05
The 2013 William Reid Stakes was the race punters wagered the most money on the champion mare
The 2010 Patinack Farm, the race she ran down Hay List, was the race that punters won the most from sportsbet.com.au on BC and also was the race with the best backed runner (Hay List) to beat her
Victorian punters collected the most winnings from Black Caviar
Black Caviar paid $3.00 with sportsbet.com.au when winning her first career race
One sportsbet.com.au punter placed a 'speed machine' megabet, wagering $120,000 on Black Caviar to win the Diamond Jubilee at Royal Ascot into Usain Bolt winning the men's 100m final at the London Olympics at $2.00 for a cool $240,000 collect
Black Caviar winning dividends with sportsbet.com.au over her illustrious career:
R1 2YO Handicap Restricted, Flemington $3.00
R2 Blue Sapphire Stakes, Caulfield $1.50
R3 Crockett Stakes, Moonee Valley $1.20
R4 Danehill Stakes, Flemington $1.44
R5 Australia Stakes, Moonee Valley $1.73
R6 Schillaci Stakes, Caulfield $1.80
R7 Schweppes Stakes, Moonee Valley $1.40
R8 Patinack Farm Classic, Flemington $1.90
R9 Lightning Stakes, Flemington $1.29
R10 Newmarket Handicap, Flemington $1.18
R11 William Reid Stakes, Moonee Valley $1.09
R12 TJ Smith Stakes, Randwick $1.14
R13 BTC Cup, Doomben $1.14
R14 Schillaci Stakes, Caulfield $1.07
R15 Schweppes Stakes, Moonee Valley $1.05
R16 Patinack Farm Classic, Flemington $1.05
R17 Australia Stakes, Moonee Valley $1.05
R18 C F Orr Stakes, Caulfield $1.05
R19 Lightning Stakes, Flemington $1.10
R20 Robert Sangster Stakes, Morphetville $1.05
R21 Goodwood Handicap, Morphetville $1.05
R22 Diamond Jubilee Stakes, Royal Ascot $1.17
R23 Lightning Stakes, Flemington $1.10
R24 William Reid Stakes, Moonee Valley $1.05
R25 TJ Smith Stakes, Randwick $1.14