Ascot Racecourse is located at 70 Grandstand Road Ascot WA 6104.
Ascot Racecourse, Perth Western Australia, home of the Western Australian Turf Club now known as Perth Racing.
The circumference of Ascot Racecourse is 2022 metres with the straight being 294 metres long. A good cambered home turn and a slight rise from the 400m to the winning post.
Races at the Ascot Racecourse are held from 1000 metres up to 2400 metres with inside barriers having a slight advantage in races over 1400 metres and 1500 metres and an advantage over 1000 metres, 1100 metres, 1600 metres and 1800 metres.
Contact:
PERTH RACING
PO Box 222,
Belmont,
WA 6104
Ph. (08) 9277 0777
Fax (08) 9277 0710
Email: perthracing@perthracing.org.au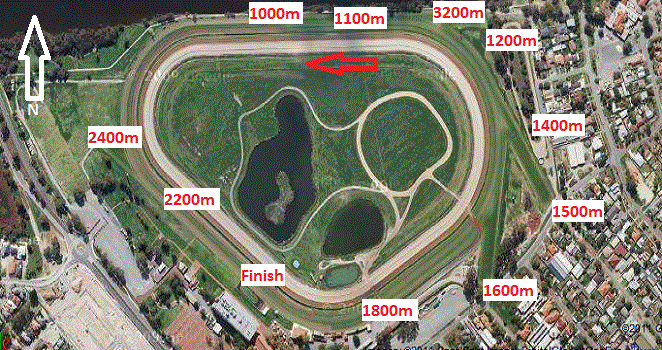 Western Australian Turf Club now known as Perth Racing hosts the Railway Stakes and the Kingston Town Classic, which attract good class horses from the East.
The Perth Cup is held on New Years Day with the the Western Australian Derby in April. Other features include C B Cox Stakes | Champion Fillies Stakes | Hyperion Stakes and more....
Find below all the Group Races held at Ascot Racecourse during the season.
Ascot Racecourse Barrier Guide
1000 metres: Inside barrier draws have an advantage
1100 metres: Inside barrier draws have an advantage
1400 metres: inside barrier draws have a slight advantage
1500 metres: inside barrier draws have a slight advantage
1600 metres: Inside barrier draws have an advantage
1800 metres: Inside barrier draws are an advantage