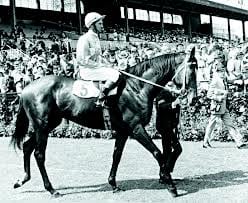 Big Philou foaled in 1965 in New Zealand by way of imported French sire Le Filou and NZ dam Pink Lady.
In slightly more than 100 years of Australian horse racing history, one feat has come to signify a thoroughbred's greatness perhaps more than any other -- winning a Caulfield Cup / Melbourne Cup double in one season.
Commonly referred to as the Cups Double, 2001 marks the last time any horse successfully achieved this accomplishment when Ethereal saluted in both events. Four years prior to that, Might and Power produced a Cups Double.
Punters desirous of a huge payday will often put some of their bank on the Cups Double, and one occasion when the potential liability to bookies proved too strong to accept resulted in one of the biggest scandals of all time.
Today's top betting sites
CHANCES ARE YOU'RE ABOUT TO LOSE. Set a deposit limit
Big Philou Creates History
This is the story of Big Philou and how money, fear and greed combined to deprive him of the opportunity to establish his place in history.
Trained by Bart Cummings and often steered by Roy Higgins, Big Philou pulled off the first leg of the double in a controversial victory that had the win being taken from Nasouri when Higgins' successfully protested that Nasouri crossed Big Philou's path at the 200 metre mark without allowing two lengths separation.
The stage was set for what would have been only the seventh Cups Double. Both Cummings and Higgins thought Big Philou was a shoo-in and the steed was massively backed despite the presence in the field of the prior year's Melbourne Cup winner, Rain Lover.
Drugging A Horse
This is where the seedy underbelly of horse racing reared its ugly head.
Drugging a horse in the effort to make it win or lose is as old as racing itself. By the time the 1960s rolled around, it was harder to get away with, but just as is the case with today's performance enhancing substances, it always seems like the cheaters find new ways in advance of the methods designed to catch them.
Big Philou was no exception to this rule. According to a former jockey, Big Philou was often injected with heroin to subdue the horse's nervous proclivities.
Helping the horse, however, was the last thing on the mind of whoever slipped into his stall on the eve of the Melbourne Cup and administered a massive dose of Danthron, a powerful laxative. Realising that Big Philou was in obvious distress, Cummings retrieved the Victorian Racing Club's chief veterinary surgeon. With less than 40 minutes to go before the jump, Big Philou was scratched from the race.
Would Big Philou Of Won
No one can say with certainty that Big Philou would have won had he not been interfered with, but he was considered so dominant that last year's winner Rain Lover went off at 8-1.
The thunderstruck pair of Higgins and Cummings were forced to sit out. Afterward, Higgins, perhaps reflecting on some of the possible consequences, and venting his disgust, said, "Now the horse could have collapsed. If it was another 20 minutes down the line, that horse could have collapsed and brought half the field down. Killed me, killed others, killed horses, you know.
You got these evil human beings out there, that would do that to a dumb animal, just for the thought of an illegal dollar, an illegal dollar. And um, I ran into the guy a few times and I spoke openly to him about it, I wouldn't. I'd spit on him."
Big Philou eventually made a full recovery, went on to win the 1970 VRC Queen Elizabeth Stakes, and the Underwood Stakes. Big Philou also bested Rain Lover in a match race, perhaps demonstrating what might have been, but he was retired shortly thereafter and never raced again.
Strapper Confesses
It was learned many years after the incident that a former strapper in the Cummings operation had been responsible for ruining Big Philou's Melbourne Cup chances. Les Lewis, dying of cancer, had poisoned Big Philou, along with another runner, Tail.
The sum of money involved was around $10,000 and Lewis hoped to clear his conscience before dying, but apparently his guilt was not sufficient to cause him to implicate the mastermind behind the scheme.
If it could be said that any thing positive resulted from this sorry chapter in horse racing history, it could possibly be that the magnitude of the event was the impetus for even greater effort being made to prevent incidents of this nature from despoiling the Sport of Kings.