At the present moment, approximately two and a half months prior to the 2015 edition, the Melbourne Cup has been run 154 times. One hundred and forty eight horses have been victorious, the difference accounted for by Makybe Diva's three wins, along with two each by Archer, Peter Pan, Think Big and today's subject, Rain Lover.
Rain Lover was inducted into the Australian Racing Hall of Fame in 2014, having endured a wait of 44 years beyond his retirement in 1970 for the Hall to recognise him. Was this an intentional slight on the part of the Hall? It is hard to imagine, if so.
About the only possible justification could have been a suspicion of some sort regarding Rain Lover's second Melbourne Cup win that came about when public and odds favourite Big Philou was scratched less than an hour before the start. On the other side of the equation, however, we would like to acknowledge the Hall of Fame for resisting the urge, where some other sports halls of fame have failed, of not inducting an inaugural class consisting of every significant competitor in the history of racing when the Racing Hall of Fame inducted its first horses in 2001.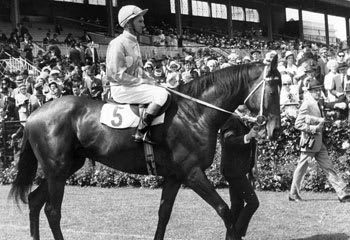 Speculation of this kind aside, it would be hard to dispute the eventual, if tardy, inclusion of Rain Lover, so we thought to have a brief look at his lines, his racing career, and his days standing stud.
Rain Lover was foaled in 1964 at a stud owned by Clifford A. Reid. Mr. Reid was no newcomer, nor a stranger to success on the turf for that matter, having won the Melbourne Cup in 1945 courtesy of Rainbird, steered by Billy Cook. Other than that win, Rainbird's biggest claim to fame might have been his distant line to New Zealand's great champion Carbine. Rain Lover does not seem to have Carbine blood in his lines. His sire was Latin Lover of Great Britain and his dam was Australian native Rain Spot. Latin Lover did well as a racer, winning middle distance group races after being well prepared by trainer Doug Smith. Dam Rain Spot raced 34 times, winning six, although there is no indication that any of those races were of the significant variety.
Rain Lover took a while to get going as a racing horse. He won a mile event as a two-year-old at Adelaide's Morphettville racecourse against undistinguished competition. He did do quite a bit of his early racing in South Australia, including victories at quality level when, as a three-year-old, he won the SA St. Leger and the 1968 Adelaide Cup. When he was stretched a bit and tried at 2,000 metres, he took the Group 1 LKS, Mackinnon Stakes at Flemington on the first day of the VRC Spring Carnival, and supplied the bookend on the last day of the carnival when he ran first in the C.B. Fisher Plate, which in those pre-metrification days was a mile and a half, and these days is known as the Queen Elizabeth Stakes and covers 2,600 metres. It was a principal race in those days before the current ranking system made its debut.
Rain Lover was well prepared for his 1968 Melbourne Cup attempt, thanks to the efforts of Mick Roberts, a former coal miner who took charge of the horse three months after getting rid of his coal shovel. Hall of Fame jockey Jim Johnson had the reins when the pair went up against 25 of the country's best stayers. Rain Lover was rather fortunate in being given only 51.5 kg, but unfortunate from the regard of drawing barrier number 24.
That starting position did not seem to hamper Rain Lover in the least. Film of the race makes it appear as though he were the only horse on the track, since it was a record tying eight lengths back to find Fileur and third place Fans. A record time that stood for 22 years was established at 3:19.10. The eight-length margin was equal to that of Archer in 1862 and that connection would be further strengthened the following year when Rain Lover became the first since Archer to win the Cup in successive years.
In his run up to the Cup in 1969, he was seen at the head of the field in the Chipping Norton Stakes, the VRC Queen Elizabeth Stakes, the Craiglee, Underwood and St. Georges Stakes.
Now racing as a five-year-old, Rain Lover was matched against 22 others, including the horse he bested the previous year, Fileur. Rain Lover was given 60.5 kg for this attempt, but this time he drew barrier five. Jim Johnson was again aboard.
Of course, the story of that year, maybe of the century, was the incident that caused the pre-race favourite and trainer Bart Cummings prize. Big Philou, to be scratched after someone apparently slipped into Big Philou's stall and administered a heavy dose of the powerful laxative Danthron. Of course, everyone suspected the bookies, since after Big Philou was awarded the Caulfield Cup after a successful protest, the payout to anyone backing a potential Cups Double would have been enormous.
At any rate, Rain Lover prevailed again, this time leaving Alsop second and Ben Lomond third.
For the sake of comparison, it is necessary to know that Rain Lover and Big Philou did compete against each other twice. Big Philou won the first meeting by half a head in the Queen Elizabeth Stakes, which unexpectedly turned into a match race when none of the other horses made it to the post. The two met again at Randwick in the Autumn Stakes of 1970. This time, it was Rain Lover that came out on top, leaving the debate over which was the better horse forever unsettled.
That year of 1970 was to be Rain Lover's final as a racer. When he retired, he had made 46 starts, winning 17 and placing 21 times. His stakes earnings amounted to $188,000, leaving him behind only Tulloch up to that time.
Rain Lover was awarded, deservedly so, Australian Horse of the Year for his exploits in the 1968-69 season. The SAJC holds a memorial race at Morphettville in Adelaide each year, the Rain Lover Plate.
He had nearly a 20-year career at stud, right up until his death in 1989. His most significant progeny was Princess Veronica.
We are really not certain why Racing Hall of Fame recognition was so long in coming. Perhaps it was failing to win the Cox Plate or the Caulfield Cup. If those who make the decisions are not forthcoming, we may never know. At least we have the satisfaction of seeing Rain Lover finally admitted, even though he had been dead 25 years when justice was finally served.