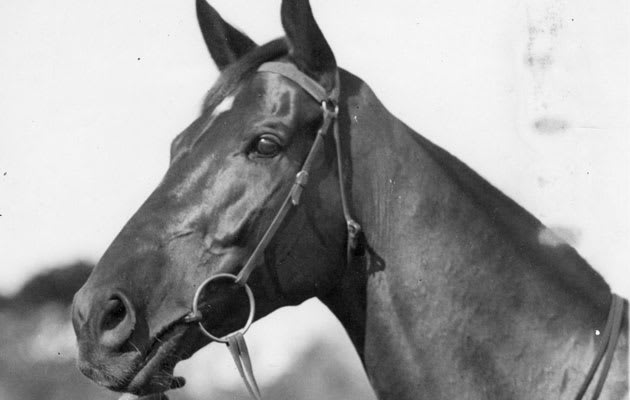 Horse racing fans with an appreciation for the history of the sport will recall that in the midst of the drama, controversy and intrigue that took place during the incredible life of Phar Lap, another horse was creating an impressive legacy, leaving behind a record of accomplishment that did not include the spectacular attention devoted to Phar Lap.
That horse was Amounis. Here is a little information regarding his lines and his racing career.
Today's top betting sites
CHANCES ARE YOU'RE ABOUT TO LOSE. Set a deposit limit
Amounis Breeding
With the exception of an Irish foaled grandsire named Dark Ronald, Amounis's Australian lines begin with his dam, Loved One, and his grand dam, Bul Bul. Dark Ronald was a capable racer, jumping seven times for four wins and two placings. He is credited with a most significant influence on the lines of thoroughbreds, sports horses and show jumpers to which he contributed. He stood stud in Germany and was awarded the distinction of Leading Sire in that country five times between 1918 and 1922. He was the sire of Amounis's sire, Magpie, the Australian Champion sire in 1928/29. Dam Loved One contributed five foals that eventually won races.
Amounis was foaled at the Kia Ora Stud of Percy Miller in New South Wales in 1922, near the town of Scone, just under 300 kilometres north of Sydney. Scone and that entire vicinity is sometimes referred to colloquially as the horse capital of Australia.
Amounis Racing Career
He was purchased as a yearling by Sydney-based trainer J. W. Cook. He raced twice but produced no wins. A leg injury prompted the decision to spell him. Amounis was also gelded at this time.
He started to show some potential as a three-year-old and was sold for the respectable price of 2,500 guineas, about 15 times what Phar Lap fetched when he was offered at the 1928 Trentham Yearling Sales. Amounis initially did not do so well, racing for only a partial season before being sold again, when he did no better than fourth in the ATC and Victorian Derbies. When his owner, Paddy Wade, left Australia, he lost 700 guineas on the transaction completed by trainer Frank McGrath acting in the interest of new owner W. Pearson.
Amounis then began to produce results during the 1925-26 season, running a total of 13 times. It seems as though he would either win, which he did six times, or run unplaced, which he did on seven occasions. His most significant wins were the ATC Hobartville Stakes and the RRC Rosehill Guineas. He was unsuccessful in the ATC Australian Derby at Randwick and the Victoria Derby at Flemington, but it was obvious that he had the confidence of his connections as he was running on the major Metropolitan racecourses. He was developing into a middle-distance specialist, doing well up to as far as 1,800 metres, not so well when asked to go 2,400 or 2,600.
The 1926 – 27 season produced similar results. Amounis took part in 12 races, winning six, placing third twice and running unplaced in four. Arguably, his best result would have been his success at going 2,000 metres at Warwick to win the ATC Chipping Norton Stakes, but we should be clear that in those days, the race was 10 furlongs, so we offer our apologies for the slight inaccuracy our metrification imposes. He also took, earlier in the season, the ATC Epsom Handicap at 1,600 metres at Randwick.
He won twice at Flemington, did well at Rosehill, and finished out at Wagga Wagga with another 2,000 metre win carrying 10.5 stone (66.67 kg.). His one attempt at staying distance produced a third in the VRC C.B. Fisher Plate at Flemington, so it could be said that he was making gains in strength and stamina. In another part of the country, the champion that would figure prominently in Amounis's career, Phar Lap, was foaled.
Amounis was on the track 19 times as a five-year-old in the 1927 – 28 season. He won only three times, supplying the temptation to think the season a disappointment, but the 1927 Cox Plate was one of the three. He had more than a few respectable placings as well, so on balance, it was not a bad campaign, simply not spectacular. At the close of the season, he was unable to defend his Murrumbidgee Wagga Gold Cup from the year previous, despite being lightened by half a stone.
More than a few productive thoroughbreds, even in those days, have been retired after running as five-year-olds, particularly after having gone out 19 times in the season. To place this in a perspective under today's standards, Black Caviar called it a career after 25 races.
Amounis As A 6YO
In one of those shifts that sports and racing often produce, Amounis ran just eight times as a six-year-old during the 1928 – 29 season, but exceeded his win total form the previous season by one, winning four times, including races that had previously eluded him, the ATC Epson Handicap and the weight-for-age Craven Plate. Earlier, he had taken the Tramway Handicap. With the four wins were three second placings. The disappointment for the season would have been his inability to defend the Cox Plate, his only unplaced result for the season.
When the 1929 – 30 season got underway, seven-year-old Amounis was getting a bit long in the tooth. It was during this season that he was put into races against Phar Lap. Amounis won the Canterbury Stakes first up. His fourth race was the attempt to repeat the previous year's victory in the Craven Plate, but he could manage just third in a race where Phar Lap basically lapped the field by a far margin.
After that came a second in the Caulfield Cup, but he was no match for High Syce, that bested Amounis by two lengths. He returned the favour, however, in the C.B. Fisher Plate, doing to High Syce what had been done to him, producing a comfortable 1-3/4 length win. He beat High Syce again in the Essendon Stakes, winning there and then backing that with a victory in the C.M. Lloyd Stakes.
The Chipping Norton Stakes that year was one where for the second time that season, Phar Lap got the better of Amounis, but Phar Lap did not have quite so easy of a time this go, his margin being held to two lengths by a charging Amounis at the end. The season concluded with the most narrow loss possible to Nightarch in the Autumn Stakes, an outcome reduced the next time the two met in the ATC All-Aged Stakes, leaving Amounis ten victories in major races from 16 starts. The tally also included five placings, the only race producing an unplaced being the Hill Stakes, his second jump of the season.
Amounis As An 8YO
As an eight-year-old, in the 1930 – 31 season, Amounis donned the mantle of the giant slayer. Now a four-year-old, Phar Lap had reeled off 23 consecutive victories when the two met in Amounis's first start of the season, the ATC Warwick Stakes. At 1,600 metres, it was maybe too brief a distance for Phar Lap to wind out properly, but he had won many previously at that distance, so when Amounis won by a short head, he stopped Phar Lap from notching 24 consecutive, including a string of nine to start the season. After that one loss, he went on to win another 14 consecutive races. Amounis in one brief one minute and 38 second span went from highly competent journeyman to rewriter of history.
Following that historical moment, Amounis started seven more times. Competing against the cream of Australian thoroughbreds, he notched three straight wins, concluding with the Caulfield Cup, where he beat Solution by half a length. Phar Lap was scratched the Monday before the race and Amounis went off as the favourite. He concluded that season unable to once again derail Phar Lap, this time on two occasions, the VATC Melbourne Stakes and the VRC Linlithgow Stakes. Amounis finished the season with four wins, one second and one third placing, and two unplaced.
He was not seen in the 1931 – 32 season and it would have been reasonable to conclude that his racing days were done. He did put the lie to that conclusion, however, by jumping once as a 10-year-old, but he was unable to rekindle the old magic. After running unplaced in the AJC Warwick Stakes, he was retired.
79 Starts For 33 Wins
He had competed a nearly inconceivable 79 times, winning 33 and placing 19 times, earning purses 52 times and running unplaced 27 times.
Having been gelded as a two-year-old, he did not have the opportunity to earn stud fees, but he earned the then considerable sum of $241, 487, for an average purse size of $4,644.00.
Amounis was inducted into the Australian Racing Hall of Fame in 2006.