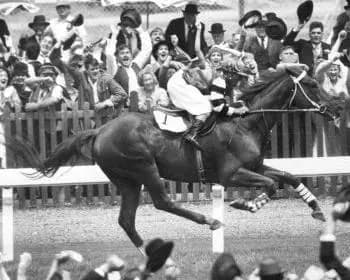 The remarkable tale of Phar Lap, one of Australian horse racing history's most dramatic.
Phar Lap is a story that combines all the elements necessary to make it an all time favourite.
A Thoroughbred horse with inauspicious beginnings that almost never got the chance to race, people who believed in him and risked much to earn him a chance, people ready to kill him in order to further their criminal agenda, triumph over the odds, and a tragic ending.
The name Phar Lap comes from a dialect of Thai, and means "Lightning", or "Sky Flash" which turned out to be a most prescient moniker.
Today's top betting sites
CHANCES ARE YOU'RE ABOUT TO LOSE. Set a deposit limit
Bloodline and Early Life
Phar Lap a chestnut colt was foaled on 4 October 1926 in New Zealand. His father was Night Raid (also sire to Melbourne Cup winner Nightmarch) from dam Entreaty, and he carried Carbine's blood from both his sire and his dam.
Phar Lap was purchased for £168 at the 1928 Trentham auction by American David J. Davis at the urging of trainer Harry Telford.
When Davis first saw Phar Lap, he refused to pay to train him. Harry Telford had not had much success as a trainer and desperately needed the backing of Davis. They ended up with an arrangement whereby Telford trained the horse for no salary in exchange for a 66% cut of any purses.
Telford then made a decision to geld the colt, giving up any future chance for stud fees, and given that Phar Lap met with an untimely death, that decision turned out to be serendipitous.
Racing Results
Phar Lap did not immediately cover himself with glory as a two year old. He finished dead last in his first race and failed to place in the next three. He manged to win the RRC Maiden Juvenile handicap at 6 furlongs with Jack Baker, a young apprentice aboard, to close the 1928-29 season.
Phar Lap's three year old season, 1929-30 did not offer much hope, either. His first four races were out of the money.
Then, the remarkable change of fortune, the underdog succeeding against long odds, occurred. Phar Lap's handlers noticed that he liked to run from behind, so they started reining him in at the start of races.
Phar Lap took second at the Tatts Chelmsford Stakes, a weight for age race, carrying 7s 6lbs. over 9 furlongs. Four consecutive wins followed, including the AJC Derby at 12 furlongs, carrying 8.10, no less.
Two third place finishes were next, including the Melbourne Cup, which was won that year by a horse with whom Phar Lap shared blood, Nightmarch.
Phar Lap closed out his three year old campaign in rather smashing fashion by winning 9 consecutive races, including the SAJC King's Cup where he won at 12 furlongs despite carrying 9.5lbs.
His combined record for his two year and three year old seasons now stood at 25 starts, 14 wins, 1 second, 2 thirds and 8 DNPs.
Phar Lap's four year old season was the stuff of legends. This is the season that contained nothing lower than a second place finish, 14 consecutive wins, and one assassination attempt.
It started with a second in the AJC weight for age Winx Stakes at 8 furlongs. Next was four wins in a row where he exacted revenge on the horse that had beaten him in the previous year's Melbourne Cup, Nightmarch.
Not long afterward, on 1st November, gangsters, perhaps as retribution for the crimp Phar Lap was putting into their gambling schemes, tried to shoot him in the street just after he had finished a workout. Undaunted, several hours later he won the Victoria Racing Club Melbourne Stakes, and followed that in short order with his sole victory in the Melbourne Cup.
As a five year old, Phar Lap picked up where he left off. The 1931-32 season featured 10 starts, with 9 wins, the only loss being the Melbourne Cup where he was compelled to carry an unprecedented 10.10lbs over two miles, resulting in an 8th place finish that had Aussie punters screaming bloody murder.
The final race of the 1931-32 season was the Agua Caliente, Phar Lap's only race outside Australia, in Tijuana Mexico and the featured largest purse ever contested up to that time in the Americas. Setting a track record in the process, all the while bleeding profusely from a split hoof he won going away.
Phar Lap's race record was now complete. He tabulated 51 starts, 37 wins, 3 seconds, 2 thirds, and 9 unplaced finishes.
Death Under Suspicious Circumstances
Phar Lap haemorrhaged to death within hours of him being discovered in intense pain by his strapper, Tommy Woodcock. It was eventually determined that the horse had ingested a massive amount of arsenic. Whether deliberate or through an accident remains a mystery, since arsenic was commonly given to horses at that time as a tonic.
A horse with as much heart spirit as Phar Lap turned out to, indeed, have an actually massive heart organ. At 6.2 kg, it was almost double the 3.2 kg of a normal horse.
Phar Lap Hall Of Fame
Phar Lap was enshrined in the inaugural group of five horses in the Australia's Hall of Fame as well as New Zealand's hall.
Phar Lap Movie
He was immortalized in the 1983 movie "Phar Lap," and the Australia Post honoured him with a commemorative stamp in 1978. A life-sized bronze memorial was erected in 2009 near his birthplace in Timaru.
Phar Lap, being gelded as a colt, never got to pass his blood along to any progeny, a fact that is probably most fortunate for Thoroughbreds of other blood lines. It is moot, but none the less tempting, to speculate what the combination of Phar Lap's genetics and modern horse racing technology might have produced.