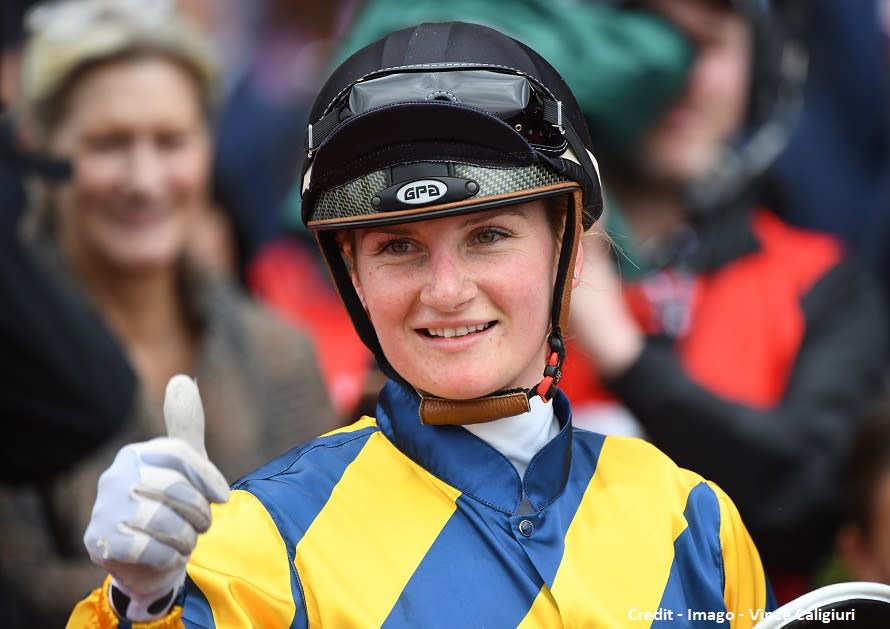 Jamie Kah has been putting on a clinic in Victoria in the past two years and at just 25 years old is one of the hottest properties in the world of horse racing.
Once barred by her mother from racing Kah now stands top of the leaderboard in the Jockeys Championship with 50 wins notched up for the season and a whopping 15 wins clear of champion jockey Damien Oliver.
Luckily for the horse racing world Kah's family-imposed racing ban didn't last long as she bagan track work with train John Macmillan at the age of 14.
Those formative years must seem a distant memory now however as Kah continues to smash goals and lead the way for female jockeys in the horse racing community.
Today's top betting sites
CHANCES ARE YOU'RE ABOUT TO LOSE. Set a deposit limit
Early Life & Ice Skating
The Mount Pleasant Pony Club is where it all started for Jamie Kah. Wanting to thrive in her love of horses Kah joined the Pony Club and began by riding miniature ponies. It wasn't long before her talent shone through as she was selected by Australia to represent the country at the Pony Club Mounted Games in England in 2010.
Ability and motivation were there for an early age for Kah having parents who had competed at Olympic and World Championship level in the 1980s in Speed Skating. Knowing the dangers of competitive sport Kah's mother Karen, actually banned her from riding until she caved on the decision identifying her passion was so strong she could go on to great things with all those attributes.
Wanting to continue with her then hobby Kah began working in a friends stables in order to fund her riding. It wasn't long before trainer John Macmillan noticed her talent and she began her apprenticeship for the stable in 2011.
Once apprenticed to the Macmillan stable went to an apprentice academy run by Thoroughbred Racing SA where she showed undoubted talent and a determination to win. Something that she has previously identified comes from her father.
On graduating and being top pupil and having most wins at the academy Kah was rewarded with a 3 week racing stint in Singapore where she went on to register her first international winners taking 2 wins from the camp.
Apprenticeship to Championships
Jamie Kah began her apprenticeship part way through the 2011/12 season in March where she rode Miss Fabuleux in a maiden plate in the coastal town of Streaky Bay. Kah didn't have to wait long for her first success however when after less than 3 weeks of racing she went on to win a maiden plate on Magic Tigress at Clare.
By the end of that season Kah had notched up 40 winners in just six months of competitive racing.
2012 / 13 was her first full competitive year of racing as an apprentice where she lined up an incredible 704 times across the year. From those she managed to win an even more impressive 104 races Across the year she amassed over $1.7m in prize money but more importantly was able to win the South Australian Jockeys championship along the way.
Jamie Kah was the first apprentice to win the South Australian jockey to win the championship in almost 20 years. In that same year Kah also went on to win the John Letts Medal for riding excellence.
After winning the premiership in her first season Kah went on to take a break from the sport after the tragic passing of friend Caitlin Forrest which hit close to home for the then teenager.
Jamie went over to Holland to work with a riding school and rediscover her enjoyment for horse riding before taking a sort of gap year with former jockey Libby Hopwood around Europe.
During her break from the sport Kah was also able to develop her craft further after working with the Sir Michael Stoute and Jeremy Gask stables.
It wasn't until the 2016/17 we would see Jamie Kah back to her brilliant best on the track when she returned to win the South Australian Jockeys Premiership for a second time in what would turn out to be a record breaking season.
Not only was Kah able to win the Premiership but she would also go on to win the Metropolitan, and Country titles as well as Provincial Jockey of the year and South Australian Jockey of the year.
To round all that off she also set a new record for most wins by a female rider in a single season recording 130 wins and over $3m in prize money.
The 17/18 season would be Jamie's final year of racing in South Australia and she definitely made the most of it with 628 starts and 151 wins, a number that would break her previous record of 130 for most wins by a female jockey in a season.
Her stats in her final year read pretty impressively with a win ratio of 24% and a placing ratio of 54% from all runners.
2017 would also see Kah return to the black type winners enclosure as she would go on to record two Group 3 victories on her way to winning a third South Australian Jockeys Premiership.
Jamie would close her South Australian racing account for the time being when moving to Melbourne in January of 2019 where her career would really begin to sky rocket on not just a local but a global scale.
Moving On Up
On moving to Melbourne. Kah along with partner and fellow jockey & trainer Clayton Donaldson have been able to settle in the Mornington Peninsula where Kah is able to retrain retired racehorses in her spare time.
There seemed to be little spare time though with Jamie recording her first ever Group 1 victory in the VRC Australian Cup at Flemington in March of 2019 aboard Harlem who narrowly beat Shillelagh in a comeback finish and a fine ride.
It would be Harlem's solitary victory in the year having transferred from the Waller stable to Hayes and Dabernig in 2018 and a boil-over starting the race at $61.
The victory was none the less emphatic though as Kah had to rally the gelding in the final 50m to win by a nose over both international and interstate challengers.
The Australian Cup would be the only Group 1 of the season for Kah who did have a record haul in black type races winning three Group 3 races as well as two Listed grade races giving her a record 6 titles on the season.
Those wins didn't go unnoticed as Kah would be selected to ride in the Shergar Cup at Ascot in the United Kingdom as part of the ladies team featuring jockeys from all over the world.
The Shergar Cup was a tournament style riding competition that comprised of 4 teams with three jockeys from all over the world. Kah rode alongside team captain Hayley Turner and Japanese jockey Nanako Fujita
It would be a steep learning curve for Jamie as she was sanctioned after the first race for excessive whip use past the 250m post with the Ladies team finishing joint second overall. Fellow Australian Mark Zahra would be part of the winning team that would take the title for the Rest of The World team.
The trip to the UK would cap off an incredible season for the South Australian having finished the year with 137 wins for the season including 52 runners in Victoria along with her first Group 1 title.
With a full season to come on the Melbourne racing calendar things were looking bright for one of racings hottest properties at just 23 years old.
Sitting On Top Of The World
In her first full season in Victorian racing the Mount Pleasant natives career continued to sky rocket with her leading the 19/20 jockey's championship for nearly three quarters of the year only to be pipped narrowly by Craig Williams at the final fence.
The season would be another record breaker with 7 black type races under her belt, taking home over $6.4m in prize money and registering rides aboard the like of So Si Bon, promising 3 year old Dalasan as well as a host of rides through the Autumn and Spring Carnival periods.
It wouldn't be until the Spring Carnival of 2020 however where things would really take off for Kah.
Completing her first full season in Victoria only two months earlier the Australian would be crowned Top Female Jockey in the world with 956 points in October beating the UK rising star Hollie Doyle to the title for the first time.
So significant was Jamie's achievement the total number of points took her to 77th in the men's competition which was the highest finish of any women since 2014 when American Rosie Napravik reached 12th of that year.
Springing Into The New Year
On a whole the past two seasons have really put the SA jockeys champ on a trajectory like no other. You couldn't argue that any other Jockey in Australia has seen the improvement that Jamie Kah has.
It was noticed significantly by the book of rides Kah took through Spring with Jamie arguably getting her biggest career start aboard Charlie Fellowes UK runner Prince Of Arran in the Melbourne Cup. Prince of Arran had run 3rd the previous year and Fellowes took the decision to give Kah the ride over regular jockey Michael Walker.
The South Australian was unlucky not to win the race finishing 3rd again after a booming win late which saw Prince Of Arran overtake 10 runners narrowly miss the win.
Despite narrowly missing out on the big race of Spring Kah was able to gain victory in the Wakeful Stakes and Moonee Valley Gold Cup at Group 2 level as well as the Tesio Stakes and Ladies Day Vase at Group 3 level.
Sandown would see the crowning day of a solid Spring Carnival however as Kah managed to do the double of riding the Zipping Classic aboard German import Sound and the Sandown Cup riding Carif on the same race card.
Earlier on in the day Kah had also been able to claim the Listed Doverton stakes with Shamino whilst placing on two other rides in an emphatic end to a record breaking Spring carnival.
At that point of the season, although early on, talk turned to the Jockeys championship and could Jamie Kah be the first female rider to win the Victorian Jockeys championship?
After the Spring Carnival racing in Victoria had finished Jamie Kah was leading the jockey's championship by 9 over the chasing pack of Ben Melham, Damien Oliver and Damien Lane. At the end of February she now leads by 15 with a stack of quality rides now booked in.
Going For Gold
Can Jamie Kah win the Victorian Jockeys Premiership?
Well at the rate she's going it would be argue that she won't just win but actually smash it. Her track record speaks for itself in that in an 8 year career she has gone from strength to strength improving with each ride.
Each year she has improved her black type racing wins, total full season race wins in South Australia and on course to do so in Victoria and is picking up better and better rides each time she heads to the track.
After winning the Blue Diamond Preview late in January aboard General Beau it was announced that Kah would partner with the Chris Waller stable to ride Nature Strip in the Black Caviar Lightning Stakes.
Just shy of the halfway mark in the season Jamie Kah has 50 wins to her name and 17 wins from 65 rides in the new year alone. Noted in recent comments by Jockey Brett Prebble there's no reason why she can't crack 100 wins this season.
At the speed and ratio the wins are coming, paired with the rides being booked it's hard to see anyone stopping this Kah chase.