Female Jockeys: The Sport of Kings is dominated by men, especially when it comes to jockeys.
However, there are a few female jockeys to blaze the Australian turf and bring in as much accolades to trainers and owners.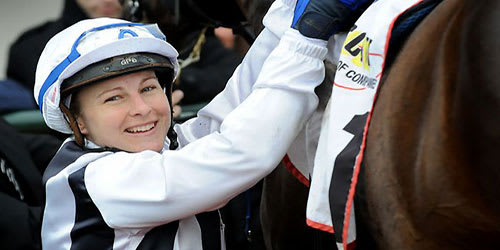 Being a female jockey in a male-dominated sport can be tough but some of them have proved otherwise. A jockey is said to be the most dangerous land-based job in Australia, a fact that hasn't deterred these jockeys at all. They have even made it to the world's richest horse races in Dubai, so they are hard as nails after all.
Stacey Rawiller, Nikita Berriman, A. J. Beer, Cecily Eaton, Clare Lindop, Michelle Payne... the list is surprisingly long when it comes to Australian Female Jockeys who have made their mark in the sport's history books, some in more ways than one. So, do punters expect a mediocre, estrogen-filled weak ride or a cracker?
Statistics Speak For Themselves.
Interestingly, girl jockeys were not entitled to participate in professional horse racing in Australia until the 1970s.
Even then, they were restricted to the 'ladies only' events and what came to be known as the 'Powder Puff Derbies' at the smaller racetracks.
Then came the Dame Merlyn Transition Handicap in 1973, the first Australian race for women jockeys held in Brisbane.
June Lossius went down in the history books as the first girl jockey to win a metropolitan meeting. Breaking into the limelight, June was among the most competent riders of that time.
Caught up in a man's world June had to struggle to get an early morning training session as a child. Her passion for riding did not stop her from pretending she was a boy with cropped hair just to get to the track. Ms. Lossius's efforts paid off and became one of the leading players in the establishment of the Victorian Lady Jockey's Association and the Dame Merlyn Transition Handicap, the launch pad and inspiration for many females who turned professional jockeys.
1979 Female Jockeys Awarded Licences
Later in 1979, women were given an official license to race as professional jockeys, with Pam O'Neil and Linda Jones the first to be awarded licenses.
Then there was Bill 'Girlie' Smith, who remained a secret for a while. Wilhemena or 'Bill' Smith was a female jockey, incidentally Australia's first female jockey who rode under the name of Bill Smith. Her secret was only revealed later until she died aged 88.
The Queenslander was a jockey in the 1940s and 1950s and was forced to live under a false identity due to her passion for riding. She was forced to live a life of a recluse just to live her dream. Hats off to the will and determination of the feminine spirit the sport continues to produce wily female jockeys without the need to hide their gender.
It would be unfair to begin with a list of successful girl jockeys for lack of space. However, a brief mention of some of the notable jockeys would be apt. Clare Lindop is one of the successful jockeys in recent times to lift the 2008 Victoria Derby astride Rebel Raider.
She was the first Australian to ride in the 2003 Melbourne Cup on Debben. Clare gained international recognition and is Australia's most accomplished female jockey ever with two SA Metropolitan Jockey Premierships to her credit. She has also won three Group 1 races and has recorded over 700 victories in Australia and abroad.
The next time you are at the race tracks don't ignore a good bet when it comes to jockeys. Don't let gender deceive you on a day when you could potentially go home a winner. There will be plenty more on female jockeys in our future coverage.