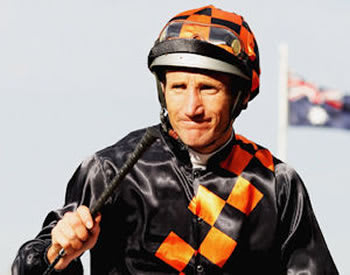 Courage, determination, and the will to win is what sums up jockey Damien Oliver.
Serious injuries did not stop Damien Oliver the flaming jockey, a Western Australianer who made winning a habit, winning major races on the Australian racing circuit.
Winner of over 90 Group One races at time of writing and two Melbourne Cups, Damien may surely move on to break records in the days to come.
Born in Perth in 1972, Western Australian jockey Damien Oliver launched his racing career as an apprentice for Lindsey Rudland and Lee Freedman.
Born into a racing family, Damien's father, Ray Oliver was a successful jockey who met with an unfortunate death, falling from his horse at Kalgoorlie, Western Australia. Damien Oliver was only 3 years old at the time.
Today's top betting sites
CHANCES ARE YOU'RE ABOUT TO LOSE. Set a deposit limit
Brother Jason Involved in Fatal Accident
Sadly, his brother Jason was also killed after a fall at the Belmont Park Racecourse, Western Australia, just when Damien was reaching the peak of his career. Investigations indicate that Jason's horse was administered phenylbutazone prior to the race which resulted in the accident.
Damien Oliver's first winner as an apprentice came in March 1988 on Mr. Gudbud, at Bunbury, Western Australia.
The AJC Warwick Stakes was his first feature win, bringing Goucho to the finishing line in a thrilling race. His first of 70 Group One victories came in the VATC Vic Health Cup on the Bart Cummings trained, Submariner.
Although plagued by injuries himself, Damien Oliver continued to score victory after victory.
The 1995 Melbourne Cup win astride Doreimus was Damien Oliver's first taste of the Cup, after the duo took the Caulfield Cup that preceded the Melbourne Cup.
His second victory for the Melbourne Cup came in 2002, steering Media Puzzle to the winning post ahead of some of the best horses in the business.
Damien's other Caulfield Cup victories came astride Mannerism in 1992, Paris Lane in 1994, and Sky Heights in 1999. Dane Ripper in 1997 and Northerly in 2001 brought him two Cox Plate victories.
Lee Freedman Success
Damien's major successes with Lee Freedman came through champion Sprinter Schillaci between 1991 and 1995, followed by Alinghi, a top filly from Freedman's stable between 2003 and 2005.
Damien Oliver escaped a serious back injury even though a fall at the Moonee Valley Racecourse broke his spine. Luckily, there was no spinal cord damage, which helped him back onto the tracks in 2006, with a second place astride Japanese horse, Pop Rock, in the Melbourne Cup.
He missed winning the 2007 Melbourne Cup on Purple Moon, losing out to Efficient. The champion jockey's other major victory in 2007 was in the Golden Slipper Stakes, completing the grand slam of Australian racing when he saddled Forensics, the John Hawkes trained horse.
Damien Oliver won the Apprentice Jockey Championship in 1988/89 with 66 wins to his credit. He is also a six-time winner of the Melbourne Senior Jockey Championship.
His racing career has taken him to Hong Kong, winning the International Sprint on two occasions astride Falvelon. In addition, Damien Oliver won the Hong Kong International Jockey Challenge followed by successful rides in Japan, England, Dubai, New Zealand, Ireland, and Mauritius.
Scobie Breasley Medals
Damien also has six Racing Victoria Scobie Breasley Medals to his credit for excellence in riding, four individual and two shared. Having dealt with spinal injuries, Damien Oliver continues to be a patron of Sporting Australia.
Undoubtedly, Damien Oliver, a champion of champions who will probably continue to break more records as time goes on.