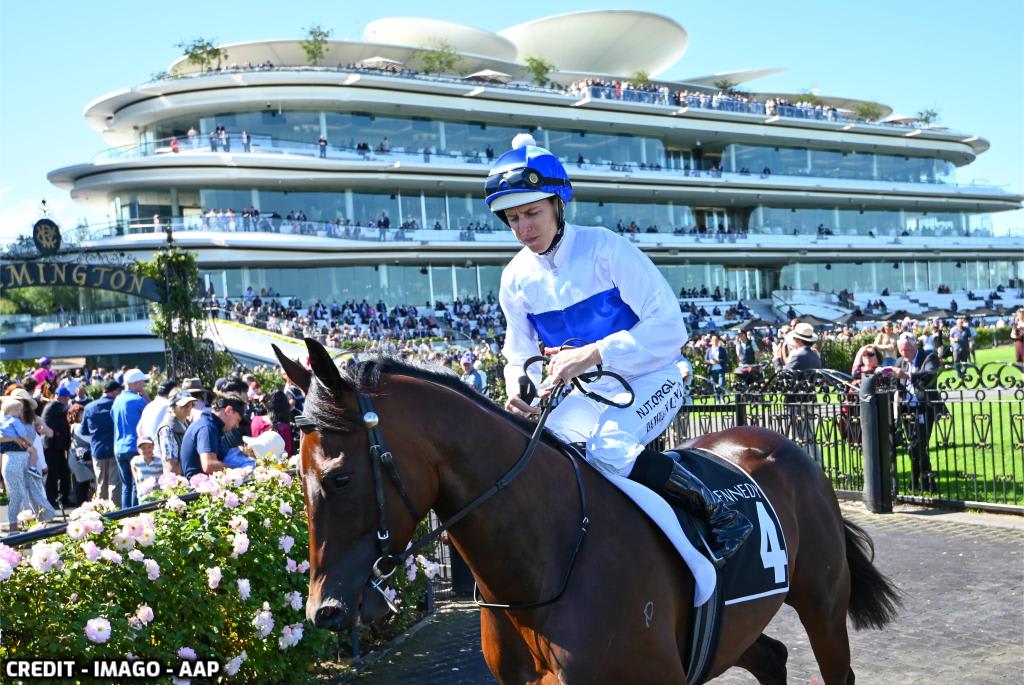 It is hard to get to the top of the Australian jockey ranks. Once a jockey makes it to the top, it is challenging to stay there.
Some elements are outside the jockey's control. He or she might have all the talent in the world, might know and understand Thoroughbreds intimately, might devote time and energy to managing weight and fitness, yet still not have results equal to the effort.
To be successful in the long term, the jockey needs a razor sharp focus that is hard to maintain over the years of a career.
This focus seems to have a mind of its own at times. It may seem and feel to the rider that he or she is doing all the same things that contributed to success, but the outcomes are not cooperating.
Jockeys can last for decades with a little luck and good fortune. The closest thing in professional sports would have to be golfers, who can also have careers that no athlete in any contact sport or competition where youth is paramount could even begin to imagine.
For an analogy, no one doubts that Jason Day is talented and determined, yet he would admit that the mental demands of staying on top are next to impossible to maintain and his results over the past few years are valid testament to this reality.
The analogy suffers when it is taken into account that golfers are seldom tossed to the turf by their caddies and none of the other golfers is swinging clubs around haphazardly within centimetres of other golfers.
Even though he is young, Damian Lane could easily be riding for another 20 years and to the current point he is showing indications of one day being mentioned in the same breath with legends such as Scobie Beasley, Hugh Bowman and George Moore.
Damian Lane Biography
Damian Lane was born 6 February 1994 in the Western Australia port city of Bunbury, about 150 kilometres south of Perth. Bunbury has grown from when Lane was born, mainly due to mineral mining, not because Bunbury serves as a burial ground for expired pastries.
Lane is part of a long line of WA riders to gain some measure of success at Belmont and Ascot, along with the provincial tracks, and then move to the east to test his mettle in Victoria, New South Wales, Queensland and South Australia.
He has not yet ascended to the realm of William Pike, but he seems to be on a similar trajectory, except that he does not ride WA races to the extent that Pike does.
It is far too early for such idle speculation, however, but to this point, Damian Lane seems on the right path.
Damian Lane's ability was recognised by Matthew Ellerton and Simon Zahra and those two were able to convince Lane that he had what it takes to make it on the big stage of the eastern metro racecourses.
Damian Lane Career
Damian Lane's first career win was aboard King Crete, an Australian born colt of New Zealand extraction with plenty of Aussie and international blood. King Crete, judging from the number of trainers he had, was a horse no one wanted. Lane rode him for his last win when the horse had bounced between stables to wind up with trainer Kevin Morrissey. The win came at Port Hedland in Western Australia, with the galloper jumping second favourite and earning $5,950 for its connections.
Lane's win came just a week after his first runner, Supreme Royal,
Lane had to wait until 28 September 2014 to notch his first Group 1 win. Anyone who follows racing would realise that Lane had to ride plenty of races between that first country track win and that first Group 1 win. That win came aboard Trust In A Gust in the Group 1 Sir Rupert Clarke Stakes at Caulfield, trained by Darren Weir.
Brad Rawiller did most of the steering for Trust In A Gust and Michelle Payne took a few rides as well. Rawiller was back aboard when Trust In A Gust won next up in the Group 1 Toorak Handicap, but Lane was aboard when the galloper made his last start in the Group 2 Blamey Stakes at Flemington. The pair finished over 25 lengths behind the winner, at which time it appears that the horse's connections decided to use Trust In A Gust as a breeder and as best we know, the horse is standing at Swettenham Stud at Nagambie, Victoria, alongside other good gallopers such as I Am Immortal and Highland Reel - Best Bets Today....
Damian Lane's Best Horse
Without question, the best Thoroughbred ridden by Lane was Lys Gracieux.
Damian Lane had to venture overseas to ride her, as she was a product of Japan, although she had more than a smidgen of European and U.S. blood in her lines - TattsBet.
She is perhaps not what would be considered an elite sort, but she may be, although at the time of this writing, she was seven years of age. She is a big earner, though, and in her first starts, she won or placed second, racing in Tokyo and at Sha Tin. In fact, if you were to throw out one eighth place and one fifth, she has never been lower than third, where she finished on four occasions. The rest she either won or ran second, so we suppose we should strike that comment about her being less than elite.
Lane won the Japanese Group 1 Takarazuka Handicap on her and was booked as her rider for an excursion to Moonee Valley on 26 October 2019, when she carried Lane to a 1.5 length win over Castelvecchio and Te Akau Shark in the Cox Plate-another reason to erase the remark of here being just okay. That Cox Plate win can be seen here:
The Cox Plate is considered the ultimate weight-for-age test of Thoroughbreds and jockeys and is one of the three most prestigious races held in Australia. For an in-depth look at the Cox Plate, click here:
https://www.progroupracing.com.au/group-races/moonee-valley-racing-club/cox-plate-race
Lane went back to Japan with her to win another Group 1, the Arima Kinen Handicap at Nakayama on 22 December 2019.
As most Aussie race fans know, those Japanese races pay handsomely, which accounts for her big prize haul.
Damian Lane Statistics
As of this writing, Damian Lane has made nearly 8,800 starts.
He has won 23 Group 1 races, 30 Group 2s, 40 Group 3s and 37 Listed races.
His victory total stands at over 1200, which equates to a 14 percent winning strike rate.
Lane's placings are equally impressive; he has over 2100 races in which he has guided his mount to second or third place finishes, an impressive 38 percent strike rate. That figure includes 40 Group 1 races, 48 Group 2s, 80 Group 3s and 90 Listed races.
Major Wins by Damian Lane in 2021
As of this writing, Lane has made almost 700 starts for the season and has actually improved on his career statistics. He is winning at a 17.1 percent rate and placing above 43 percent.
Damian Lane got the year off to a good start when he steered Arcaded to the post in the Group 2 Blue Diamond Prelude at Caulfield on 6 February.
That same meeting, he won the Group 3 Geoffrey Bellmaine Stakes astride Probabeel.
Two weeks later, Lane steered Probabeel to victory in the Group 1 Futurity Stakes, beating Arcadia Queen and Mr Quickie.
Lane then made the short hop to Flemington to win the Group 3 Shaftesbury Avenue Handicap aboard Morvada. In the sixth race on the day, Lane was aboard Star Of The Seas for the victory in the Group 2 Blamey Stakes.
A couple of other nice wins by Lane were the Group 3 Matron Stakes at Flemington on 6 March, where he rode Sovereign Award, and the Group 2 Chairman's Quality Handicap at Randwick.
Lane won the Group 1 Australian Cup on Hartnell in 2017 and the Australian Derby on John Snow that same year. Those wins have contributed significantly to Lane's growing reputation.
Possibly his biggest win, at least in the eyes of some, was when he won the 2019 Golden Slipper Stakes on Kiamichi, a win that possibly led to his gaining the bookings in Japan that proved so lucrative.
Damian Lane Results by State
Lane has followed the money when it comes to where he does most of his work, namely Victoria which has made punters happy. By a rough estimate, he has made more starts in Victorian metro racing than he has made in the other jurisdictions combined. If the Victorian country tracks are figured in, the rest of the country is left as far behind as was Lane when he was aboard at the close of Trust In A Gust's career.
Over 3200 metro starts and over 2900 country starts have all been in Victoria. He has won almost 600 races at country tracks and over 350 at the metro tracks.
Next comes Lane's home state of Western Australia. His starts there break down to over 1000 starts at country tracks such as the Port Hedland venue where he made his first start. He has made over 600 starts at Ascot and Belmont, where he has won well over 100 times.
Lane has made above 150 starts in South Australia, which basically amounts to Morphettville in Adelaide, where he has won 26 times.
He has started to do more racing in New South Wales, but if he is anything like us, he might find running clockwise somewhat disorienting.
Lane's racing in Tasmania and Queensland has been limited, but just as he has grown in quantity in Racing NSW, it would be reasonable to expect that at least his Queensland racing starts will grow.
Damian Lane Trainers
Just as his starts in Victoria far outdistance his starts in the rest of the country, his starts for trainer Matthew Ellerton account for the bulk of his races. He has made over 1200 starts for Ellerton, followed by well over 500 for Darren Weir, over 300 for David Hayes.
As his reputation has grown, he has received numerous bookings for Chris Waller, Anthony Freedman, Ciaron Maher, Tom Dabernig and Paul Snowden.
Damian Lane Prizemoney
Lane is just 27 years of age as of the middle of the 2020/2021 Australian Thoroughbred racing season and he has taken in well over $80 million in stakes.
Conclusion
Damian Lane has proven himself a highly capable jockey who is not afraid of the big moment.
From his beginnings as an apprentice in Western Australia to this day, he has progressed to the stage where he is viewed as an excellent selection by all the major trainers.
It would appear that he has many years ahead of him of productive racing if he can stay upright and healthy and it would seem only a matter of time before he adds a Caufield Cup or two and multiple Melbourne Cup wins to his resume.