Wangaratta Racecourse is at Osboldstone Road, Wangaratta, Vic and is home to Wangaratta Turf Club.
Racing began in 1845 at North Wangaratta, ten years later the club moved to its present site. Wangaratta is situated approximately 235 km's from Melbourne on the four lane Hume Highway (31).
The Wangaratta Racecourse was designed on similar lines to Flemington Racecourse.
Years ago included in the racing programs were pony races, hurdle races and steeplechases, with a water jump in front of the grandstand.
The first Wangaratta Cup was run in 1904 at Wangaratta Racecourse, before that time the premier race was called a plate.
St Patrick's Wangaratta Racing Club also used this track for their charity meetings from 1923-2003 and staged the first all grey horse race in Victoria at Wangaratta, and also the first Sunday meeting in the area on this track.
In 1985 the Wangaratta Turf Club was one of the first Victorian country clubs invited to race on Melbourne Cup Day, which has proven to be a bonanza for the club.
Wangaratta Turf Club holds 10 race meetings per year.
Contact:
WANGARATTA TURF CLUB
PO Box 364,
Wangaratta,
Victoria 3676
Ph. (03) 5722 1242
M: 0407 753224
Email: p.hoysted@countryracing.com.au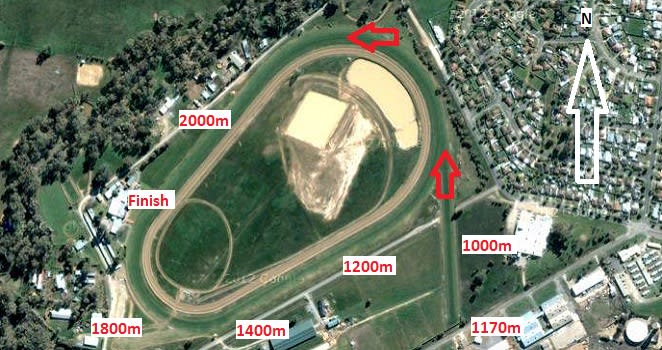 The Wangaratta Cup is now run in April. Two horses have won the Wangaratta Cup twice, Sarakos 1935 & 1936, Here's Cheers 1971 & 1972.
Wangaratta Turf Club welcomes new and old members and they would be delighted to receive your application or personal enquiry. Annual Membership - $55 (inc GST)
Racecourse Details:
Wangaratta Racecourse has a track circumference of 1730 metres and a home straight being 300 metres long.
The width of the track is 20 metres, the track is grassed with kikuya on a sandy loam soil heavily oversown with rye grass. The drainage system has been upgraded in recent years with automatic watering. The track is undulating with a drop of 14-feet from the 1000 metres to the 600 metres then rises 3 metres to the winning post.
There are two chutes, one for 1600 metre races and one for races over 1000 metres - 1170 metres, all races cater for 14 starters. There are 3 training tracks, one grass, one sand and the other dirt. Two dams and an automatic watering system help keep the tracks in order.
Nearby Racetracks include Corowa Racecourse, Benalla Racecourse and Wodonga Racecourse.