Seymour Racecourse is located at Kobyboyn Road. Seymour VICTORIA.
The Seymour Racecourse is operated by the Seymour Racing Club and has a proud tradition, hosting some 20 race meetings each season, including the prestigious Seymour Cup in October and the Seymour Vase in August.
The Seymour Racing Club is situated just off the Hume Highway, 100 km's from central Melbourne, with easy access by road and rail.
Seymour Racecourse is located in the heartland of Victoria's Thoroughbred Country, the home of Darley, Swettenham and Chatswood Studs along with many others.
A further attraction to the Seymour district is the many wineries located there.
The Seymour Racecourse facilities feature a modern Conference and Function Centre with picturesque views across the course. On race days, families are well looked after, with a permanent children's playground and ample public catering facilities. If you plan to go racing then come to Seymour and enjoy the hospitality.
Contact:
SEYMOUR RACING CLUB
PO Box 85,
Seymour,
Victoria. 3660
Ph. (03) 5799 1681
Fax (03) 5799 1684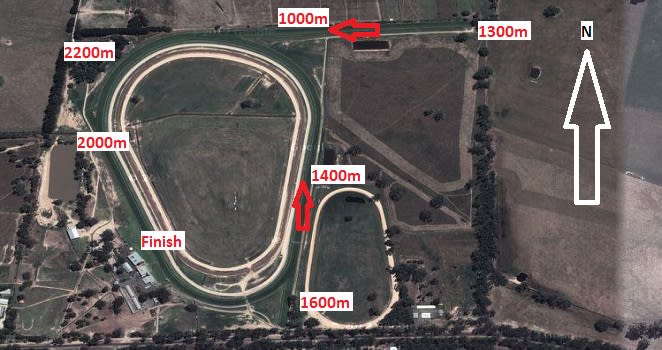 As one of the premier country cups in Victoria, the $150,000 Seymour Cup attracts many leading trainers, jockeys and of course, horses. Enjoy the region's biggest annual event, with all the excitement in one place.
Racecourse Details:
Seymour Racecourse has a track circumference of 1800 metres and a home straight being 380 metres long. Other details are:
Soil is sandy loam and provides an all weather grass track throughout the year
Track width is approximately 20m
All races up to 1300m have to negotiate only one turn. which is the turn into the straight
Track width is approximately 20m
All races up to 1300m have to negotiate only one turn that is the turn into the home straight
Distance to 1st Turn:
Race of 1000m - about 400m.
Race of 1100m - about 500m.
Race of 1200m - about 600m.
Race of 1300m - about 700m.
Race of 1400m - about 350m.
Race of 1600m - about 550m.
Race of 2000m - about 250m.
Race of 2200m - about 450m
Field Limit:
14 for races 1000m to 1300m
15 for all races 1400m and above
Nearby Racetracks include Kilmore Racecourse, Tatura Racecourse and Hanging Rock Racecourse.