Hanging Rock Racecourse is located at South Rock Woodend VICTORIA.
The Hanging Rock Races have been held at the base of the world famous Hanging Rock for over 120 years.
The Hanging Rock Racing Club hosts 2 Meetings Per Year: (non TAB) Meetings for the Season will be held on 1st January (New Year's Day) and 26th January (Australia Day).
Traditionally the races were a great day for social gatherings. Expect a relaxed day, where you can get close to the racing, enjoy good food and great country hospitality at the Hanging Rock Racecourse.
Contact:
HANGING ROCK RACING CLUB
POBox 106,
Kyneton,
Victoria 3444
Ph. (03) 5422 1866
Fax (03) 5422 2434
Email: hrrc@countryracing.com.au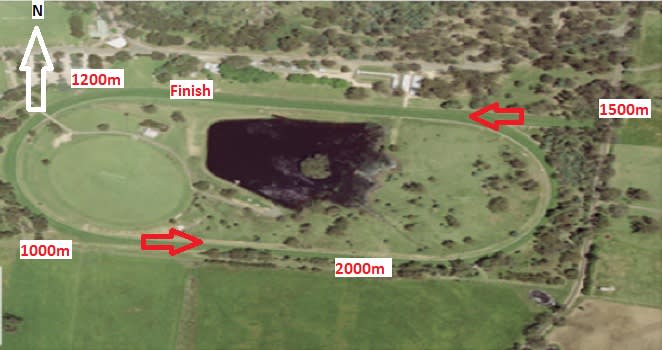 Hanging Rock (Mt. Diogenes) is a rare volcanic formation located near the townships of Woodend & Mount Macedon in Victoria, Australia.
It is home of the Hanging Rock Cup & Races, and setting of the world renown novel & film Picnic at Hanging Rock.
Traditionally country races are a great day out and social gatherings with family friends and work colleges and we are pleased to say that the tradition continues at the Rock.
Racecourse Details:
Hanging Rock Racecourse details are as follow: declines steadily from 400m mark past the winning post to the 1200m from where it rises steadily again to the 600m mark.
The track is now fully irrigated and drained. The soil type is clay based. Track Circumference: 1400m Length of Straight: 275m Distance to 1st Turn: Race of 1000m - approx 450m, Race of 1600m - approx 250m, Race of 1800m - approx 450m, Race of 2400m - approx 450m. Field Limits: 10 in all races.
Nearby Racetracks include Kyneton Racecourse, Moonee Valley Racecourse and Flemington Racecourse.