Tatura Racecourse is located at Cnr Ross Street & O'Reilly Road, Tatura, Victoria 3616.
Tatura Racecourse with its extremely popular Italian Plate Race Day among its feature race days, racing is alive and well in Tatura. It is about 182 kms from the Melbourne CBD.
Racing has been a popular pastime in the region since the arrival of settlers. Races were run in several locations under the banner of the Tatura Turf Club before the site in Ross Street was made available in 1881.
The profile of today's club is due to the amalgamation in 1971 of the Goulburn Valley Turf Club with the Tatura Turf Club and was registered as the Goulburn Valley Racing Club.
Prior to this merger, in 1959 the Shepparton Jockey Club and the Mooroopna Race Club had combined to form the Goulburn Valley Turf Club.
In 1995 the Club voted to adopt a new name and project a clearer link with the course that lies in the middle of the town, forming the Tatura Racing Club and in 2005 expanded to become the Tatura & Shepparton Racing Club.
Contact:
TATURA & SHEPPARTON RACING CLUB
PO Box 263,
Tatura,
Victoria 3616
Ph. (03) 5824 1947
Fax (03) 5824 2235
Email: S.Saracino@countryracing.com.au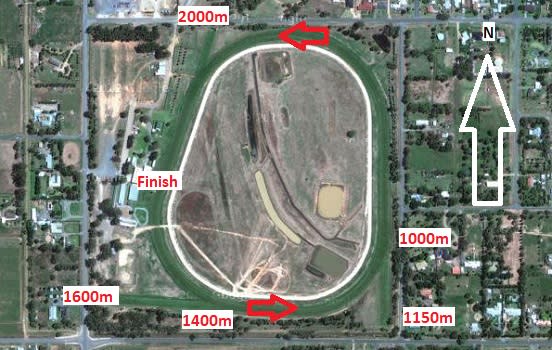 The Tatura race club conducts eight meetings a year. The estimated population of this town is in the vicinity of 5,000 people.
The Club has gone from strength to strength with constant improvements to facilities to ensure a modern facility, with Tatura Racecourse being fully renovated in 2004.
Racecourse Details:
The track circumference is 1600 metres with a home straight of 220 metres. The Tatura Racecourse is smooth with no rises or falls.
The turns are cambered and regular, maintaining a width of around 15m that widens to 20m in the straight. Soil type is clay and the track is fully irrigated. The track has a long sweeping home turn with only a short straight run to the winning post.
Nearby Racetracks include Echuca Racecourse, Seymour Racecourse and Benalla Racecourse.