Kilmore Racecourse is located at East Street Kilmore VICTORIA.
Kilmore Racecourse is operated by the Kilmore Racing Club and offers patrons a huge range of entertainment options with the center-piece being the 50+ top class Turf and Harness Race Meetings per year. Thoroughbred Race meetings are conducted at Kilmore Racecourse 14 times a year.
Regular entertainment events are also scheduled throughout the year including live bands, top class ticket shows, bingo, poker, morning melodies and much more.
Kilmore Racing Club has a range of fully air conditioned function rooms, with uninterrupted views across the picturesque Kilmore Racecourse and surrounding bushland. The modern 300-seat Kilmore Track side Bistro is open from 10am every day as well as for lunch and dinner, offering outstanding cuisine and value.
The wide range of Function Areas are available 7 days a week, and are perfect for Weddings, Conferences, Birthdays, suiting both small and large events.
Kilmore Racecourse has first class TAB, Bookmaker, Bar and snack food facilities. Disabled access and facilities including an elevator into the upstairs grandstand.
The picturesque sprawling lush lawns are perfect for race day picnics and marquees. ATM and EFTPOS facilities are available at the Horsham Racecourse. A huge free parking area for cars and buses, with easy access to all areas of the club.
Contact:
KILMORE RACING CLUB
PO Box 96,
Kilmore,
Victoria. 3764
Ph. (03) 5783 0700
Fax (03) 5783 0788
info@kilmore.countryracing.com.au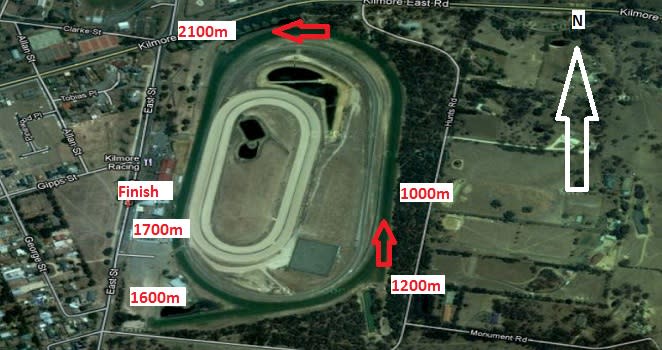 Kilmore Racecourse is steeped in history dating back prior to 1850.
The horses ran over rolling meadows between two points in an "out and back" design. That undulating character was retained when the track moved to its present site in 1865 and is quite different from the flat tracks favoured by most Clubs.
The Kilmore Cup is run in mid February on a Sunday each year during the Melbourne autumn carnival.
Racecourse Details:
Kilmore Racecourse boasts one of the toughest layouts and uphill runs in thoroughbred racing in Australia. In particular, the home straight run that climbs four metres and challenges both horses and jockeys, calls for race tactics unique to this track. Other features include:
Track is very well drained and provides a good surface for racing in the winter
Tough uphill run in the straight
Type of soil is light loam
Width of the track is 20 metres
Nearby Racetracks include Seymour Racecourse, Hanging Rock Racecourse and Kyneton Racecourse.