Kyneton Racecourse is located at Campaspe Place Kyneton VICTORIA.
Kyneton Racecourse is home to Kyneton Racing Club.
Kyneton Racecourse is operated by the Kyneton Racing Club and currently conducts 15 meetings per year and attracts crowds of around 30,000 per annum to the district.
The major race on the calendar at Kyneton Racecourse is the Kyneton Cup which is run over 2000m on the Wednesday after the Melbourne Cup in November.
Kyneton Cup Day is recognised as a fantastic celebration of country racing and forms part of Victoria 's Spring Racing Carnival. Cup day is a public holiday in the district and the day of top class racing and entertainment is particularly popular with local residents of Kyneton and surrounding districts.
Contact:
KYNETON DISTRICT RACING CLUB
PO Box 106,
Kyneton,
Victoria. 3444
Ph. (03) 5422 1866
Fax (03) 5422 2434
Email: kdrc@racingvictoria.net.au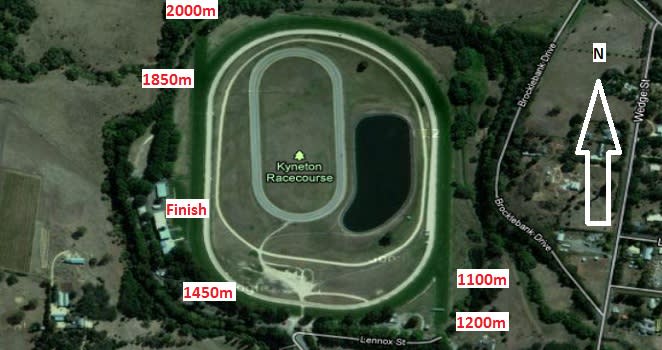 Entertaining in marquees under the magnificent Elms and Oaks on the course on Kyneton Cup Day has become exceptionally popular over the past couple of years at the Kyneton Racecourse.
Racecourse Details:
Kyneton Racecourse is of circular shape and is a turning circuit, the turn and straights are well graded and provide good galloping under most circumstances.
The track is fully irrigated and drained and the soil type is loam.
Kyneton Racecourse has a circumference of 1616 metres and has a home straight being 250 metres long. This is relatively short straight and the racecourse generally favours horses which like racing close to the lead.
Distance to 1st Turn, Race of 1100m - approx 235m, Race of 1200m - approx 335m, Race of 1450m - approx 130m, Race of 1850m - approx 230m, Race of 2800m.
The field limits for Kyneton races are 12 for 1,450 metre events and 14 in all other events.
Nearby Racetracks include Hanging Rock Racecourse, Kilmore Racecourse and Bendigo Racecourse.