On the 6th of May, 1858 the first Committee of the Bendigo Jockey Club was introduced.
Mr. J.A. Canton, who became one of Melbourne's noted Magistrates was the first club President. The first Cup at Bendigo Racecourse was staged in 1868 and was then called the Sandhurst Cup with a horse named Old England to win the event.
In 1873, the Bendigo Jockey Club converted the Bendigo Racecourse to left hand running and the grandstand which stood on the opposite side of the course was replaced by a new structure.
This stand was replaced in November 1902 by the stand that still graces the Bendigo course to this day.
The Bendigo Jockey Club is dedicated to offering the best country racing experience in Victoria. Situated around 150 kms from Melbourne, the Bendigo Racecourse is one of the most picturesque racing venues in the state.
The landscaping provides comfortable surroundings, while modern horse stalls and the large parade ring ensure ample opportunity for punters to study their favorites before race time.
Contact:
BENDIGO JOCKEY CLUB
PO Box 108
Bendigo,
Vic. 3552
Ph. (03) 5448 4209
Fax (03) 5448 4990
Email: bdgojc@ozracing.net.au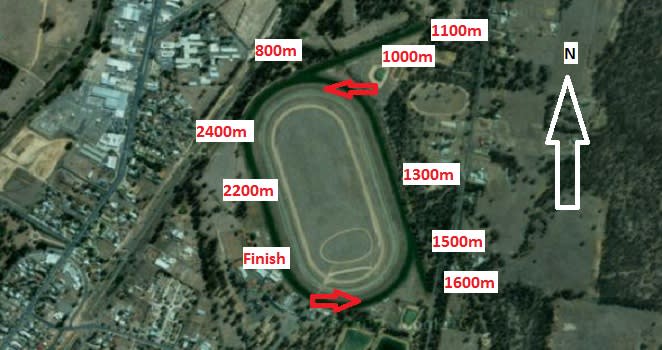 The club hosts around 25 racing meetings each year at Bendigo Racecourse and has its very own spring carnival which culminates in the popular Jayco Bendigo Cup, an important Melbourne Cup lead-up race.
Tenant clubs Marong and Elmore also host cup meetings at the course throughout the year.
Racecourse Details:
In 1998 the complete track was rebuilt. The track circumference is 1,995 metres and has a home straight being 400 metres long
There are two chutes on the track, one at the 900 metres and the other at the 1,000 metes. Track Features include:
Very spacious circuit with long straights (24m width) and well-cambered turns
The track provides good racing throughout the year
6% Cambered turns
Automated irrigation system and well-drained
The grass type is Rye and Fescue
The soil type is based on Sandy Loam
Moveable rail of maximum 9m
1100m and 1600m Chute
2000m circuit
Nearby Racetracks include Kyneton Racecourse, Hanging Rock Racecourse and Echuca Racecourse