Echuca Racecourse is located at Cnr Moama-barham Road & Lignum Road, Echuca, Victoria.
Echuca Racecourse is home to Echuca Racing Club.
Echuca Racecourse is approximately 206 kms from the centre of Melbourne.
The Race Club has 11 TAB racing meetings per year. The Melbourne Cup day meeting and two-day Echuca Cup Carnival over the Labour Day weekend in March at Echuca Racecourse are feature events on the Echuca calendar.
In the early days special trains ran from other regional towns to transport people to the Echuca Racecourse.
Contact:
Echuca Racecourse
Echuca Racing Club
PO Box 93
Echuca,
VICTORIA 3564
Ph: 03 5482 2487
Fax: 03 5482 2328
Email: echraces@countryracing.com.au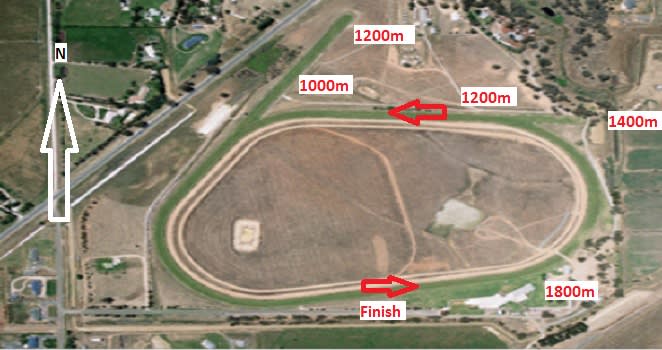 When the Club first formed in 1864, the sport of racing swiftly gained in popularity.
The influx of people by train from regional towns led to a railway line being built to the Echuca Racecourse to accommodate the special `race' trains.
Despite a decline in popularity between the two World Wars, the enthusiasm for racing in the town continues today.
Racecourse Details:
Echuca Racecourse has a circumference of 1,811 metres with a straight of 353 metres long. Width of the track is 18 metres up to the 400 metres, then widens to 33 metres in the straight.
Turns are wide and well-cambered. Track is fully irrigated and races well throughout the year. The field limit is 14 from all starts except the 1,600 metre start which is 10.
Nearby Racetracks include Tatura Racecourse, Bendigo Racecourse and Seymour Racecourse.