Donald Racecourse is located at Racecourse Rd Donald Victoria.
The Donald Racecourse is operated by the Donald and District Racing Club and it staged its first official race meeting on Boxing Day 1875.
However horse racing had been an important part of life in the town since the 1850s, and it is believed an organised race meeting was staged in December of 1864 which consisted of gallop and trotting races, as well as foot races.
This could be Victoria's earliest known tri-code meeting!
The town's first Racecourse was the main street, and it is not known when the current site on the Borung Highway was first used, but there can be little doubt it was some time ago.
In 1963 the Donald Turf Club amalgamated with the Corack club and the Donald & District Race Club was formed.
There was a further amalgamation with the Wachem-Birchip club in 1978.
Donald & District Club President Shane Wall was instrumental in the formation of the Wimmera Racing Club in 1998 and was its inaugural Chairman.
It now oversees racing at Donald Racecourse with the aid of the Donald local Committee.
Contact:
DONALD AND DISTRICT RACING CLUB
Office hours: Mon-Fri 8:30am-5pm
PO Box 87
Donald, VIC 3480
Ph: 0413 398 025
Email: solotypist@y7mail.com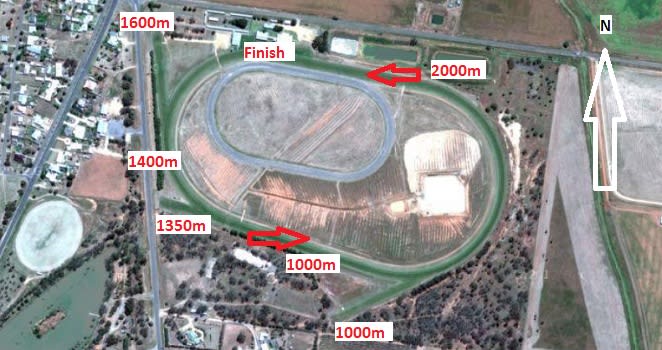 Donald Racecourse was reconstructed recently and continues to be one of the best in the state.
Donald Racecourse facilities and surrounds are also among the finest in Victoria, featuring rows of hedges and rose gardens near the winning post, and a new indoor viewing area with excellent catering.
Racecourse Details:
Donald Racecourse boasts a long, wide straight and long runs to the first turn from all the starting positions, giving every horse a chance. Features include:
Regular racetrack of two straights and two turns, with a wide main straight
Turns are smooth and regular
Chutes offer reasonable runs before meeting turns
Track is fully irrigated and soil type is clay based
Nearby Racetracks Murtoa Racecourse, Warracknabeal Racecourse and Stawell Racecourse