Murtoa Racecourse is located at Racecourse Road Murtoa VICTORIA home of the Wimmera Racing Club.
The Murtoa Racecourse is operated by the Murtoa Racing Club and it staged its first meeting on a Thursday in February 1879, declaring a public holiday so the whole town could go to the races.
As in many Victorian country towns, this tradition continued for the best part of 120 years until recently, when the Murtoa Cup, which was originally the Murtoa Handicap, was moved to a Saturday.
The first Murtoa Handicap in 1879 was run over a mile and three quarters for prize money of 30 sovereigns. The race was won by Salisbury, a four year-old entire carrying 9 stone 9 lbs.
Racing at Murtoa Racecourse has always been an integral part of the town life, and despite the population drain towards larger towns and cities that has effected many smaller towns in Victoria, racing at Murtoa Racecourse has always remained strong and vibrant.
Contact:
MURTOA RACECOURSE
Ph. (03) 5385 2503 Race day only
Wimmera Racing Club
PO Box 514,
Stawell
Victoria 3380
Ph: 03 5358 5288
Fax: 03 5258 5244
Email: k.ratcliffe@countryracing.com.au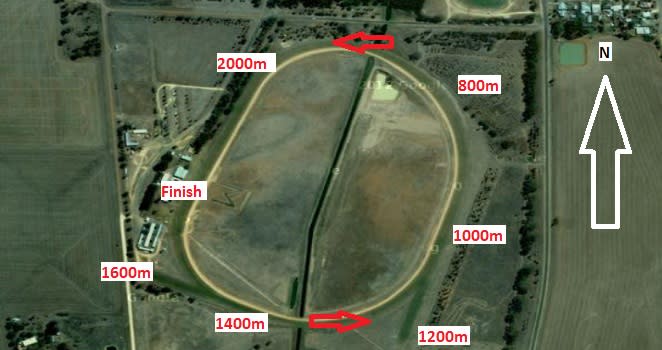 Feature races at the Murtoa Racecourse include the Murtoa Cup run in October and the Marma Cup run on New Years Day annually.
Murtoa Racecourse is situated near Lake Marma, 305kms north-west of Melbourne and was a dirt track for many years before the grass track and associated training facilities were built in 1964. The grandstand was built in 1925 and is still in use today.
Racecourse Details:
The Murtoa Racecourse has a track circumference of 1605 metres and a home straight being 280 metres long. The track is relatively flat and well-grassed. Most starts have reasonable runs to the first turn. The Soil type is clay loam.
Murtoa Racecourse has become an important training centre in the Wimmera thanks to its central location and the ability of the track to hold up in wet weather.
Nearby Racetracks include Horsham Racecourse, Warracknabeal Racecourse and Stawell Racecourse.