Warracknabeal Racecourse is located at Heny Hwy Warracknabeal VICTORIA.
Horse races were first run in the Warracknabeal area in the 1860s, with local farmers providing paddocks.
The first meeting held in the town was in 1871, when races started at the Warracknabeal Hotel and were run through the streets before finishing back at the Hotel.
Not long after this the Warracknabeal Racecourse moved to its present site, but by 1890 the club had closed down due to financial problems and a lack of interest.
Racing confronted similar problems throughout Victoria, including Melbourne around this time so the Warracknabeal club was not on its own. In 1899 the Warracknabeal Turf Club was reformed after a meeting at the Commercial Hotel, and racing has been an important part of the town ever since.
After a boom period in the 1920s the club again fell on hard financial times after a spending spree left it in huge debt. Fortunately a fire ran through the grandstand in 1939 enabling the club to collect 500 pounds in insurance and pay off its debt.
The Sheep Hills Club, which also has a history dating back to the 1860s, also runs one meeting a year at Warracknabeal Racecourse, the Sheep Hills Cup.
Warracknabeal Racecourse is now overseen by the Wimmera Racing Club, with the assistance of the Warracknabeal and Sheep Hills local committees.
Contact:
WARRACKNABEAL RACING CLUB
Warracknabeal Racing Club
PO Box 298
WARRACKNABEAL
Victoria 3393
Secretary Lisa Inkster
Ph: 0427 989212
fax 0353 982105
Email: warracknabeal@countryracing.com.au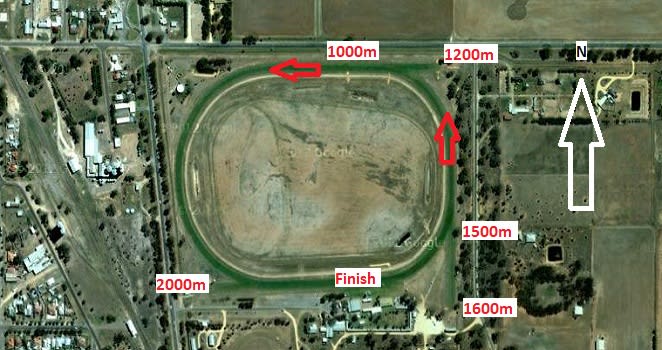 In 1987 the Warracknabeal Racecourse proper was completely reconstructed and now has a reputation for being one of the best tracks in country Victoria for owners, trainers, jockeys and punters alike.
The two feature events on the racing calendar at Warracknabeal Racecourse is the Easter Saturday in April and the running of the Warracknabeal Cup in July.
Racecourse Details:
The Warracknabeal Racecourse has a track circumference of 1660 metres and has a short home straight being 210 metres long.
Soil is sandy and has recently been re-grassed to provide an all-weather track throughout the year The track has banked turns and a width of about 20 metres in the straight and 16 metres elsewhere.
Nearby Racecourse include Murtoa Racecourse, Horsham Racecourse and Donald Racecourse.