Stawell Racecourse is at Stawell Jallukar Road Stawell VIC and is home to the Wimmera Racing Club.
About 220 km west of Melbourne, Stawell is most famous as the home of the world's richest professional footrace, the Stawell Gift, which is run every Easter.
However the town also has a rich history of thoroughbred racing. Originally known as Pleasant Creek, the town's first race meeting was conducted by the Pleasant Creek Racing Club over three days in November 1857.
Late in the nineteenth century gold was discovered at the Stawell Racecourse and a mine was dug in the centre, near the winning post.
The viewing mound adjacent to the main straight was constructed from the mine's mullock heap and to this day provides an excellent vantage point for patrons enjoying a day at the races.
By early last century the Pleasant Creek Club had stumbled upon hard times, and a group of local racing men formed a new club, the Stawell Amateur Turf Club. Eventually, the "Amateur" was dropped.
When the Wimmera Racing Club was formed in 1998 Stawell Racecourse became the headquarters of the new body, which was established to administer racing at Apsley, Donald, Edenhope, Horsham, Murtoa, Nhill, St Arnaud, Warracknabeal and Stawell.
Since that time the Apsley and Edenhope Clubs have dropped out of Wimmera Racing, with Ararat and Great Western joining the fold.
Stawell Racecourse remains the administrative centre of the new club.
The Stawell races are now an integral part of the town's famous Easter weekend.
Contact:
STAWELL RACECOUSE
Stawell Racing Club
PO Box 514
Stawell
VICTORIA 3380
Club Manager: Marcus Marrow
M: 0409953023
Email: marcus.marrow@ruralpress.com
Ph. (03) 5358 5288 Raceday only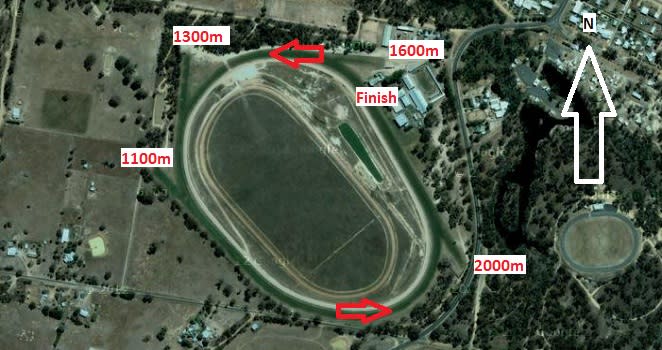 Stawell Gold Cup Day, held every year on Easter Sunday at Stawell Racecourse, the day before the Easter Gift final, is fast becoming one of Victorian country racing's biggest days, with attendances approaching 4000.
The meeting draws a bumper crowd as the town comes alive over Easter with much to see and do. The combination of the two events over the one long weekend has proved incredibly lucrative for the town and provides for a fantastic Grampians Easter weekend getaway.
Racecourse Details:
The Stawell Racecourse is flat with a slight rise from the 1200m to the 800m and has a slight fall straightening up. Track is of sandy loam soil and is well-grassed. The track circumference is 1600 metres with a home straight being 250 metres long.
Nearby Racetracks include Ararat Racecourse, Horsham Racecourse and Donald Racecourse.