The Coleraine Racecourse is located at Glenelg Highway Coleraine.
Coleraine is 350 km west of Melbourne and 35 km north-west of Hamilton in the Shire of Southern Grampians.
Coleraine Racecourse is operated by the Coleraine Racing Club and is home to the Oldest Steeplechase in Australia.
The Great Western Steeple chase was first run in 1857 and famed poet and horseman Adam Lindsay Gordon rode in this steeplechase and penned the Poem "On the Fields of Coleraine".
Contact:
COLERAINE RACING CLUB
John Donnelly
PO Box 135,
Coleraine,
Victoria. 3315
Mob: 0419 224 402
Ph. (03) 5575 2257
Fax (03) 5581 2691
Email: coleraine@countryracing.com.au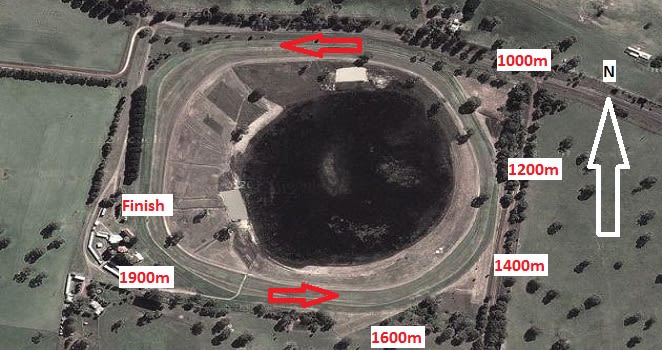 The town of Coleraine was named after the town in County Londonderry, Northern Ireland. The urban area of Coleraine has a population of over 1000 persons.
The feature race held at the Coleraine Racecourse is the Coleraine Cup which is run in August / September each year on a Sunday.
Coleraine Racecourse Details:
The Coleraine Racecourse is known for its excellent drainage as it is based on sandy soil. The circuit undulates slightly as it progresses with low points at the 1800m and 1000m and high points at the 1400m and winning post.
The Racecourse straight has a steady and gentle rise.
The Coleraine Racecourse has a track circumference of 2000 metres and a home straight being 250 metres long.
Nearby Racetracks include Hamilton Racecourse, Casterton Racecourse and Edenhope Racecourse.