Edenhope Racecourse is located at Apsley Road Edenhope VICTORIA.
Edenhope Racecourse is home to the Edenhope Racing Club.
Victoria's most western Racecourse, the picturesque Edenhope Racecourse is ideally located on Apsley Road, only 1km from the township.
Established in 1935, Edenhope Racecourse is operated by the Edenhope Race Cub and hosts one major race meeting each year on the Saturday of the March labour day long weekend, the Edenhope Cup.
The Cup meeting draws crowds in excess of 1000 every year and has become the annual event for the local community.
Edenhope Racing Club hosts the Edenhope Cup and provides all that is expected of a country cup race meeting.
The Edenhope Racecourse is compact and offers excellent facilities, including air-conditioned bar/luncheon room, plenty of shade and seating and good toilet facilities.
Contact:
EDENHOPE RACE CLUB
PO Box 189,
Edenhope,
Victoria. 3318
Ph. (03) 5585 1060
M: 0428 826 499
Fax (03) 5382 6488
email: b.ross@countryracing.com.au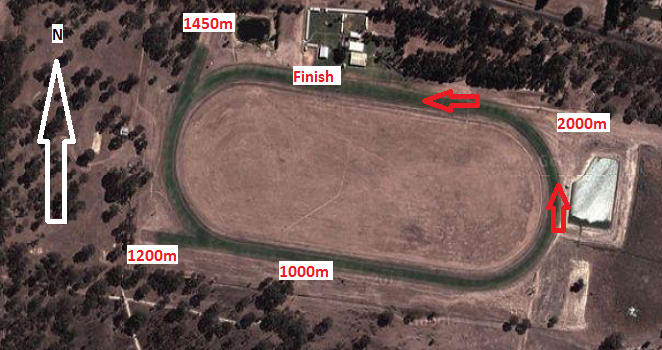 There are full TAB facilities, a full program of eight races including the James H Greenhill Edenhope Cup, bookmakers, Fashions on the Field, live music and children's entertainment.
There are umbrella and marquee packages available, dining room meals, outdoor BBQ and marquee catering. The Edenhope Racecourse has a no BYO policy but alcohol on course is available and reasonably priced.
Racecourse Details:
Edenhope Racecourse is largely flat with slightly banked turns and two long, well-grassed straights. The entire surface is irrigated and of a uniform clayey type of soil.
The circumference of the track is 1650 metres and has a home straight being 300 metres long.
Inside barriers are an advantage at most starts.
Nearby Racetracks include Naracoorte Racecourse, Penola Racecourse and Casterton Racecourse