Casterton Racecourse is located at Racecourse Float Road Casterton VICTORIA.
Casterton Racecourse is operated by the Casterton Racing Club and is located in the Glenelg Shire, in the South West of the state, and is the only racing venue in the shire. The Glenelg Shire covers an area of 6210 square kms.
The Casterton racetrack is 350kms west of Melbourne via the Glenelg Highway, which is approximately a four hour drive.
The Casterton Racecourse itself is set in a natural amphitheatre with rolling hills all around and boundaries of local rivers and it would rate highly as the most picturesque club around.
Casterton Racing Club is a racing club steeped in tradition. They are the oldest sporting club in Casterton and are the only club in Australia to have a live hedge steeplechase on its own course.
By having this live hedge steeplechase, patrons witness a fantastic spectacle and horses and jockey experience how jumps racing should be.
Casterton Racing Club ran its first open hurdle race on February 26th, 1861 and was run over 1.5 miles. The first steeple race was run here on 14 May 1862, which was called the Great Western Steeplechase and run over 4 miles.
Contact:
CASTERTON RACING CLUB
Club Manager: Juliann Jordan
PO Box 92,
Casterton,
Victoria 3311
Mob:0437 756 020
Ph. (03) 5581 1149
Fax (03) 5575 3293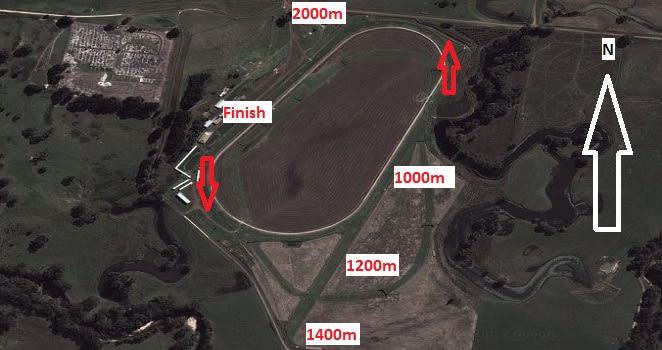 The Casterton Racecourse has four race meetings per year and fields are limited to 14 runners for all distances.
The Casterton Racecourse feature events are the Casterton Cup and Heywood Cup Day. The Casterton Cup is run in May / June each year on a Sunday. Casterton Racing Club memberships are based on a calendar year with racing in the months of May, June, July & August.
Racecourse Details
The Casterton Racecourse has a 1,640 metre circumference and a home straight being 350 metres long.
The course has fair starts from 1000 metres to the 1400 metres in chutes.
All turns at the track are well cambered.
Nearby Racetracks include Coleraine Racecourse, Hamilton Racecourse and Edenhope Racecourse.