Hamilton Racecourse is located at Henty Highway Hamilton VICTORIA.
Hamilton Racecourse, which is operated by the Hamilton Racing Club, is located between the coastline and The Grampians, approx 4 hours drive from Melbourne.
Hamilton racecourse holds 10 to 12 meetings per year, including hurdle races.
In 1864 the Hamilton Racecourse along with the Warrnambool Club has been the back bone of Jumping racing in the South West.
Hamilton became the first racing club in Australia to conduct six jumping races on the one program in August 2000.
The Jumps fest has continued and is run in August each year. The Hamilton Cup runs in April of each year at the Hamilton Racecourse.
In mentioning the Hamilton Cup, the grand old stager Puramaka comes to mind. He won four cups 1977 to 1980, a feat that may stand forever.
Contact:
HAMILTON RACING CLUB
PO Box 227,
Hamilton,
Victoria 3300
Ph. (03) 5572 1268
Fax (03) 5572 2954
Email: hamilton@countryracing.com.au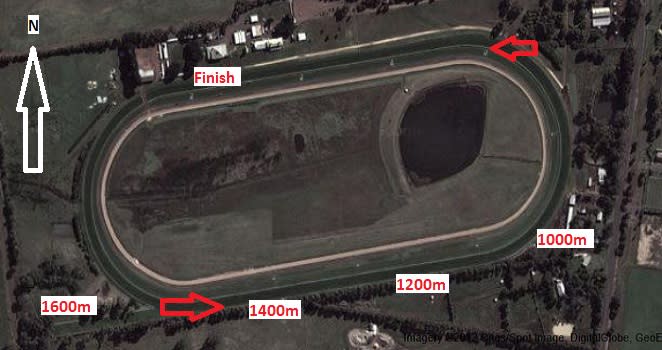 Whether it's enjoying a day at the races or a function in one of their three function facilities.
The Hamilton Racing Club will make sure you have an enjoyable and memorable experience. After all they want you to keep coming back.
Hamilton Racecourse Details:
Hamilton Racecourse has a circumference of 2030 metres and a home straight being 400 metres long. The course is an oval shape with 2 good long straights. A wide spacious course, it is an undulating circuit with a steep climb from the 1600 metre mark to the 900 metre mark. From the 900 metre to the 400 metre the fields have to race downhill before the slight downhill run from the home turn onwards.
The Hamilton Racecourse consists of a course proper, steeple grass and sand track. Up to 60 horses work at Hamilton each morning. Three training establishments are on course and other trainers are within close proximity.
Nearby Racetracks include Coleraine Racecourse, Casterton Racecourse and Warrnambool Racecourse.