Ballarat Racecourse is located at 240 Kennedys Road Miners Rest Victoria.
Formed in 1854, the Ballarat Turf Club is steeped in tradition.
The Ballarat Racecourse has occupied its current site at Dowling Forest since 1972 and is now one of Victoria's major thoroughbred training centres. The Racecourse is also known as Dowling Forest Racecourse
Dowling Forest is situated on 300 hectares of land at Miners Rest, 15 kilometres north-west of the central business district of Ballarat.
The Ballarat Turf Club boasts one of provincial Victoria's premier racetracks, hosting over 32 race meets in the race season, the most conducted on any grass circuit in regional Victoria.
Contact:
BALLARAT TURF CLUB
240 Kennedys Road
Miners Rest,
Victoria 3352
Ph. (03) 5334 6273
Fax (03) 5338 1821
Email: ballarat@countryracing.com.au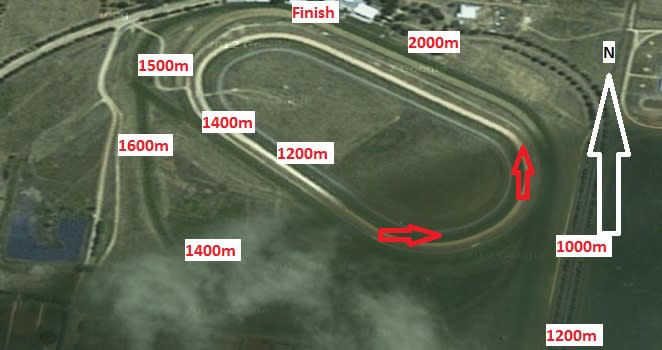 The feature event at the Ballarat Racecourse is the Ballarat Cup in November the final feature event of the Victorian Spring Racing Carnival.
The Ballarat Racecourse holds a wide variety of races ranging from 1000m sprints right up to 3,400m steeple races.
The club also holds midweek races on various days throughout the year as well as the Christmas Party Race Day, Family Fun Race Day and the Winter in the Forest Races.
Ballarat Racecourse Details:
Ballarat Racecourse consists of an old and a new track and the Race Club also caters for 300 horses in training. The capacity field is 18 runners with a course circumference of 1900 metres, track width is 30 metres and has a home straight of 450 metres. Inside barriers can be an advantage for several distances between 1,400 to 2,200 metres
The track has excellent drainage and is a good wet weather racing surface. All surfaces are irrigated, well-grassed and based on clay soils.
Nearby Racetracks include Kyneton Racecourse, Hanging Rock Racecourse and Geelong Racecourse