Geelong Racecourse is located at 99 Breakwater Road Breakwater VICTORIA.
The Geelong Racecourse is a major regional horse racing venue in Geelong, Victoria, Australia. It is 75k ms south-west of Melbourne.
The current Racecourse dates to 1908. The annual Geelong Cup is held at the course every October, as well as about 35 other race meetings through the year.
The first race meeting in Geelong was on May 1 1841, at Corio. Three races were held on the day. The next meet was held at "Airey's Flat" on the banks of the Moorabool River near Fyansford. In 1849 a start was made on a proper Racecourse, with 727 acres (2.94 km 2 ) of land beside the Barwon River at Marshalltown chosen. Situated close to Lake Connewarre, the land was subject to frequent flooding.
The Geelong Racing Club was formed in 1866, holding their first meeting on January 18 and 19 1866.
February 23 1872 saw the first Geelong Cup held at the Marshalltown course, where a new grandstand was opened. A railway branch line was provided to the course in 1878. In 1907 it was decided to relocate the Geelong Racecourse and Geelong Showgrounds to their current site on Breakwater Road, East Geelong.
The first race meeting was held there on March 1908, with the first Geelong Racing Club meeting being held there on December 12 1908. The Geelong Racecourse railway station was also provided at this time.
The Geelong Racecourse itself has seen a number of upgrades since, the most recent being the provision of a third grandstand and an upgrade of the track itself.
Contact:
GEELONG RACING CLUB
Breakwater Road Breakwater,
Victoria 3219
Ph. (03) 5229 4414
Fax (03) 5222 1526
Email: w.smith@racingvictoria.net.au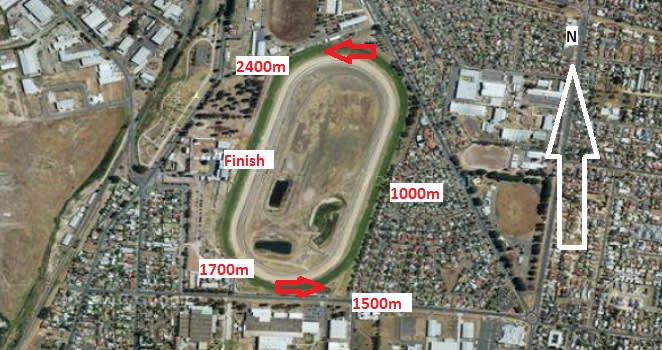 The Geelong Cup has in recent years emerged as a major lead-up to the Melbourne Cup, which is run 13 days later.

The Geelong Cup run over 2400 metres is an open handicap race and the winner is an automatic qualifier for the ;Melbourne Cup and punters give much credence to the form coming out of this race.
Racecourse Details:
The Geelong Racecourse Grass Track has a circumference of 2040 metres and a home straight being slightly up hill is 380 metres long. The track is approx 24 metres wide.
The track is a spacious circuit with long straights and wide sweeping turns. Excellent wet weather racing surface. Type of soil is loamy and track is fully irrigated. Most starts have a field limit of 16 when the rail is in the true position. This large, oval style layout is popular as it gives every horse in a race an even chance.
The Synthetic Track, circumference is 1858 metres long and is 16 metres wide with a home straight being 332 metres long. Field limits: 12 from all starts except 1550 metres which is 10.
Nearby Racetracks include Werribee Racecourse, Flemington Racecourse and Moonee Valley Racecourse