The Dubbo Racecourse is situated on the Corner Cobbora Road & Yarrandale Road, Dubbo, NSW 2830
The City of Dubbo Turf Club is one of Country New South Wales regional clubs that is a multi purpose racing and community facility.
Dubbo Racecourse holds thirteen race meetings in a season.
At the Dubbo Racecourse there are approximately 120 horses in training at any time. With the state of the art stabiliser gold sand training track and thirty functions a year at the venue the Club is an integral part of the racing industry in NSW.
The Club's racing calendar includes several major races as well as some wonderful social promotions.
At the Dubbo Racecourse, the $45,000 Dubbo Gold Cup in September is the flagship event while socially the Club conducts major events such as Derby Day and Melbourne Cup in November and Girl's Day Out in March.
Dubbo Racecourse also enjoy massive meetings for Easter Saturday and Melbourne Cup day, which makes the club one of NSW racing's most successful clubs.
Contact:
DUBBO TURF CLUB LTD
PO Box 536,
Dubbo,
NSW 2830
Ph. (02) 6882 1044
Fax (02) 6884 1357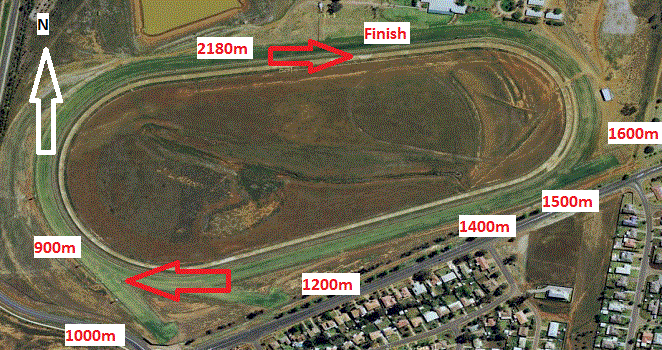 Dubbo is renowned for its bias free track, where every runner and every punter gets the chance to win.
Dubbo also hosts twilight race meetings in the summer months, often around Christmas time and in January and there are party-style events for both Derby Day and for the Melbourne Cup.
Racecourse Details:
Dubbo race track is a two kilometre clockwise track with a four hundred and ten metre home straight. Races as this track are usually contested over 900 metres, 1000 metres, 1200 metres, 1400 metres, 1500 metres, 1600 metres and 2180 metres.
Nearby Racetracks include Narromine Racecourse, Wellington Racecourse and Gilgandra Racecourse.