The Wellington Racecourse is located at Showground Rd, Wellington NSW.
This is one of the biggest country race meetings in NSW held by Wellington Race Club Inc.
The Wellington Racecourse is operated by the Wellington Race Club and hosts 14 meetings annually including the Wellington Boot and Wellington Cup.
The Wellington Boot race, this 1100 metre race for two-year-olds is run in mid autumn each year during a 2 day carnival and attracts interest from all parts of the world.
Facilities at the Wellington Racecourse includes
Full bar and catering
Full totalisator facilities
Undercover bookmaker ring
Scenic country track
Contact:
WELLINGTON RACE CLUB
The Secretary
PO Box 278,
Wellington,
NSW 2820
Ph. (02) 6845 2116 Racecourse
Fax (02) 6845 2366
M 0458 452611
Email: wellingtonboot@bigpond.com.au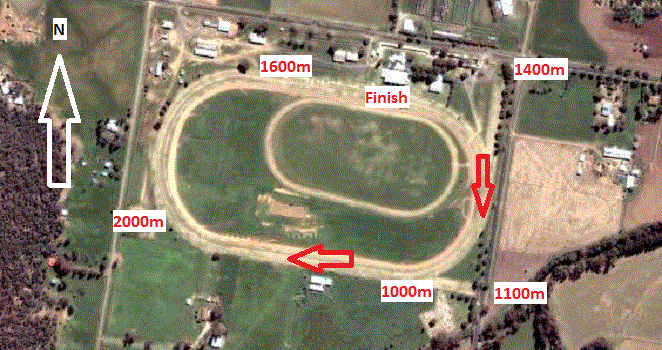 The Wellington Racecourse is located near the winding Bell River, the famous Wellington caves and Lake Burrendong.
The Wellington Boot has attracted a number of celebrity visitors since starting in 1981 including former Miss World Belinda Green and Getaway star Catriona Rowntree. While racing takes place over both days of the carnival, it is the VB Gold Wellington Boot which attracts the most attention. The open 2 year old race has prize money of over $60,000.
Wellington Racecourse Details:
Wellington Racecourse has a track circumference of 1440 metres and a home straight being 400 metres long. The course has a downhill run from the home turn to the winning post.
The racecourse is of an oval shape with tight turns, it has 3 chutes, one at the 1100 metres, one at the 1400 metres and one at the 2000 metres mark.
Nearby Racetracks includes Dubbo Racecourse, Mudgee Racecourse and Narromine Racecourse.