George Freeman: Businessman, SP Bookmaker and Under World Figure.
George Freeman: While the cast of characters amongst famous Australian punters includes more than a few who had a somewhat cavalier regard for scrupulous adherence to societal rules and regulations, most managed to avoid serious legal consequences.
Some even added to their almost mythical statures as a direct result of cultivating something of a Robin Hood persona by engaging in charitable activities intended to mitigate deeds of dubious ethics or legality.
Then there are those that clearly have documented records placing them squarely on the negative side of the equation, with little known regarding any possible redeeming attributes. Such would seem to describe the life of George David Freeman.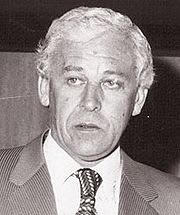 George Freeman, born 22 January 1935 in Sydney during the height of the Great Depression, he began life with an economic handicap.
His biological father deserted young George, along with his two siblings and mother. She remarried to a convicted criminal who died soon thereafter.
George was raised in the Sydney slums, often hungry, and fed an inadequate diet of substandard foods.
George Freeman, By the age of 12, he had been expelled from two schools and put on two years probation for stealing. Upon his release he worked for two years as a stable boy, a path that has led others to a desirable future, but Freeman preferred the occupation of hustling pool, and cast about aimlessly until Crime's siren call got the better of him.
By 1951, 16-year-old George Freeman, by way of convictions for various aggravated criminal escapades, found himself the recipient of a two-year stint at Mount Penang Training School.
Not content to experience remorse and exhibit good behaviour, he was disciplined further by being sent to Tamworth Boys' Home. Swallowing soap in the hope of securing a transfer from the notorious Tamworth, the prison doctor diagnosed the effects as appendicitis, earning George Freeman an unnecessary appendectomy, which he accepted rather than risk a beating at the hands of the Tamworth guards.
Released in 1953, several more jail terms followed.
He married to Marsha Bedford on 5 February 1963 in a civil ceremony in Sydney, which apparently did little to reform Freeman, but by 1968, Freeman completed his last jail term.
With the benefit of a forged passport, George Freeman traveled to the United States of America to explore Northern Hemisphere underworld opportunities and established connections with one Joe Testa, who was interested in expanding his alleged crime syndicate to Australia.
For the next 20 years, essentially the rest of his life, George Freeman focused his attention on the Australian racing industry. Operating in NSW during an era of police and political corruption, he worked as a commission agent and SP bookmaker.
He was supposed to have been a key figure in a 1971 conspiracy that broke the Canberra TAB with a $500,000 win.
Another sojourn in the U.S., this one in 1978, saw him detained there and dubbed an organised crime figure by the NSW Parliament.
Later that year he purchased a mansion at Yowie Bay, Port Hacking, with elaborate security measures. That did not prevent him from attracting a bullet to the neck from someone who may have been on the short end of one or more of Freeman's dealings and couldn't wait for a legal resolution, but Freeman survived.
This may have marked the time where George Freeman developed an addiction to painkillers that contributed to his eventual demise.
Accused of all manner of crimes, George Freeman managed to circumvent any consequences whatsoever with nothing more than a $5000 fine to the authorities' credit.
He published a written account, "George Freeman: An Autobiography," in 1988 in which, in his words, he frankly admitted to having been, "Right in the guts of Sydney's underworld..."
A television series based on true events, "Underbelly," attempts to chronicle some of the times and events of George Freeman's life. Where fact leaves off and fiction ensues is somewhat debatable, but judging by the popularity of the series, this is not an overriding consideration for viewers.
George Freeman's actual place in horse racing history is perhaps not as glamorous as other well-known punters.
Lacking a colourful appellation such as those conferred on "Fast" Eddie Hayson, "Hollywood" George Edser and "Melbourne" Mick Bartley, it could fairly be said that he represented the lowest common denominator of an industry that has attracted more than its fair share of ne'er-do-wells, big noters, and crooked starting price bookies.