Hollywood George Edser: They say that pro punters rarely are a hunting ground for the media.
However, punters like 'Hollywood' George Edser weren't concerned about who was watching or who wasn't.
An AJC ban did not stop George Edser from waging, while he watched every race from over the fence during his ban. Neither did he think twice on betting whatever he owned.
One of Australia's most flamboyant punters of all times is undoubtedly none other than 'Hollywood' George Edser.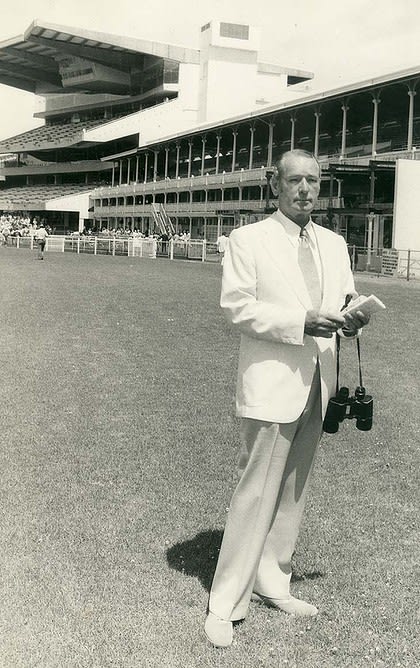 A successful and fearless punter in the 1950s, George Edser would put everything he owned on a horse he fancied.
His curious ways made the AJC ban him from attending any of the Australian racing tracks in 1961, a ban which was only lifted in 1974.
However, nothing could stop him from peering over the fences to catch up with all the action.
Was George Edser too much for the bookies to handle? Or was it just that he was 'an undesirable person', the reason given by the AJC.
Judging by his gambling habits, he probably was just too much for the bookies. That is where George Edser got the nickname of 'Hollywood'.
A bookie once wished Edser would leave him alone and move on to Hollywood to become an actor.
George Edser even escaped an attempt on his life by gunmen in 1958. Once he even bet his house on a race, a bet which he won.
During his ban, a leading bookie, Jack Large, was said to be handling his bets.
One of George Edser's most famous bets was on Tudor Hill in the 1960 Doncaster Handicap where he won £100,000. Earlier, over three meetings he had lost £70,000.
For a punter like George Edser, the track was definitely a magnet. A magnet so strong that he even used a ladder to watch races from over the fence at Randwick Racecourse. On another occasion, he was caught hiding in the tall grass at Warwick Farm Racecourse by course security.
Probably, fond memories of a £30,000 win in 1955 on his horse, The Corsican. George Edser never felt bad about losing, very often, betting every penny he had. After The Corsican's victory, he walked around the Warwick Farm betting ring distributing £10 notes to the public.
Hollywood George Edser was a dashing punter in many ways.
When at the tracks he always dressed stylishly, taking two shirts to change midway through a race day. He was always in the news, and that was what the racing public wanted.
One day at Randwick he wore a 'pleated shirt front' that was way too outrageous for some members in those days. Among the bookies that dealt with him fearlessly was Bill Waterhouse, where their betting duels were public and very often personal.
George Edser's perseverance finally paid off and he made it to the Randwick members' enclosure in 1983.