In 2009, the Australian Racing Hall of Fame found only two horses worthy of induction. It could be speculated that after having its first class in 2001, where the picks were from the entire history of racing in Australia, the ranks of truly significant horses began to thin, but that is more the concern of the Hall than anyone else, ourselves included.
Comic Court and Strawberry Road were the two horses chosen in 2009. Comic Court won 13 major races, one of them the crown jewel of Australian thoroughbred turf racing, the Melbourne Cup, an almost certain path for a horse to have its Hall ticket punched.
Strawberry Road presents something of an anomaly for an Australian Racing Hall of Fame horse. He did quite well as a racer, but after winning the Cox Plate in 1983, when he beat favourite Emancipation after the race had been won the previous three years by Kingston Town, he left for Europe and the United States to race until he retired from racing as an eight-year-old, only returning for one race in Australia as a five-year-old, where he ran third in the Apollo Stakes. It is possible that he is not the only one in the Hall, but he carries no Australian blood in his pedigree, which nonetheless, is quite impressive.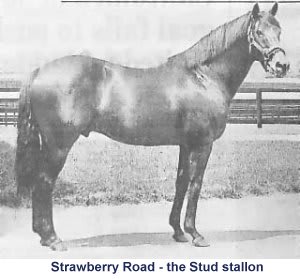 Strawberry Road Pedigree
Strawberry Road was foaled in 1979. His sire was U.S. horse Whiskey Road that only ran four times for one win. The U.S. breeders of Whiskey Road pulled off something of a coup when they sold him at the age of one to Irish buyers who paid $225,000 for him. The Paddies unloaded him on the Aussies when he was four, who made a good bargain at any price, since Whiskey Road contributed Strawberry Road and 1981 Melbourne Cup winner Just A Dash.
Tracing his lines back, on his sire's side Strawberry Road is linked to Nijinsky, Northern Dancer and Nearctic from Canada. Back one generation further is the English horse Hyperion and Preakness and Belmont Stakes winner Native Dancer of the U.S. that won 21 times out of 22 starts. Bonus Bets and Free Bets At This Page.
Over on Strawberry Road's dams' side of the equation, it is mostly New Zealand and British blood. Melbourne Cup and Cox Plate winner Nightmarch of New Zealand is seen five generations back.
Both sides of Strawberry Road's pedigree have connections to Hyperion and the undefeated Italian Nearco.
Strawberry Road Racing Results
Prepared by Doug Bougoure, admirably we must say, Strawberry Road was far on as a two-year-old when he made his first two starts at the beginning of the 1982 – 83 season. He won the Queensland Maiden Handicap at Eagle Farm. He was then given a brief spell before winning four races consecutively. He ran second to 1981 Golden Slipper winner Marscay in the Hobartville Stakes. His first two Group 1 wins followed when he ventured to Sydney and was successful in the 1983 Rosehill Guineas at 2,000 metres and the 2,400 metre AJC Derby.
He was then sent back to Melbourne where he won three of his four starts, including the third Group 1 race to his credit, the 2,400 metre Queensland Derby.
Not long after winning at 2,400 metres, Strawberry Road showed remarkable versatility by winning a sprint, the 1,200 metre Freeway Stakes at Moonee Valley. The race was at that time held close to the middle of August. He went off as the narrow favourite, defeating Red Tempo by a length-and-a-half.
His big win that year was of course, the Cox Plate. It probably did as much as anything else to cement his position as Australian Champion Racehorse of the Year for 1983. Mick Dittman was aboard as Strawberry Road had a pretty easy time of it, judging by the final 3.5 length margin over U.S. horse Kiwi Slave ridden by Greg Hall and trained by Colin Hayes.
The horse did not do quite so well in the autumn campaign. He had 26 starts in Australia up to that point, of which he had won half and placed six times when a controlling interest was sold to Ray Stehr and John Singleton. They shipped Strawberry Road to, of all places, France. He ran in Europe, winning a race in Germany in 1984, what was considered a major victory in the 2,400 metre Grosser Preis von Baden at the Iffenzheim racecourse in the city of Baden-Baden. He had an only average showing, finishing fifth when he was tried in France's major race, the Prix de l'Arc de Triomphe.
He then tried racing in the U.S. and then Japan before returning to France, where he won twice. Sent again to the United States, he ran second in the Breeders' Cup Turf, possibly the most prestigious turf race in a country where dirt tracks reign.
Sold once again, he was prepared by Charlie Whittingham and won the last major race of his career in the Arcadia Handicap in California in 1986 as a seven-year-old.
Strawberry Road Stud Career
To say Strawberry Road had a successful stud career is quite an understatement. Standing in Kentucky, he produced not only quantity, but quality as well. Betwixt 1986 and when he died from a bacterial infection that led to a fall that fractured his right hind leg, he was euthanised in 1995. He sired 368 progeny from which came 233 winners. Dinard from 1988 followed in his sire's hoof steps by winning the at Santa Anita park in the 1991 Santa Anita Derby. Strawberry Road also sire three horse that did well by winning the Breeders' Cup Turf. His fillies Escena and Ajina also did well at that venue in distaff events.
Perhaps his most significant offspring was 1998's Affluent, where he served as damsire to the five-time Group 1 winner sired by American Triple Crown winner Affirmed.
Along with his 2009 induction in Australia's Racing Hall of Fame, he was the German Champion Older Horse for 1984. He won close to $2 million in prize money from his five years of racing all around the world, making 45 starts, winning 17 and placing in another 14. That record, combined with his stud production, makes him bona fide RHOF material.